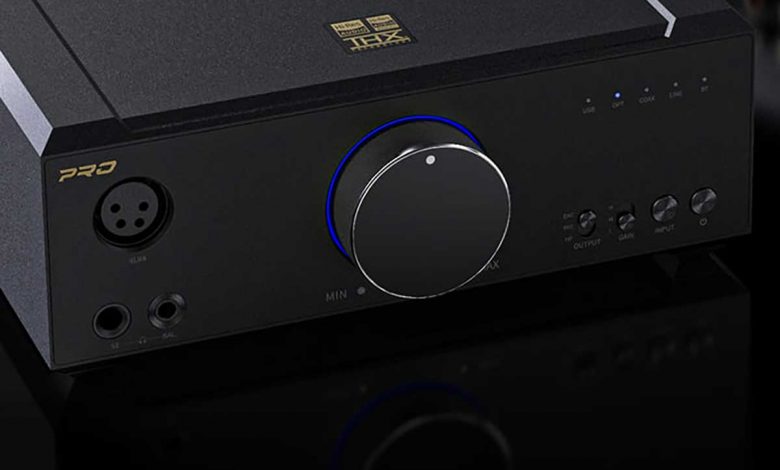 FiiO Electronics Technology Co. Ltd. is talking about a desktop DAC and headphone amplifier to take over the role of the new flagship, which will probably be available in the form of the new FiiO K9Pro during May.
FiiO K9Pro Flagship Desktop DAC and Headphone Amplifier, this solution, according to personal audio device expert FiiO Electronics Technology Co. Ltd, is supposed to be particularly flexible and at the same time perform at the highest level. Whether at the desk or as an extension of a hi-fi chain, it provides a D/A converter in combination with a headphone amplifier on a remarkable quality level.
FiiO K9Pro in good tradition
It is by no means new that the Chinese company deals with so-called desktop systems; FiiO Electronics Technology Co. Ltd. has been offering such products for years. Such solutions are also very popular, after all, they are an extremely practical way of enjoying music in the best quality at the workplace, for example. But, as already mentioned, many a hi-fi chain can be expanded by a thoroughly essential component.
Versatility promised
Thus, FiiO Electronics Technology Co. Ltd. also speaks of a particularly versatile product with the new FiiO K9Pro, whereby once again everything is said to have been done to raise the quality level to a new level.
Interestingly, an AKM AK4499 is at the centre of the signal processing of the new FiiO K9Pro, because, as is well known, the availability of this converter does not really look rosy after the fire in the Japanese factory of the renowned DAC specialist Asahi Kasei Microdevices Corporation. This is an immense problem for manufacturers such as FiiO Electronics Technology Co. Ltd. because many consider the solutions from Asahi Kasei Microdevices Corporation to be among the best on the market.
Equipped for all kinds of hi-res
In the case of the new FiiO K9Pro, the converter guarantees that signals can be processed in all relevant formats. For audio in Linear PCM, this means that the spectrum extends up to 32 bits and 768 kHz, for DSD up to DSD512.
All relevant interfaces
Of course, the new FiiO K9PRO has all the essential interfaces. First and foremost, of course, is a USB port for direct connection to a PC or Mac. There is also an optical and coaxial S/PDIF interface.
But that's not all: analogue inputs are also available here, so that the headphone amplifier in the FiiO K9PRO can be used really flexibly for a wide range of sources. In addition to a pair of RCA jacks, there is also a 4.4 mm jack for balanced signals.
Bluetooth included
Of course, a Bluetooth module is also included, so that mobile devices such as smartphones and tablets, but also portable hi-res players, and even sources such as a TV set can be connected "wirelessly".
This is a Bluetooth module that supports all relevant codecs, so that not only the lossy SBC is supported, but also aptX, aptX Adaptive and aptX HD, even LDAC. This also enables signal transmission via Bluetooth in hi-res audio, 24 bit and 48 kHz with aptX HD, 24 bit and 96 kHz with LDAC.
Output stage from THX Ltd.
The developers of the new FiiO K9Pro also rely solely on the finest components for the output stage, in the form of a THXAAA-788PRO from THX Ltd. This is supposed to guarantee accurate signal processing for the highest level of detail and sufficient power even for demanding headphones.
In this regard, the company claims that a power output of no less than 2,700 mW is achieved on headphones with an impedance of 32 ohms. Even with very high-impedance headphones with 300 ohms, 1,080 mW are still said to be available.
Equipped for all headphone connections
Directly on the front, the new FiiO K9PRO naturally offers a tried-and-tested 6.3 mm jack for unbalanced headphones. But that's not all: headphones can also be connected symmetrically via a 4-pin XLR and a 4.4 mm jack.
On the rear panel, of course, there is a line out to connect the signals to an amplifier or directly to active loudspeaker systems. You can choose between a pair of unbalanced RCA sockets or a pair of XLR connectors for balanced signal routing.
High-quality aluminium case
The electronics are packed in a rather plain, but elegant and in any case very robust aluminium case. It is black and weighs 2.75 kg with dimensions of 200 x 200 x 72 mm.
The front features a centrally located, elegantly LED-backlit rotary encoder as well as several selector switches and buttons and corresponding status LEDs. The power supply is directly integrated here.
According to information currently available, the new FiiO K9Pro Flagship Desktop DAC and Headphone Amplifier will be officially presented at the FiiO 2021 Spring Launch Event. The Chinese company expects to be able to deliver the first products as early as May 2021. The company has not yet announced a price.
Getting to the point
Once again, FiiO Electronics Technology Co. Ltd. has dedicated itself to the topic of desktop audio and has launched the new FiiO K9Pro Flagship Desktop DAC and Headphone Amplifier. First-class converters in combination with a high-quality output stage from THX Ltd. are supposed to offer audio in the best quality, paired with flexible application possibilities up to a compact preamplifier for active speaker systems.