From the very beginning, Pro-Ject Audio Systems has been clearly committed to one goal: to offer the best possible sound at an attractive price. This credo runs like a red thread through the success story of the company, which was founded by Heinz Lichtenegger several decades ago and which, it can be clearly stated, has been the undisputed world market leader in the record player sector for years. However, to describe Pro-Ject Audio Systems solely as a manufacturer of record players would be far too short-sighted; the company has long been regarded as a supplier of the finest electronic solutions.
Pro-Ject Audio Systems – From Turntables to Electronics
The fact that Pro-Ject Audio Systems not only develops turntables but also electronic components, in particular phono preamplifiers, is of particular importance for a project to which Pro-Ject Audio Systems has now dedicated itself.
Pro-Ject Audio Systems has set itself the goal of setting no less than a new industry standard in the field of record playback, and it is perfect that the entire chain is literally in their own hands…
Pro-Ject Audio Systems Plan B
Heinz Lichtenegger has always strived to set new standards, to raise quality to a new level, but without neglecting the most attractive price possible. This is, as we already mentioned in the introduction, part of the DNA of his company Pro-Ject Audio Systems.
Now they are addressing a topic that should be obvious in record playback, but in fact is of little importance in many cases, and that is the completely symmetrical construction of the signal chain.
"It has always puzzled me why pick-up systems for record players, which apart from microphones are the only truly balanced source, are not actually used.

In the pro audio field, no one would accept an unbalanced signal connection, because the amplification and thus the risk of distortion and noise is simply far too great.

The fact is that a signal in the phono range is about 1,000 times smaller than the output signal of a CD player, for example, and that has to be amplified with all the associated problems."

Heinz Lichtenegger, CEO Pro-Ject Audio Systems
From Heinz Lichtenegger's point of view, it is downright incomprehensible that an immense amount of potential is virtually wasted here, which would actually be crucial for achieving the best quality.
"Even in the high-end sector, it is not usual to assume a balanced signal transmission as a basis for phono. People argue about sound nuances and colours, philosophise about super high-end cables, but all too often they forget the technically simplest thing, namely that symmetry simply adds much less "dirt" to the signal and also – as a side note – simply throws away 6 dB of dynamic range by not using a balanced signal connection!
When asked why the situation in the vinyl sector is as it is, that record players and phono preamplifiers are predominantly an unbalanced and not balanced ecosystem, the founder of Pro-Ject Audio Systems gives the following assessment:
"Of course, everything is not that simple and many manufacturers simply want to save money, because balanced plugs, balanced cabling, the cables themselves, and then of course a balanced phono stage, all that simply costs more."
From Pro-Ject Audio Systems' point of view, this should now be an end, they want to move forward themselves, and generate a corresponding sensitivity of the users for this topic.
"The difference between unbalanced and balanced is big and from a technical point of view it is simply right to rely on a balanced signal chain. Therefore, Pro-Ject Audio Systems has now decided to popularise this topic for once."
It's no coincidence that Pro-Ject Audio Systems is taking such a brisk approach; the company can claim to already offer a balanced signal chain design for at least some products in its own range, and ultimately for significantly more than many of Pro-Ject Audio Systems' competitors.
"We have always had the option of balanced drive with all our high-end record players, because we use 5-pin Mini-DIN connectors here. This applies to the models Pro-Ject RPM 5 up to Pro-Ject RPM 10, as well as the drives of the Pro-Ject X Line starting with Pro-Ject Xtension 9 Evolution up to Pro-Ject Xtension 12 Evolution, as well as all models of the Pro-Ject Signature Series. In addition, for some time now we have had an unbelievably favourable symmetrically designed phono stage in the form of the Pro-Ject Phono Box RS, and with the Pro-Ject Phono Box RS 2 a real super high-end part in our product range. We've also swapped the 5-pin RCA cable to a 5-pin XLR cable for free when you buy a Pro-Ject Phono Box RS."
Especially in view of the fact that Pro-Ject Audio Systems already offered a comparatively large number of solutions that allowed a symmetrical layout for the playback of records, and even, as just described, offered customers corresponding upgrades free of charge, Heinz Lichtenegger is disillusioned about how little interest this has met with so far.
"The result of our option to exchange cables for a symmetrical signal routing free of charge: only one to two percent of the customers have actually used it."
For Heinz Lichtenegger, it is therefore obvious that the industry itself has so far done too little to advance the topic accordingly, and this is exactly what he now wants to fundamentally change with his company Pro-Ject Audio Systems and its power as market leader.
"The problem, I think, is the lack of information. We have to take countermeasures and educate the users in the long term. And that's exactly what we're doing now.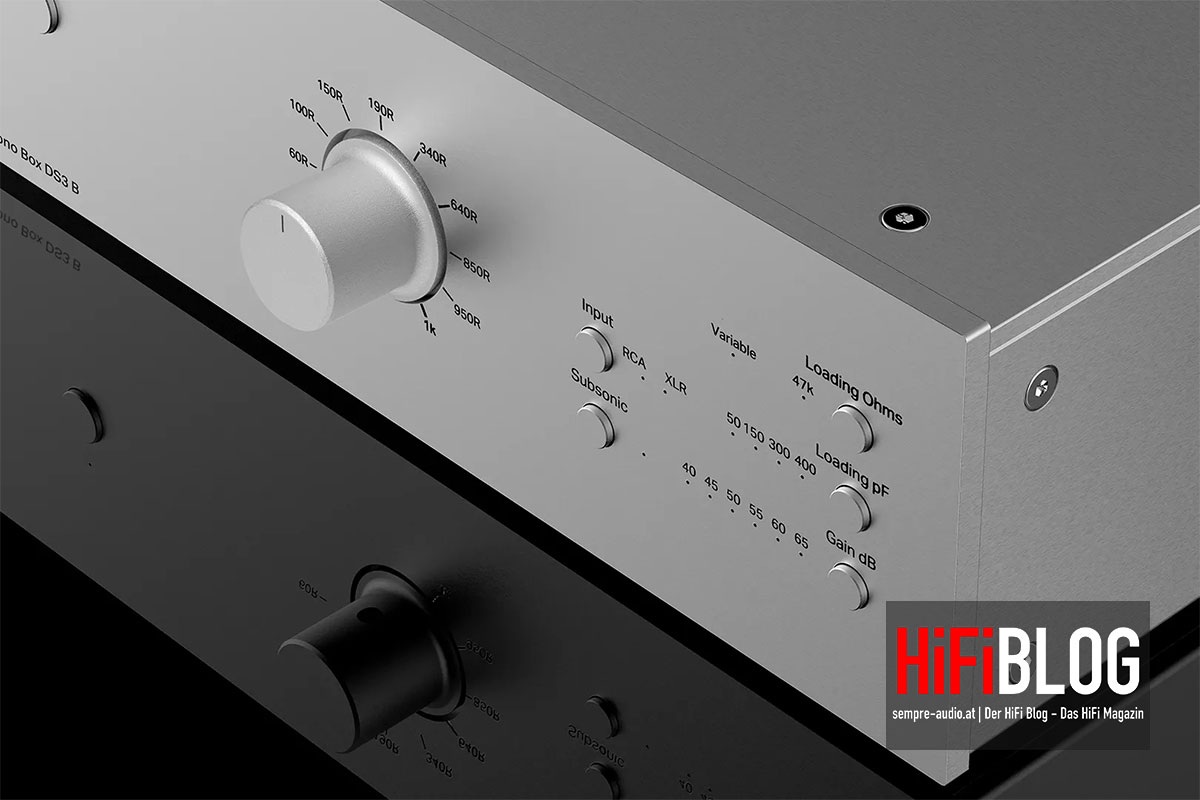 Symmetrical as a new industry standard
The goal that Pro-Ject Audio Systems has now set itself is a very ambitious one, because it wants to set nothing less than a new industry standard.
"We simply want phono to become the balanced industry standard. And not only in the high-end range, but actually in almost all price ranges, at least in the mid-price segment."
The foundation for this has already been laid, at least in a first step, because in the run-up to the High End 2022, Pro-Ject Audio Systems presented three further solutions that completely correspond to the Pro-Ject Audio Systems Plan B.
The new Pro-Ject X8 Turntable is a turntable that provides the ideal basis for a completely symmetrical phono chain. With the Pro-Ject Phono Box DS3 B, a perfectly matching new phono preamplifier of the Pro-Ject Box DS3 Series is available, which already carries the aforementioned Pro-Ject Audio Systems Plan B – B of course also stands for Balanced – popularly in its name.
The same applies to the second phono preamplifier, the Pro-Ject Phono Box S3 B, which is also newly presented, whereby the really remarkable thing here is that Pro-Ject Audio Systems is also bringing the efforts towards "symmetry" to the entry-level series of the Pro-Ject Box Design Series, thus the current Pro-Ject Box Design S3 Series, and is thus probably decisively pushing it forward.
But all this is just the beginning, according to the promise of Pro-Ject Audio Systems. The topic of symmetry will be at the top of the agenda. In fact, the entire spectrum is to be included, a symmetrical design of the phono chain is to be available for as many users as possible, even vinyl lovers with existing equipment are to be provided with appropriate solutions.
"We still have a few surprises in store for how users can use even an entry-level record player, such as the Pro-Ject Debut, as a balanced source…"
What is a balanced signal transmission?
If you connect a record player to a phono preamplifier with a balanced connection, such as an XLR cable or a 5-pin mini-XLR cable, you benefit from a fully balanced signal path. Balanced transmissions consist of a "hot" and a "cold" signal, also known as + and -. Both signal chains effectively carry the same musical information.
A balanced amplification stage can now extract the musical information from the +/- signals and remove any noise that may have been added by interference of any kind during the transmission. Since there are two separate signal chains, you also need two individual amplifier sections to benefit from these advantages. All in all, this results in a reproduction with particularly low noise, lowest distortion and highest detail and dynamics, and thus an accurate reproduction of vinyl.
Getting to the point
It is a noble goal that Pro-Ject Audio Systems has now set itself with the Pro-Ject Audio Systems Plan B, namely to make a balanced signal chain around the reproduction of vinyl the industry standard. It is obvious that the only truly balanced source, namely a record player, should be used as such. However, the market has so far offered comparatively few solutions for users, especially in the lower and medium price ranges. If you decided to use balanced solutions, you had to dig deeper into your pockets. Pro-Ject Audio Systems now wants to change this and make a balanced signal chain possible for as many users as possible.