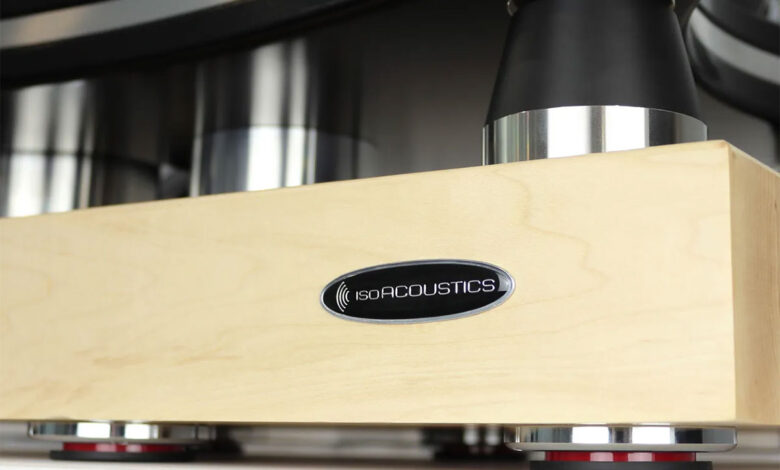 It is a product line of so-called isolation platforms that IsoAcoustics Inc. offers with the IsoAcoustics DELOS Series.
The IsoAcoustics DELOS Series is a product line of the Canadian specialist IsoAcoustics Inc. that is dedicated to the best possible decoupling of hi-fi components, especially of course all solutions that react particularly sensitively to disturbing external influences such as vibrations, thus above all record players, CD players or amplifiers based on tube technology. The solutions of the IsoAcoustics DELOS Series are so-called isolation platforms on which the hi-fi components are placed.
As simple as these solutions may seem at first glance, they prove to be just as complex upon closer inspection. And it is precisely this closer inspection that is worthwhile, as our detailed practical test of the IsoAcoustics DELOS Series showed.
IsoAcoustics Inc. – A specialist for decoupling solutions
The IsoAcoustics DELOS Series is only one of many solutions that the Canadian company IsoAcoustics Inc. offers for the best possible decoupling. In fact, the Canadians are proven specialists in this field, who have been paying the utmost attention to this topic for years and can come up with innovative solutions.
The company, founded by Dave Morrison in 2012, has its roots in the professional audio sector, as Morrison had already dedicated many years to the planning and construction of radio and television studios, for example at the Canadian Broadcasting Corporation. Based on this experience, the company developed solutions that were initially dedicated to the optimal decoupling of loudspeaker systems, relying on technologies developed in-house, which were even patented and which can be found across the entire product line-up of the Canadians, thus also in those solutions that were subsequently designed for the decoupling of loudspeaker systems in the consumer segment. Even in the isolation platforms of IsoAcoustics Inc. you can find these technologies, and it is exactly these that distinguish solutions such as the IsoAcoustics DELOS Series in particular.
The butcher's block or the floating island of Delos?
It is fascinating that the manufacturer himself refers to the insulation platform as a butcher's block because of its design, which seems a little rustic to us. Especially since the name of the product line refers to a much more noble-seeming story, namely the island of Delos, located in the Aegean Sea, which in Greek mythology was called a floating island before it was attached to four diamond pillars by Poseidon.
Establishing this relationship is, of course, a perfect fit, although, strictly speaking, the designation Fleischer-Block cannot be dismissed out of hand either, at least not completely, we have to admit.
And this is due to the deliberately simple design that the solutions of the IsoAcoustics DELOS Series have.
Simple but elegant design
Strictly speaking, all solutions of the IsoAcoustics DELOS Series are, at first glance, actually a solid, sometimes even very solid block of wood. And they don't even try to hide it, they rather play with the fact that they want to give the impression of a monolith, made either of maple or optionally of walnut.
Different dimensions available
IsoAcoustics Inc. offers the systems of the IsoAcoustics DELOS Series in different dimensions, so the customer can choose between four versions, whereby the different dimensions also result in the product names, at least if one does not use the metric but the Anglo-American units of measurement.
The manufacturer distinguishes between a width of 18 and 22 inches, i.e. 455 or 560 mm, and a depth of 15 or 16 inches, i.e. 380 or 405 mm.
As if that were not enough, you can choose between a thickness of 45 mm or 76 mm, which ultimately results in four versions with different dimensions, each of which is offered in maple or walnut.
Even the slim versions with a thickness of "only" 45 mm seem quite massive compared to many other such solutions on the market, while the versions with a thickness of 76 mm can be called a "Fleicher block", as the manufacturer himself does. These are truly massive solutions.
Of course, this is also reflected in their load capacity: individual versions of the IsoAcoustics DELOS Series can carry up to 45.4 kg, or at least 24.9 kg for the "weakest" version, which is still impressive, in our opinion.
The special technologies of IsoAcoustics Inc.
Of course, the solutions of the IsoAcoustics DELOS Series are not just a simple board, because what distinguishes these products is hidden on the underside, in the form of so-called isolators, as the manufacturer himself describes them.
The isolators are the elements where the real magic happens, to put it somewhat pathetically in view of the name, because here they rely on exactly the same patented technologies that are in the other decoupling solutions with which the Canadians earned their outstanding reputation. It is a kind of damper in which a combination of different materials and a complex structure effectively prevents the transmission of vibrations and shocks. The main focus here is on a special insulation material developed by IsoAcooustics Inc., which is rubber with special properties.
Depending on the model, the developers of IsoAcoustics Inc. use four or even six such decoupling elements for the platforms of the IsoAcoustics DELOS Series.
From the practice
For this test, we had an IsoAcoustics DELOS 2216 M2 at our disposal. It is the version that measures 560 mm in width, 405 mm in depth and 76 mm in height and is made of maple.
It is therefore the most powerful solution of the product series, which actually makes a very, very imposing impression on the hi-fi rack or lowboard or sideboard.
The manufacturer itself recommends the solutions of the IsoAcoustics DELOS Series first and foremost in combination with a record player, and that's exactly what we did, of course, bringing different models into play.
Probably the most banal reason for choosing a decoupling solution for a record player is to avoid impact sound. Not only in old buildings, but also in new buildings with reinforced concrete floors, impact sound is a problem for record players when they are placed on furniture without special damping.
It is obvious that the IsoAcoustics DELOS Series almost completely eliminates this problem, but we wanted to mention it explicitly.
The issue of vibrations that occur during music playback is much more complex, because the loudspeaker systems unfortunately also cause walls and floors, and thus furniture, to vibrate, which in turn leads to sound-damaging vibrations if they are not countered with appropriate solutions.
The IsoAcoustics DELOS Series relies on sheer mass, because as already mentioned, even the "compact" models of the series are very bulky. Moreover, it should be emphasised that the speakers are not made of MDF covered with veneer, but of maple or walnut wood. And in this order of magnitude, that brings quite a lot of mass with it…
And a lot of mass is simply the best way to counteract sound-damaging vibrations. In addition, there are of course the special decouplers on the underside, which contribute to the fact that sound-damaging vibrations are simply no longer to be feared, as our test showed.
It has to be said, however, that turntables of different construction principles react differently to such aids, so a general statement cannot be made on the basis of this fact alone.
Massive mass drives, elegant sub-chassis drives or graceful drives with the lowest possible mass, with all these design principles the developers use different methods to counteract sound-damaging vibrations. An additional solution, such as a decoupling platform, must then form a unit with the record player, so the two systems must complement each other in the best case, but must never work against each other.
As described, we have carried out this test with various turntables from different manufacturers and of different designs, and one thing we can state based on this experience: In all variants in which we placed our drives on the platform of the IsoAcoustics DELOS Series, we noticed an increase in precision in the reproduction, above all the performance in the bass range was more accentuated, more concise to the point. And because the bass foundation was more precise and tidier, the midrange was more open and detailed, and the upper frequency spectrum gained in clarity and assertiveness due to more transparency. All in all, a wide soundstage opens up to the listener and the performance gains in detail.
However, this impression ranged from very subtle to really striking, so it clearly showed how effectively the manufacturers of the turntables had already addressed the issue of sound-damaging vibrations and resonances themselves.
Getting to the point
In the end, it is worthwhile for vinyl lovers to take a close look at the optimal set-up of their record player. The best possible results can only be achieved if everything is just right.
One solution may be to decouple the record player from the supporting surface in order to prevent vibrations and resonances that can damage the sound, thus achieving more transparency and clarity and, ultimately, a sound that is rich in detail.
And for this task, we can clearly state after our detailed test of the IsoAcoustics DELOS Series, these systems from the Canadian specialist IsoAcostics Inc. are almost perfectly suited. In addition, they look very imposing and elegant on the hi-fi furniture, and are therefore also a true visual adornment. In short, a clear recommendation for the systems of the IsoAcoustics DELOS Series.
PRODUCT
ISOACOUSTICS DELOS SERIES
Price
IsoAcoustics DELOS 1815M1 (45,5 x 38 x 4,5 cm) € 519,99
IsoAcoustics DELOS 1815M2 (45,5 x 38 x 7,6 cm) € 649,99
IsoAcoustics DELOS 2216M1 (56 x 40,5 x 4,5 cm) € 779,99
IsoAcoustics DELOS 2216M2 (56 x 40,5 x 7,6 cm) € 899,99
IsoAcoustics DELOS 1815W1 (45,5 x 38 x 4,5 cm) € 769,99
IsoAcoustics DELOS 1815W2 (45,5 x 38 x 7,6 cm) € 899,99
IsoAcoustics DELOS 2216W1 (56 x 40,5 x 4,5 cm) € 1.049,98
IsoAcoustics DELOS 2216W2 (56 x 40,5 x 7,6 cm) € 1.199,98
---
If a record player needs the right foundation to effectively counteract sound-damaging vibrations and resonances, the solutions of the IsoAcoustics DELOS Series are just perfect for this. They give you more precision, clarity and detail. All you have to do is place the Canadian specialist's decoupling platform under the turntable – sound tuning couldn't be easier…
---
Positive
Simple but timelessly elegant design
impeccably finished
available in various dimensions
maple or walnut available
Particularly effective
Test Environment
Wilson Benesch Circle 25 Turntable
Pro-Ject Phono Box RS
Musical Fidelity M8xi Integrated Amplifier
KEF Blade
Lab12 Gordian
clic AV-Möbel
Conclusion
If the aim is to achieve optimum decoupling of the record player and thus an effective solution for eliminating sound-damaging resonances and vibrations, the systems of the IsoAcoustics DELOS Series from the Canadian experts IsoAcoustics Inc. should be included in the shortlist. They accomplish this task with flying colours.
You are currently viewing a placeholder content from Facebook. To access the actual content, click the button below. Please note that doing so will share data with third-party providers.
More Information