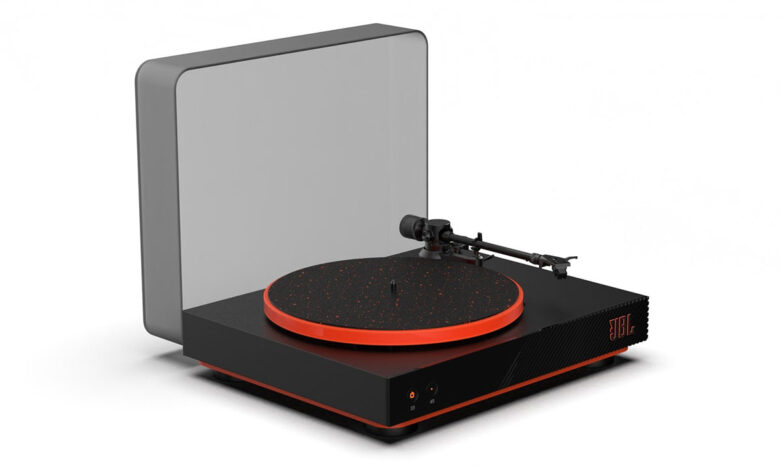 Turntable
HiFi
News
Vinyl
Harman ExPLORE 2023 – Record Player JBL SPINNER BT with Bluetooth including aptX HD
At Harman ExPLORE 2023, which is being held in Las Vegas at the same time as CES 2023, Harman Luxury Audio Group is introducing the JBL SPINNER BT, a new record player that sees itself first and foremost as a lifestyle solution.
The new JBL SPINNER BT Bluetooth-enabled record player combines iconic design with the ability to play records "wirelessly" and with high audio quality, according to Harman Luxury Audio Group, which is showcasing this JBL Synthesis brand solution at Harman ExPLORE 2023, held concurrently with CES 2023 in Las Vegas.
JBL SPINNER BT – Record Player for the Modern Lifestyle
It is clear that Harman Luxury Audio Group's new JBL SPNNER BT is aimed at those customers who see a record player as a modern lifestyle solution and are looking for a product that is particularly easy to use and easy to integrate into a wide range of audio systems.
Elegant Design
The manufacturer promises an elegant design for the new JBL SPINNER BT, relying on a chassis made of MDF, which is lacquered in black and has orange accents typical of the brand.
According to the manufacturer, the turntable, like the tonearm of the JBL SPINNER BT, is made of aluminium, with a cork mat serving as a support. The platter, like the chassis, also has an orange accent.
The turntable rests on damped feet to ensure optimal decoupling.
Part of the scope of delivery is, it should be mentioned at this point, a matching dust cover.
Bluetooth 5.2 with aptX HD
In order to reach as many customers as possible who want an easy-to-use record player, the new JBL SPINNER BT, as the name suggests, uses Bluetooth for signal transmission. Bluetooth 5.2 is used, and in addition to SBC and AAC, aptX and aptX HD from the specialist Qualcomm Inc. are also used. This allows signal transmission in "CD quality" or even hi-res audio, although only with 24 bit and 48 kHz.
Integrated phono preamplifier
Of course, the new JBL SPINNER BT also offers the option of connecting it to an audio system via cable, whereby you have the option of activating an integrated phono preamplifier. So you don't have to make any additional investment and can connect the new JBL SPINNER BT directly to any audio system.
Ready to go
The new JBL SPINNER BT is designed as a turntable that is ready for immediate use. Accordingly, the manufacturer delivers this solution already with a pre-mounted pick-up system from the specialist Audio-Technica Ltd, whereby this is an MM cartridge mounted on a detachable headshell.
The speed can be set between 33 1/3 and 45 rpm at the touch of a button, so the belt-driven aluminium turntable is controlled by electronic speed regulation.
"The JBL SPINNER BT exemplifies the joy of music and vinyl and we are delighted to introduce it at Harman ExPLORE. With Bluetooth 5.2 technology, the turntable offers listeners a fast wireless connection to their record collections. This allows them to enjoy their albums in a variety of ways without losing the distinctive sound of vinyl. To that end, its sleek design makes a bold statement in any system. And with its analogue output and built-in phono preamp, the JBL SPINNER BT is equally at home with purists who prefer a wired connection."

Jim Garrett, Senior Director, Product Strategy and Planning, Harman Luxury Audio Group
Pricing and availability
It's interesting that Harman Luxury Audio Group is already announcing the new JBL SPINNER BT, when according to information currently available, it won't be launched until the third quarter of 2023, priced at € 425,-.
Getting to the point
With the new JBL SPINNER BT, Harman Luxury Audio Group wants to offer a record player with an independent design and easy handling that can appeal to beginners and hi-fi enthusiasts alike, says Harman Luxury Audio Group about the latest product of the JBL Synthesis brand, which was presented at the Harman ExPLORE 2023 in Las Vegas. In fact, we are dealing with a solution that is particularly aimed at beginners, who are specifically addressed with the signal transmission via Bluetooth.
| PRODUCT | JBL SPINNER BT TURNTABLE |
| --- | --- |
| Price | € 425,- |
You are currently viewing a placeholder content from Facebook. To access the actual content, click the button below. Please note that doing so will share data with third-party providers.
More Information