The Brian Eno Turntable is another extraordinary design concept in the record player sector. The Universal artist Brian Eno designed this record player together with Paul Stolper Gallery.
Brian Eno Turntable, this is the latest coup by Universal artist Brian Eno, a record player and a work of art in equal measure, which he conceived together with the Paul Stolper Gallery in London.
The market, which is not lacking in extraordinary design concepts anyway, is thus enriched by another exciting system.
Brian Eno – The "non-musician" and visual artist
There is not much to say about Brian Eno, who was born in Woodbridge in 1948 and is known to all music lovers for his various projects. Whether as a co-founder of the formation Roxy Music, various solo projects in the 1970s, as a collaborator of David Bowie or the Talking Heads, or as a producer of many other legendary albums by a wide variety of artists, he has had a decisive influence on the music history of the last decades.
In addition, Brian Eno, and this is probably not so well known, is active as a visual artist, and it is precisely in this area that the latest project probably fits best.
Brian Eno Turntable
Light plays an essential role in Brian Eno's work, so it is hardly surprising that the new Brian Eno Turntable plays with light in all colours, one could even speak of a work of art made of light.
The basis for this is a cabinet that has a basic construction of conventional design, but has a kind of cover made of acrylic on top. This acrylic is translucent white, i.e. it is basically opaque white, but lets light through very well, whereby the entire structure seems to shine.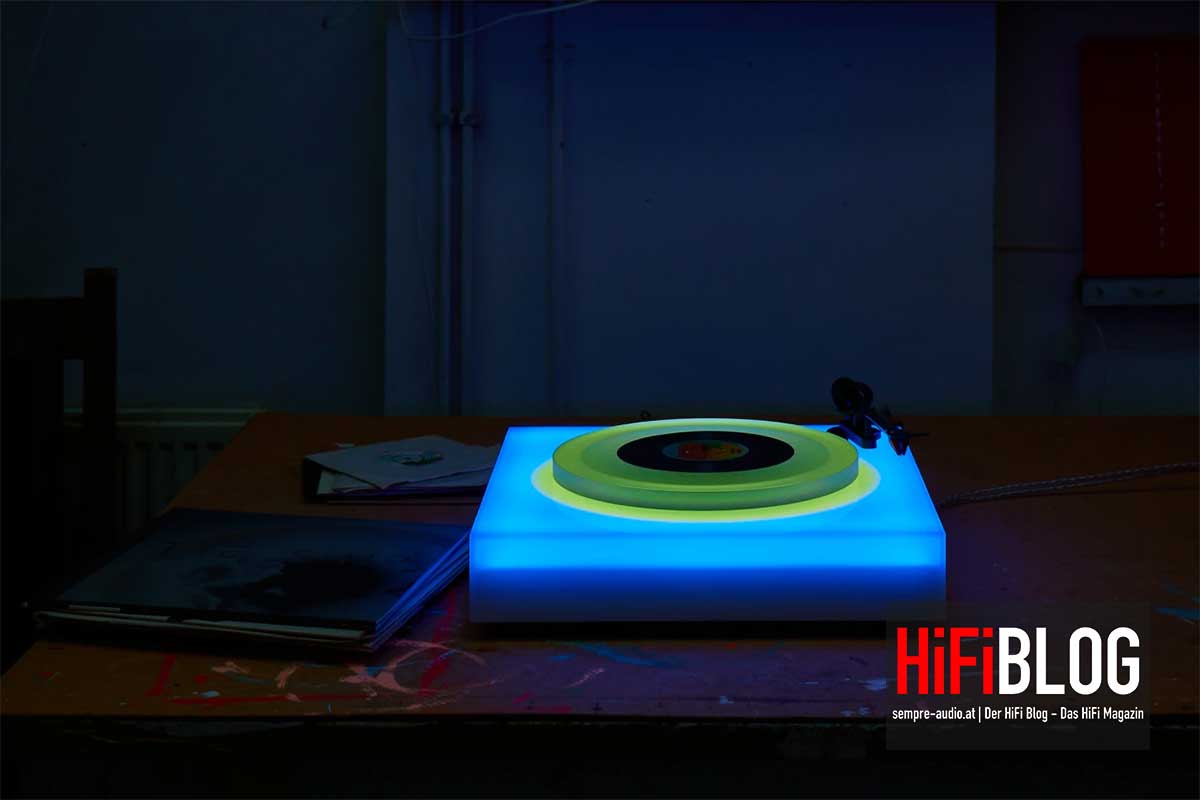 The 18-mm-thick turntable is also made of acrylic, so that it, too, is permeated by light that can shine in every conceivable colour. This is achieved quite simply by LED lighting with an RGB controller.
During operation, the user is offered a veritable play of colours, which is deliberately reminiscent of the psychedelic effects of the 1970s.
The drive measures 420 x 420 x 76 mm and is enthroned on 16 mm feet for optimal placement with corresponding decoupling from the floor.
Only 50 pieces available
First of all, the question of the price for this work of art is superfluous, because there will be no more than 50 pieces of the Brian Eno Turntable. So it's fair to say that this is a limited edition, with each turntable bearing the artist's signature.
Getting to the point
In his role as a visual artist, Brian Eno has always dedicated himself to objects in which light plays an essential role. It is hardly surprising that this has now been taken up in the form of a record player. The Brian Eno Turntable is an outstanding work of art that only 50 lucky vinyl lovers worldwide will be able to call their own.
| PRODUCT | BRIAN ENO TURNTABLE 2021 |
| --- | --- |
| Price | N/A |
You are currently viewing a placeholder content from Facebook. To access the actual content, click the button below. Please note that doing so will share data with third-party providers.
More Information