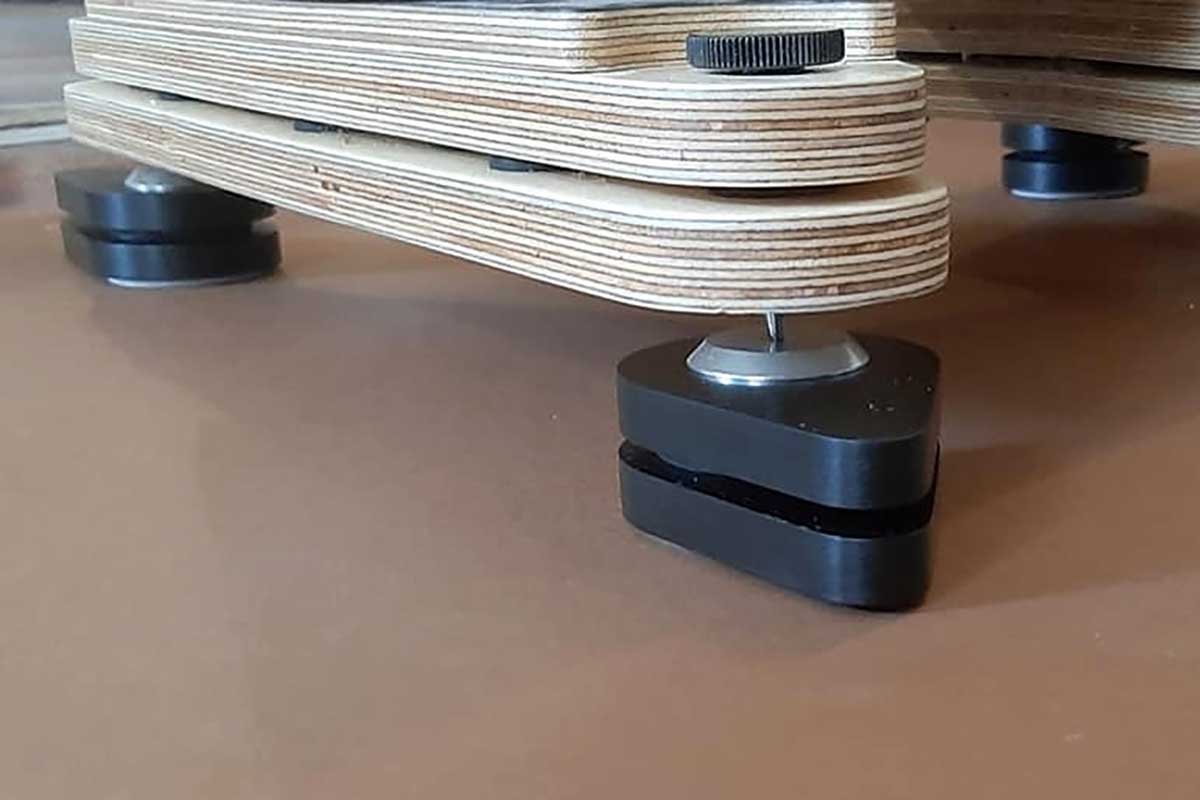 As a particularly effective tuning option, the Italian loudspeaker manufacturer audel offers a special absorber or so-called vibration damper, the audel Takko mk2, which also proves to be a very elegant tuning solution.
With the audel Takko mk2, the Italian speaker specialist audel offers an extremely exciting product in the field of accessories, which is of course primarily designed for speaker systems from its own production, but can also be used for various speakers from other manufacturers.
These are absorbers, i.e. solutions that are designed for the best possible placement of speaker systems; the manufacturer also calls them vibration dampers.
audel Takko mk2 – details are important
From the Italians' point of view, it's all about the details, which for a loudspeaker manufacturer are perhaps not always as much in focus as they should be. And this includes the correct placement of a loudspeaker system.
Especially with floor-standing speaker systems it is well known that these are usually placed on so-called spikes, which on the one hand ensure the best possible decoupling, and on the other hand allow a certain leveling to guarantee the speakers a safe stand if the floor is not completely horizontal.
Normally, small metal plates are included in the scope of delivery of floor-standing speaker systems, which serve as a base for these spikes.
This is where audel comes in and offers the solution audel Takko mk2, which are capable of much more than such simple metal plates.
Special design
This model series originally included three variants, namely audel Takko L, audel Takko XL and audel Takko XXL, but now the focus is solely on one variant, the audel Takko mk2.
Of course, a metal plate is used here as well, which has a notch in which the spikes "snap" into place, but it is noticeable that this already has a significantly larger diameter, is significantly thicker, and also only forms a part of the construction.
Underneath is a construction made of Corian and Kevlar, which on the one hand ensures the naturally essential protection of the floor, but also an optimal decoupling. Vibrations are suppressed particularly effectively, allowing the loudspeaker systems to show their true potential.
audel recommends the audel Takko mk2 solution for small, medium, but certainly also large loudspeaker models and offers it at the recommended retail price of € 149. Of course, the set includes four pieces, so for an optimal setup of a stereo system, you have to invest in two sets, as is usual with such products.
Getting to the point
It should be as simple as effective tuning solutions, which the Italian supplier audel with the audel Takko mk2 offers. These are absorbers or vibration dampers that are designed for the optimal placement of floor-standing speaker systems.