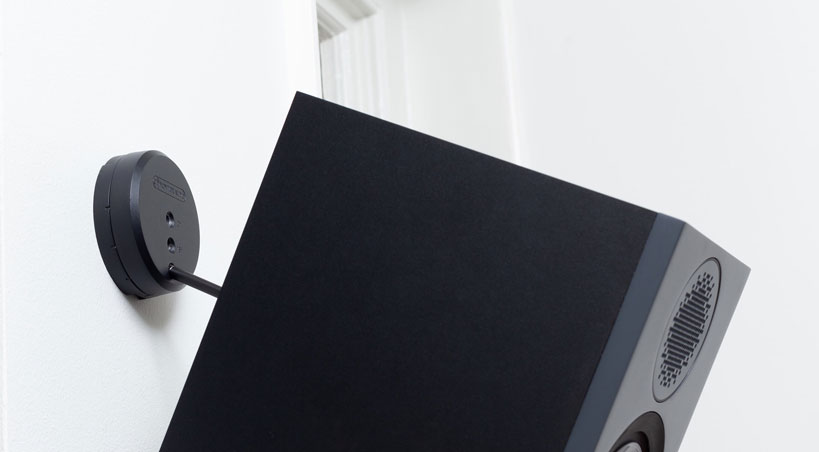 The new Monitor Audio FIX-M Speaker Mount, recommended by the English speaker specialists Monitor Audio Ltd. for light to medium-weight systems, is intended to be a particularly flexible solution for the optimal placement and alignment of speaker systems on the wall.
---
Loudspeaker systems can be integrated very discreetly into the living space by appropriate solutions, so that they do not take up any floor space. This is not at all a question of in-wall or on-wall systems, but actually compact shelf speaker systems. This is made possible by matching wall mounting devices.
Numerous loudspeaker specialists offer wall mounting devices for selected products from their range, including the English specialists Monitor Audio Ltd. whose range has now been extended by a particularly discreet solution, namely the new Monitor Audio FIX-M Speaker Mount. According to the English, this is designed for light and medium-weight speaker systems and impresses with its discreet, elegant design, flexible speaker alignment and, last but not least, an integrated cable management system.
The new Monitor Audio FIX-M Speaker Mount is indeed an extremely discreet solution, available in either white or black. The system is made of aluminium and therefore very robust, despite its very small dimensions. A striking feature is that the connection to the speaker can be mounted in three positions, allowing a tilt angle of 0°, 15° or 30°. This allows the radiation of the speakers to be optimised depending on their position on the wall. In addition, the construction can be rotated out, so that a total of 14 different positions are possible.
Of course, the new Audio FIX-M Speaker Mount monitor also features a cable management system, as we have already mentioned, so that connecting cables are largely hidden from view and do not cloud the flawless appearance.
As also mentioned above, Monitor Audio Ltd. recommends its use with light to medium weight compact speakers. Specifically, Monitor Audio Brinze 50, Monitor Audio 50, Monitor Audio Bronze 1 5G, Monitor Audio Radius 90, Monitor Audio Radius 45, and Monitor Audio MASS Satellite.
The new Monitor Audio FIX-M Speaker Mount is scheduled to be available at specialist retailers in June 2020.
Getting to the point
Especially in home cinema, many users rely on wall mounting devices for their speakers, especially those for the rear or side surround channels. In this way, even complex installations can be implemented without taking up too much space and without having to resort to much more elaborate in-wall solutions. But it is not only in home cinema that it can be practical to mount compact loudspeaker systems on the wall. Even if there is little space around the hi-fi system, this is a viable solution, because solutions such as the new Monitor Audio FIX-M Speaker Mount make very elegant, discreet systems available.