French high-end hi-fi company Metronome Technologie can now announce that its flagship Metronome Digital Sharing Range, the Metronome DSC, is Roon-ready and fully certified for the Roon software.
The Metronome DSC is no less than the flagship of the Metronome Digital Sharing Range, a "three-in-one" device, as Metronome Technologie itself puts it, that handles all aspects of digital data processing at the highest level.
Without a doubt, this is a reference solution, as our extensive exclusive test showed.
With Metronome technology, digital sharing stands first and foremost for streaming. But with the Metronome DSC, the offering is even more comprehensive. This solution combines a high-end D/A converter with streaming and network functionality, complemented by a patented digital volume control that makes it a powerful digital preamplifier. The Metronome DSC is housed in an all-aluminium enclosure with a 5-inch touchscreen on the front, as has been the case with almost all Metronome devices for a few years now. The D/A converter decodes PCM files as well as DSD up to DSD512, while the new streaming board accepts all kinds of audio files in Linear PCM and DSD up to DSD256.
Not only UPnP, but now also Roon
Metronome Technologie relies first and foremost on the industry standard UPnP when it comes to streaming, but already announced during the presentation of this solution that it is striving for certification as a Roon-ready device.
And exactly this has now been achieved, the Metronome DSC is now considered a Roon-ready device. This solution can thus be directly integrated into the media management and multi-room audio streaming software from Roon Labs LLC. What's more, the system automatically appears as an available streaming client, only needs to be activated with a mouse click, and bit-perfect hi-res audio streaming via RAAT (Roon Advanced Audio Transport) is possible.
"Our Digital Sharing range has grown in popularity, showing that our choice to move the company to streaming was the right one. Plug-and-play, easy to use and stable, this is what we want with all our products, but as everyone knows the famous Métronome sound will always remain our first priority!"

Jean Marie Clauzel, owner and designer of Metronome Technology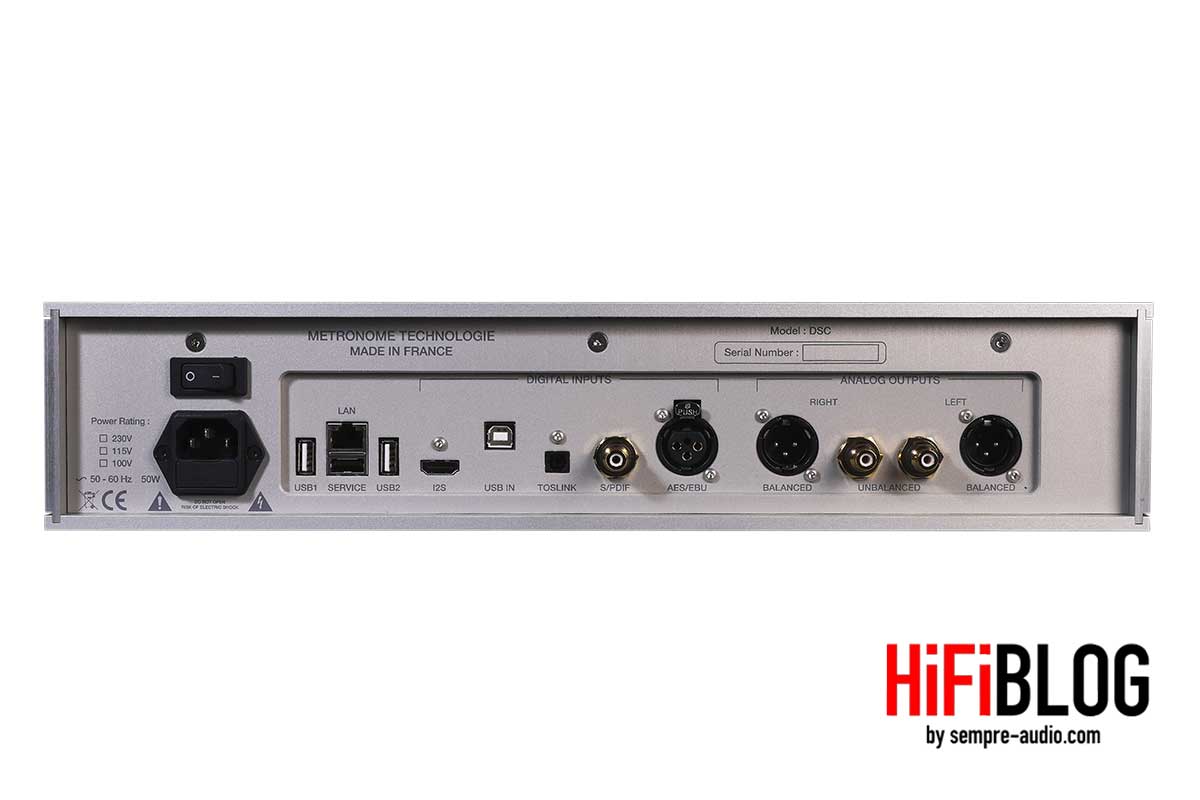 Users who already own a Metronome DSC do not have to do anything else to integrate it into Roon, as the system was already listed in principle, but not yet fully certified. Now, however, it can actually be selected and used for streaming.
Getting to the point
Metronome DSC is the name of the solution that the French high-end specialist Metronome Technologie envisages as the central component for music streaming at the highest level. DSC, this abbreviation stands for Digital Sharing Converter and in principle already describes quite well that a holistic approach is being pursued here, that the topic of streaming in the broadest sense is being covered in such a way that users actually receive a solution from a single source that does not require any compromises in terms of flexibility and quality. This is additionally underlined by the fact that the Metronome DSC is certified as Roon-ready and can thus be directly integrated into the solution for bit-perfect streaming from Roon Labs LLC.