The Arcam Solo Uno is an amplifier that can be understood as the epitome of a congenial connection between hi-fi and lifestyle. A noble appearance, almost tiny, yet so flexible that you can enjoy music in many different ways.
Powerful hi-fi systems are impressive, no question. But tiny solutions can be just as impressive, as is the case with the Arcam Solo Uno. This is a product that can justifiably be called a prime example of a modern, innovative lifestyle solution.
A solution that could inspire a completely new target group for the topic of hi-fi in a modern form.
Understanding hi-fi as part of modern lifestyle
For many people, modern lifestyle means first and foremost solutions that are as compact and elegant as possible, that have an independent design concept and can thus be easily integrated into any living environment.
The aim is to present a solution that fits into the living space, not a solution around which the living space has to be designed.
Modern lifestyle also means that products must be highly flexible. Users don't want to have to deal with complex issues, but want to use the offerings they already use. In the environment of an audio system, this is streaming, for example, from services that may not stand up to the highest audiophile criteria, but are considered leading in the mainstream.
Nevertheless, of course you have to be able to offer a particularly appealing quality, especially if you want to distinguish yourself from conventional consumer systems and you have to defend an impeccable reputation, as in this case.
The English hi-fi manufacturer A & R Cambridge Ltd. seems to have considered all these things and implemented them in the best possible way in the form of the Arcam Solo Uno.
Not the first system of its kind
It is interesting to note that the Arcam Solo Uno is by no means the first solution of this kind from the English company. The company has systems such as Arcam Solo Movie 2.1 or Arcam Solo Music to its name, and even a sound bar, the Arcam Solo Bar Plus, is already part of its range.
The Arcam Solo Uno, however, features a concept that embodies the concept of lifestyle even more consistently, but without denying the company's own roots, thus relying on the company's proven virtues.
Part of the Arcam accessories range
It is striking that A & R Cambridge Ltd. does not list the Arcam Solo Uno in the Arcam FMJ Range or Arcam HDA Range, the usual product lines for hi-fi components, but rather in the so-called Arcam Accessoires Range. This is a clear indication that the focus is on a completely different target group, at least to a large extent.
Of course, this does not change the fact that this is a fine stereo integrated amplifier…
Streamer with built-in amplifier
Interestingly, the manufacturer itself emphasises one function of this amplifier in particular, namely that of a streaming client. The Arcam Solo Uno is described as a streamer with built-in amplifier, which is a little unusual, in our opinion.
The more detailed description of the product also says that the Arcam Solo Uno brings a special ease of use to the complex world of audio streaming by offering a compact, stylish and elegant streamer with a built-in amplifier. Also a name used by the manufacturer, which we think is very accurate, is Arcam Solo Uno Wireless HiFi System.
Small, very small… but also very fine
We have already mentioned that the Arcam Solo Uno is small, very small indeed. You can't even talk about mid-sized HiFi here, only the term micro-sized HiFi is acceptable. Yes, at 140 mm wide, 52 mm high and 213 mm deep, the Arcam Solo Uno almost fits in the palm of your hand. And with a weight of only 1.5 kg, you don't even have to exert yourself.
So it's clear that the Arcam Solo Uno really does find its place everywhere, even if it is limited. However, this solution should not be "hidden", it simply looks too good for that.
The developers have chosen a really outstanding design, with a slightly curved front and an aluminium housing, half of which is elegantly chrome-plated and this surface finish is also continued on the sides. Everything above is presented in a discreet grey.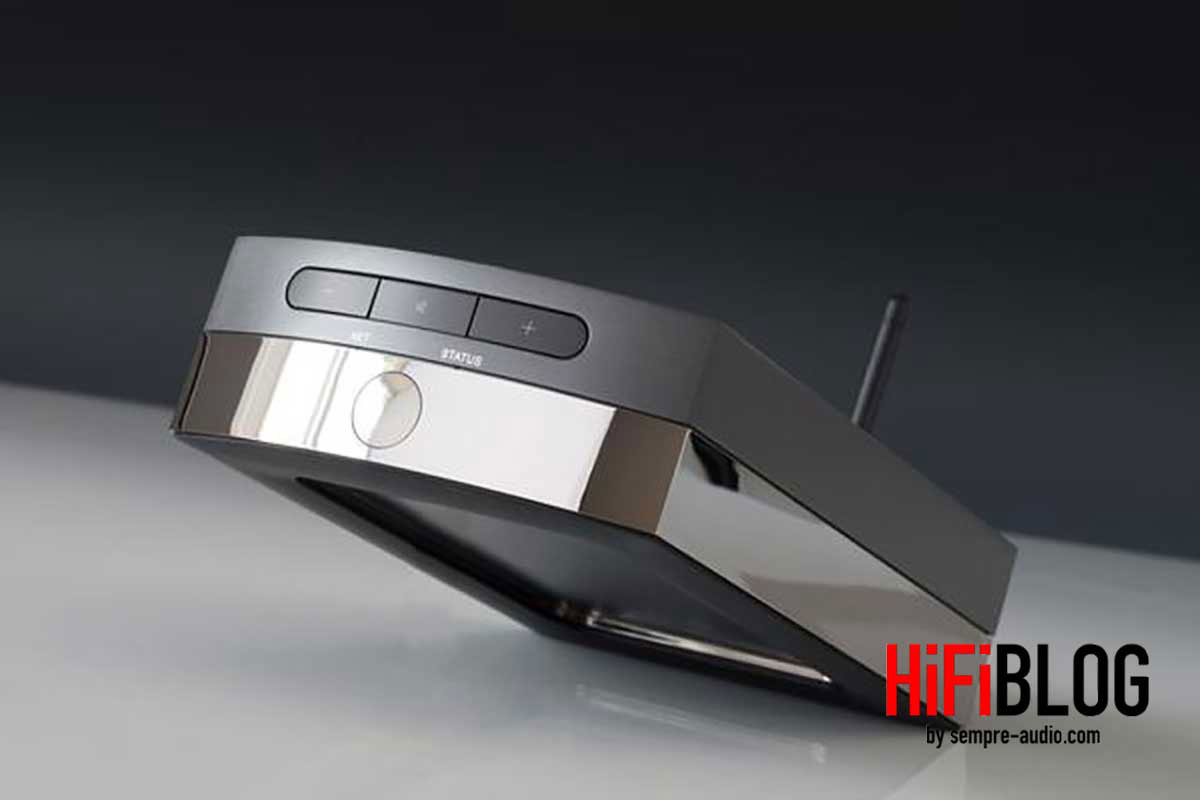 Concentrated on the essentials
Nevertheless, the front panel has everything you need for direct control of the unit.
First, of course, there is the centrally located power switch, above which are three more buttons, the outer of which is used to control the volume, while the middle one serves as a mute button. However, this middle button can also be used to select the analogue input; to do this, it must be pressed for longer than three seconds.
Two status LEDs indicate the operating status of the Arcam Solo Uno Wireless HiFi System, one of which is designated as a Status Indicator and the other as a Network Link Indicator.
A look at the back
No one would expect such a compact, even tiny system to come with a multitude of interfaces for a wide variety of sources, and indeed, the connections are, well, manageable.
Nevertheless, due to the compact dimensions alone, the rear panel is rather cramped, mainly because A & R Cambridge Ltd. fortunately decided to give the Arcam Solo Uno WiFi HiFi system decent, solid, i.e. really high-quality screw terminals.
In addition, although the Arcam Solo Uno is described as a WiFi HiFi system, it does not rely solely on wireless networks. An RJ45 Ethernet interface is available as an alternative to the integrated WiFi module, which of course demands its space. By the way, for optimal reception, the WiFi module has a connection for a short rod antenna.
Directly below it is a USB port, but this is for service purposes only.
As already mentioned, the only input available is an analogue input, whereby a 3.5 mm stereo mini-jack is used due to the limited space available. Nevertheless, the Arcam Solo Uno is equipped to connect a record player with an external phono preamplifier. Even if it is a lifestyle system, or even because of it, this is a decisive feature, as it is still considered trendy to use a record player.
Since the Arcam Solo Uno Wireless HiFi System is probably primarily used with rather compact bookshelf speaker systems, A & R Cambridge Ltd. has not forgotten the possibility of integrating an additional subwoofer. The subwoofer can be connected to the system via a cinch connector, in order to provide the necessary emphasis, especially in the lower frequency range. If the subwoofer is used, the Arcam Solo Uno Wireless HiFi System uses a crossover frequency of 80 Hz.
Surprisingly, the power supply is located in the tiny housing of the Arcam Solo Uno Wireless HiFi System, but an external power supply would have been sufficient.
Bluetooth? Not available
One thing is noticeable when looking at the data sheet: the Arcam Solo Uno Wireless HiFi System does not have Bluetooth, a feature that one would have expected in this class. At A & R Cambridge Ltd. they probably didn't see this as really essential, but rather focused entirely on the integration into the network.
UPnP, Apple AirPlay 2, Google Chromecast and Roon Ready
When it comes to streaming, the Arcam Solo Uno Wireless HiFi System really does offer the user everything a modern audio streaming system should have.
This starts with UPnP, which is still the only real industry standard, although this is really only to be understood as the lowest common denominator with other streaming systems.
Much more exciting is the fact that the Arcam Solo Uno Wireless HiFi System supports Google Chromecast in addition to Apple AirPlay 2 and is thus ideally equipped for both streaming technologies of the leading smartphone platforms.
It is therefore ultimately completely irrelevant which streaming offer users use, they are all available in direct access. you only need to install the corresponding app and playback can already take place via the Arcam Solo Uno Wireless HiFi System.
With Google Chromecast support, the Arcam Solo Uno Wireless HiFi System can also be integrated into Google Home, and control via Google Assistant is also possible with it. The same applies to Apple AirPlay 2 and thus Apple HomeKit, and Apple Siri as voice control is also possible.
Comparatively new is that the Arcam Solo Uno Wireless HiFi System is also designated as Roon Ready, so that it can be fully integrated into the media management and multi-room audio streaming software from Roon Labs LLC. This may not be of great relevance to many users in the core target group of this product, but it is for all those hi-fi enthusiasts who use the Arcam Solo Uno Wireless HiFi System as a fine second or third system in their multimedia network.
It should also be mentioned that the Arcam Solo Uno Wireless HiFi System can now process content encoded in MQA, and is even listed as a fully-fledged MQA decoder.
Class D amplifier
Of course, the developers did not rely on their outstanding Class G amplifier concept, which would be very presumptuous in this class. However, the manufacturer points out that a particularly sophisticated amplifier concept in Class D is used here, which in terms of sound character corresponds to the quality that can be expected from an Arcam brand solution.
Of course, the power is not outstanding, but with 50 watts for loudspeaker systems with an impedance of 4 ohms and 25 watts for speakers with an impedance of 8 ohms, what the Arcam Solo Uno Wireless HiFi System delivers is quite respectable.
App as central control
Of course, a product called Arcam Solo Uno Wireless HiFi System cannot do without an app, which is available in the form of the new MusicLife app from the parent company Harman International Industries, available for Apple iOS and Google Android and based on UPnP.
From the practice
Quite frankly, the Arcam Solo Uno Wireless HiFi System is a really dinky system. We don't mean this in a disrespectful or pejorative way at all, rather we are actually enthusiastic about the perfectly implemented approach here of combining a modern lifestyle system with the demands of a renowned hi-fi manufacturer.
Even though this solution hardly takes up any space, it deserves to be properly showcased in the living room simply because of its elegant appearance. And since there are hardly any sources to be connected, there is no need to worry about cables, which is a problem for many users in this target group. A power cable, possibly a network cable, and of course the cables for the speakers, but that's about it. With a little skill, these can be elegantly concealed.
Of course, everything is controlled elegantly via apps, whereby you don't even have to rely on the app provided by the manufacturer, but will often use Apple AirPlay 2 or Google Chromecast anyway, depending on which of the two platforms you are "on the go".
The fact that the full spectrum of different streaming offers is also available is of course perfect for people who often no longer have their own music collection, but instead rely on millions and millions of music titles from the network.
It is consistent to use an analogue input and thus allow the integration of a record player in the lifestyle segment; it is less consistent to do without a digital input altogether. The ability to integrate a TV, for example, which would have made a separate soundbar obsolete, would have expanded the target group a little more.
On the other hand, it's not really a bad thing that Bluetooth is omitted, as streaming is perfectly covered by WiFi anyway.
The question that remains to be answered is whether the smallest product from A & R Cambridge Ltd. also sounds as you would expect from an Arcam brand solution. This question can be answered in the affirmative: the Arcam Solo Uno Wireless HiFi System convinces with a fine, round sound, especially when used in conjunction with somewhat more efficient loudspeaker systems of the compact class. Then it also demonstrates a quite remarkable assertiveness, a living room up to medium dimensions is thus its ancestral territory at normal levels, in smaller rooms it lacks nothing.
Getting to the point
With the Arcam Solo Uno Wireless HiFi System, the English hi-fi manufacturer A & R Cambridge Ltd. offers an extremely exciting, very compact, very elegant, but above all extremely versatile and finely performing micro hi-fi system. The Arcam Solo Uno Wireless HiFi System thus represents a solution that can only be recommended to design-savvy music lovers whose digital "centre of life" is a smartphone. HiFi enthusiasts who are looking for a versatile second or even third system are also strongly recommended to take a closer look at the Arcam Solo Uno Wireless HiFi System.
---
If you want to sketch a prime example of how a renowned hi-fi manufacturer wants to address a new, design-savvy target group that cannot be addressed with conventional hi-fi components but nevertheless values flexibility and appealing sound quality, then the Arcam Solo Uno Wireless HiFi System comes very, very close to this ideal image.
---
Positive
outstanding design with elegant, modern appearance
extremely compact and fits into any living space
Extremely versatile for streaming
simple control
fine sound characteristics
Attractive price
Negative
no digital input for integration of a television
Test environment
NUCLEUS+ by Roon
Dali OPTICON 2 MK2
TIDAL HiFi
Conclusion
It is one of the smallest, most elegant stereo integrated amplifiers on the market, the Arcam Solo Uno, which nevertheless proves to be extremely versatile.