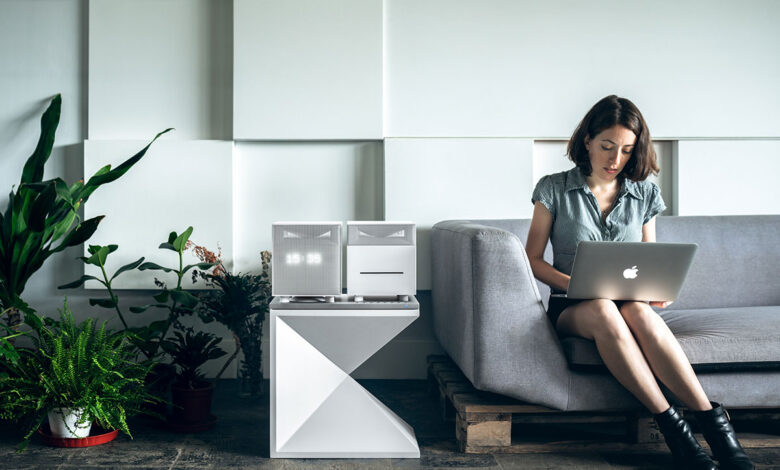 The new Aerix Duet should prove to be an all-in-one system, designed as a 2.1-channel system and with a simple, elegant design.
It is a solution that truly comes in a very special form, because with the new Aerix Duet, every effort has been made to realise an all-in-one system that can boast true omnidirectional sound radiation and, designed as a 2.1-channel system, is intended to offer full sound from a wide variety of sources.
The manufacturer from Taiwan, the Aerix Co., presented the Aerix Duet for the first time at the High End 2023 in Munich, together with the company TAD-Audiovertrieb GmbH, which will take over the distribution for this brand with immediate effect.
Unique design concept
In fact, the new Aerix Duet is an unusual, if not unique, design concept, because it is based on a solution that appears to be two cube-shaped systems on a base plate.
In fact, these three elements form a unit, because the two cubes contain the speakers of the 2.1-channel system as well as the electronics, and the base plate connects the two and has the control elements.
360° all-round sound
As mentioned earlier, the new Aerix Duet is designed to generate 360° omnidirectional sound throughout the room. In fact, it is designed as a 2.1-channel system with two 1.5-inch drivers plus a 5.25-inch subwoofer based on DSP-based signal processing with a total output of 200 watts via Class D amplifiers. Two times 50 watts are distributed to the full-range drivers, the remaining 100 watts are available to the subwoofer.
The broadband drivers radiate upwards, but their sound is directed sideways into the room via a cone. The subwoofer of the system is designed as a down-firing subwoofer.
CD and streaming via WiFi and Bluetooth
The main sources are CD and streaming, whereby the Aerix Duet has a slot-in CD drive. Streaming is primarily available via the integration of the system into the network, whereby this is done via WiFi and UPnP is initially used as a dlna-certified streaming client, although DTS Play-Fi is also supported. Thus, not only own content is available, but also various streaming services such as Spotify, Deezer, TIDAL and Amazon Music.
Speaking of Amazon, the new Aerix Duet is also compatible with voice control via Amazon Alexa via DTS Play-Fi, although a corresponding smart device is required in the same network.
Smartphones and tablets can be connected to the new Aerix Duet via Bluetooth, whereby aptX is supported in addition to the SBC and AAC codecs.
Another alternative is an analogue input in the form of a 3.5 mm stereo mini-jack, which should also be mentioned here.
Simple operating concept
As already mentioned, the Aerix Duet offers a series of controls on the base plate for simple control. A generously dimensioned 8 x 8 x 8 matrix LED dot display also contributes to this, showing the relevant information in a clearly legible manner. If desired, the Aerix Duet can also simply display the time and can be used as a radio alarm clock. A matching remote control is part of the scope of delivery.
With dimensions of 238 x 428 x 245 and a weight of 9.5 kg, you should be able to find room for the new Aerix Duet in the entire house. However, special mention must be made of the fact that there is a matching stand, the Aerix X-Stage, as an optional accessory, which, like the system itself, comes in a choice of black or white.
"A simple design not only produces a clear visual result that is easy to remember, but also results in the authentic look we want. The world of modern architecture and traditional hi-fi are our main influences. The result is a compelling 'in-house' minimalist design for high-quality, durable high-end products."

Jules Parmentier, product designer of the Aerix Duet
Prices and availability
The Aerix Duet and Aerix X-Stage will be available from May 2023 at a recommended retail price of € 1.199,- and € 299,- respectively in black and white through authorised retailers and online.
Getting to the point
The new Aerix Duet from Aerix Co. is a truly unusual all-in-one system that is now finding its way to Europe. The Taiwanese company promises to offer a solution that provides room-filling reproduction from a wide variety of sources in a compact, elegant form and fits harmoniously into any living space.
PRODUCT
AERIX DUET
Price
Aerix Duet € 1.199,-
Aerix X-Stage € 299,-