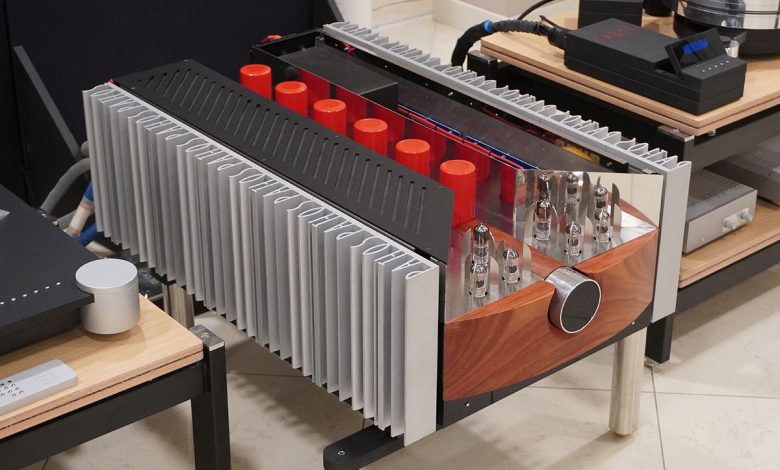 The new Pathos InPoL Legacy is a stereo integrated amplifier for which the designers had no limits whatsoever, says Pathos Acoustics about this new solution, which was now presented in a small circle in Vicenza. It is an amplifier that offers the ultimate in Pathos Acoustics' exclusive amplifier technology, namely the Pathos InPol Technology in its latest form as Dual InPol Circuit, which on the one hand conveys Pure Class A and thus the warm, natural sound typical for Pathos Acoustics, but on the other hand also offers an enormous power potential in the form of the new Pathos InPoL Legacy.
When developers are given no limits at all
Great products are usually created when the developers are given a free hand, which is not always easy, of course, because as a company you are almost always subject to certain limits, and these are either quite simply the specifications that the market itself sets for certain products, or quite simply the available budget and not least the resources that a company has due to its production capacities.
Even high-end hi-fi manufacturers such as the Italian company Pathos Acoustics usually have to operate within such defined limits, although they enjoy a certain freedom compared to larger manufacturers, at least in that they serve a clientele for whom price is not the decisive factor and that they can act relatively flexibly and are not accountable to any financier in the background.
Nevertheless, as a comparatively small company – Pathos Acoustics employs twelve permanent staff and a few more freelancers at its headquarters in Vicenza – you can only work with the resources that are available, you have to orientate yourself to a certain extent to the very banal practical circumstances, and of course you have to keep an eye on what your own customers want as best you can, so you are also subject to certain constraints.
For years, Pathos Acoustics has been developing and manufacturing first and foremost the finest amplifier systems, and one can certainly speak of very impressive solutions. However, a certain limit has not been exceeded so far, it has always been a matter of systems that usually fit into a hi-fi rack of usual design without any problems, to put it metaphorically.
The most powerful system based on the already mentioned Pathos InPoL Technology is the Pathos InPoL Heritage, which seems very, very imposing, but in comparison to the latest offspring from Vicenza it seems almost modest and reserved.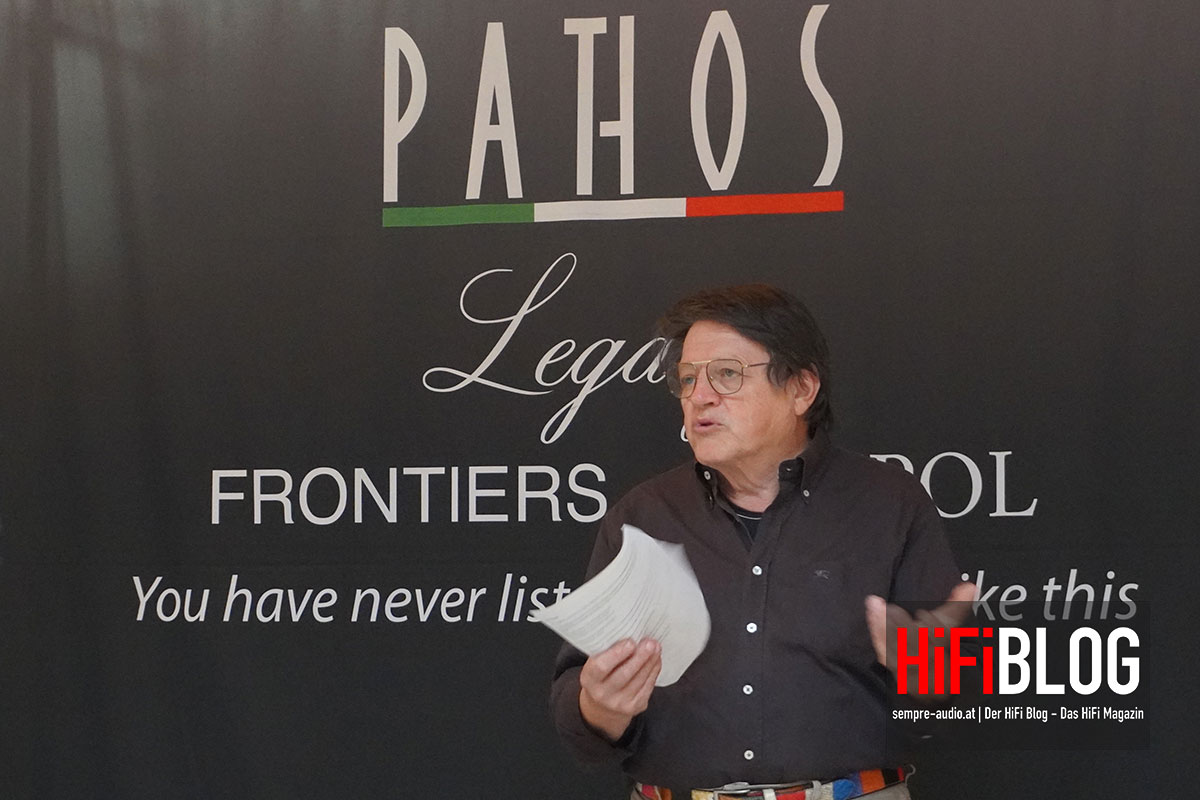 Pathos InPoL Legacy – A Masterpiece
One is obviously very proud of what is now available as a finished product with the new Pathos InPoL Legacy, because as already briefly outlined, one has so far moved within certain limits in product development, and has been extremely successful with it.
With the new Pathos InPoL Legacy, however, they wanted to dare to leave the previous paths a little, one could also say that they simply wanted to push all the proven technologies to the limits of what is possible. The result is a masterpiece that represents all that Pathos Acoustics stands for, and on a scale that the Italian company had never reached before.
Pathos Acoustics itself describes it as an ambitious project in which the quintessence of Pathos technology is contained in an integrated amplifier that takes the listening philosophy developed by the company over 25 years to the extreme, both in terms of the choice of components and the absolute performance of this amplifier.
To clarify what we're talking about here, let's note that the new Pathos InPoL Legacy has truly impressive specs, in every sense of the word.
A mighty amplifier with 100 kg of the highest-quality components
The new Pathos InPoL Legacy is a stereo integrated amplifier with dimensions of 540 x 800 x 300 mm, which means that it will definitely not fit into any standard hi-fi rack. As if that were not enough, this stereo integrated amplifier weighs in at an impressive 100 kg, and in contrast to many other solutions in this "weight class", this is not due to any fancy stuff, because even if the housing is accurately manufactured with high-quality materials, it is primarily the electronics installed here, especially the power supply, that is responsible for the immense mass.
Two 100 Watt at 8 Ohm in Class A
This was made necessary by the fact that an amplifier was needed that combined the outstandingly natural sound reproduction for which Pathos Acoustics has always been known with enormous power.
To put it in a nutshell, the new Pathos InPoL Legacy delivers an impressive 100 watts per channel to speaker systems with an impedance of 8 ohms. If, on the other hand, the speaker systems have an impedance of only 4 ohms, the new Pathos InPoL Legacy develops a gigantic two times 170 watts. And all that in pure Class A.
Back to the roots
The new Pathos InPoL Legacy takes on such a special position from the company's point of view, because once again the roots of Pathos Acoustics are remembered, which go back to 1994. In that year, the foundation stone for the company was laid by Gianni Borinato, who developed an extraordinary amplifier concept, which was called Pathos InPol Circuit and which served as the basis for the very first amplifier of the Italians, which was brought to market in 1995 as Pathos Twin Tower, and which was called Pathos TT from 2001. It was Gianni Borinato who, together with his friend Gaetano Zanini and designer Paolo Andriolo, founded Pathos Acoustics.
"Just as Heritage was meant to be a tribute to the work of Gianni Borinato, co-founder of Pathos, a sincere recognition of his innovations and contributions to the world of audiophiles, InPoL Legacy represents the perfect legacy of Gaetano Zanini, co-founder and owner of Pathos."

Pathos Acoustics
Pathos InPoL Legacy with Pathos Dual InPoL Technology.
The new Pathos InPol Legacy uses the patented Pathos Dual InPol Technology in a so-called Bridge Configuration, combined with a Tube Stage and consequently a so-called Dual Mono construction, i.e. it is completely symmetrical, from the inputs to the output stages.
Pathos Acoustics promises to use only high-quality components. Even more, on the occasion of the presentation in Vicenza, they spoke of using nothing less than "the best and the best-performing components" in all areas, because in a solution like the Pathos InPoL Legacy, every detail, no matter how inconspicuous, is of immense importance.
As already mentioned, the highest attention was paid to the power supply, because in principle the circuit implemented here would "only" need 700 VA, but the decision was made to use a power supply based on powerful toroidal transformers with 1.800 VA per channel.
The double power ensures that the transformer does not reach saturation and that no interference occurs. Everything, right down to the cables used, is designed to achieve an effective power supply that can easily cope with peak loads and thus guarantee an optimal reproduction of the dynamics.
Tube preamp and MOSFET in the power amp
The preamplifier is similar to that of the Pathos Adrenalin, because each channel uses two Tun-Sol ECC803 tubes for voltage amplification and a 6H30 Sovtek for the buffer.
Special care was taken with the MOSFETs for the power amplifier. Their measured values are first determined in order to group those with the same value.
It is obvious that the volume control does not rely on a simple potentiometer, but instead on a complex resistor network controlled by a relay. The selection of the input is also relay-controlled, for the sake of completeness.
The new Pathos InPol Legacy has three unbalanced inputs in the form of pairs of cinch sockets as well as three balanced inputs in the form of XLRs. Here, as with the screw terminals for the loudspeaker systems, high-quality components from the specialists Neutrik and WBT are used.
Well-known outstanding design line
With the new Pathos InPoL Legacy, Pathos Acoustics naturally relies on the company's design line that has been known for years, whereby it is stated that in this specific case, it is indeed based on that of the Pathos InPoL2 MKII, but in a significantly larger form.
Once again, the centrepiece is an endless rotary knob as the only control element, which also features the LED display that has been known for a long time and is typical for Pathos Acoustics solutions.
Above it, the tubes are enthroned, reflected in chrome-plated elements attached to the side covers with cooling slots that taper towards the rear. Between these, in turn, the six mighty capacitors are lined up one behind the other. The cooling elements made of extruded aluminium, which represent the company logo in the profile, naturally form the lateral finish.
A first listening impression
sempre-audio.at had the exclusive opportunity to listen to the new Pathos InPoL Legacy at a presentation of Pathos Acoustics in an exquisite setting in Vicenza. It was remarkable that the new stereo integrated amplifier was presented together with two new prototypes from Pathos Acoustics, namely the very first record player from Pathos Acoustics, which will probably be simply called Pathos Turntable, as well as particularly impressive new loudspeaker systems from Pathos Acoustics, the new Pathos Frontier Legacy.
It should be noted that Pathos Acoustics does not promise too much when it describes the new Pathos InPoL Legacy as a solution that knows how to combine the very special natural sound of the Italians with enormous performance. It was simply breathtaking what was conjured up in a room that, as is usually the case at such events, was anything but perfect.
A colourful potpourri of fine recordings was presented, from jazz to blues and classical to pop and rock, whereby the sovereignty with which the team knew how to set the scene was always captivating. An enormously impressive sound stage opened up in front of the audience, which brought with it a clear localisation of the instruments and voices, whereby the overall sound image was always coherent and immensely natural. The performance, however, was also characterised by absolute precision and clarity. The Pathos InPoL Legacy is thus able to reconcile audiophile virtues with pure enjoyment of listening to music without a doubt and in the truest sense of the word.
Prices and availability
It is not yet clear when the new Pathos InPoL Legacy will actually be available in specialist shops, but it will probably not be too long now. The price range of the new stereo integrated amplifier has already been indicated, Pathos Acoustics is talking about € 50.000,-.
Getting to the point
Pathos Acoustics is an outstanding high-end hi-fi specialist whose focus is clearly on amplifier systems. Above all, the company's solutions are appreciated for their warm, natural sound, which is often based on Pathos InPoL Technology. This Pathos InPoL technology with tubes in the preamplifier and MOSFET in the power amplifier is also the basis for a project that is a very special one for Pathos Acoustics, as they are entering completely new dimensions here, namely the Pathos InPoL Legacy. The fact that this is an amplifier that delivers no less than two times 100 watts into 8 ohms or even two times 170 watts into 4 ohms in pure Class A, with a musicality and naturalness that is unparalleled, paired with precision and assertiveness that will delight even the most demanding audiophiles, shows just how far we are moving here. It is therefore obvious that Pathos Acoustics refers to the new Pathos InPoL Legacy as the ultimate Pathos amplifier.
| PRODUCT | PATHOS INPOL LEGACY REFERENCE STEREO INTEGRATED AMPLIFIER |
| --- | --- |
| Price | expected € 50.000,- |