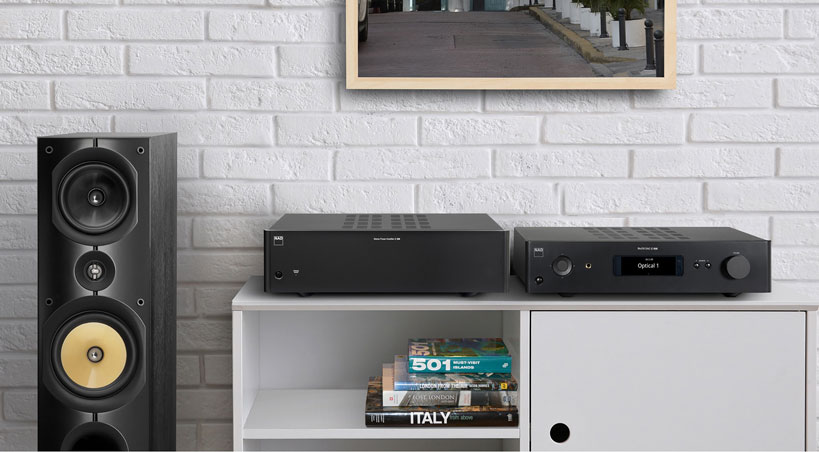 The Canadian hi-fi manufacturer NAD Electronics has already presented two amplifiers with new, particularly effective and powerful Purifi Eigentakt Amplification Technology, in the so-called NAD Masters Series. Now for the first time an amplifier with this technology is available in the NAD Classic Series, namely the new NAD C 298 Power Amplifier.
---
The Canadian hi-fi manufacturer NAD Electronics International states that in recent years they have worked hard to replace outdated, power-hungry amplifier concepts with linear power supply and Class AB power amplifiers. Almost half of the energy is converted into heat rather than sound.
They have developed much more powerful circuits based on switched-mode power supplies and Class-D output stages. These technologies, once considered inferior to traditional topologies, have thus long since proven to be reliable designs that are now superior to the tried and tested concepts. Above all, the manufacturer emphasises a very linear mode of operation over a wide bandwidth and consistent performance under all speaker loads.
But that is not all, he says, and he is working to find even more effective solutions.
In June this year, the Canadian hi-fi manufacturer NAD Electronics International surprised the public with the presentation of a new amplifier in the renowned NAD Masters Series, the new NAD Masters M33 BluOS Streaming DAC Amplifier. Not only is this a stereo amplifier with outstanding flexibility, not least due to the BluOS streaming platform and numerous interfaces for analogue and digital sources, but for the first time a completely new amplifier technology, the so-called Purifi Eigentakt Amplification Technology, was used.
Only a short time later, NAD Electronics International presented the NAD Masters M28 Seven Channel Power Amplifier, a 7-channel power amplifier for surround applications in home cinema, which also features Purifi Eigentakt Amplification Technology.
Up to now, the new Purifi Eigentakt Amplification Technology, developed by the specialist Purifi and licensed by NAD, has only been available in the NAD Masters Series, and is therefore reserved for the high-end and premium segment. Now, for the first time, it is to be used in a solution in the NAD Classic Series, as the Canadians are now introducing the new NAD C 298 Power Amplifier, a stereo power amplifier that also uses this particularly effective, high-performance technology and is thus being advertised as a true powerhouse.
Purifi Audio is a Danish technology specialist based in Roskilde. Here, a number of leading specialists have come together to work on advanced mathematical modelling around digital amplifier technology. NAD Electronics International says that there are of course many good amplifier concepts on the market, but they all have to struggle with various shortcomings. Purifi has taken a very simple approach, amazingly simple as the manufacturer himself puts it, and has found a solution to ensure impressively clean, accurate signal processing.
NAD Electronics International has licensed this technology to develop the latest amplifier systems based on it. Since the company also manufactures its own amplifier modules, it has been able to make specific optimisations around these Purifi Eigentakt modules, for example in the area of power supply and input stages, so that the solutions that it is now launching on the market based on this technology are of a completely new level of quality.
The new NAD C 298 Power Amplifier presents itself with a truly impressive output of no less than twice 185 watts on speaker systems with an impedance of 8 ohms. Speaker systems with an impedance of only 4 ohms provide a whopping 340 watts per channel, with power peaks as high as 570 watts. But that's not all, if desired the NAD C 298 Power Amplifier also allows a so-called bridge mode, so that it proves to be a powerful mono block with a stately 620 watts into 8 ohms.
The basis for this is, of course, primarily Purifi's Eigentakt Amplification Technology, but even this must be "underpinned" accordingly in order to reach its full potential, and this with an appropriately potent power supply.
The manufacturer speaks of an innovative so-called Asymmetrical PowerDrive, which really makes full use of every available watt with its enormous dynamic power reserves to guarantee absolutely precise reproduction without distortion or compression.
While the front of the new NAD C 298 Power Amplifier is naturally extremely simple, the rear offers a pleasingly wide range of options, especially since it is "only" a stereo power amplifier.
You will find both unbalanced inputs in the form of RCA sockets and balanced inputs in the form of XLR connectors. Interestingly, the input level can even be adjusted by means of a small rotary encoder, from 0 dB to -20 dB, an Auto Sense Level function is also available.
Via a line out further components can be integrated and of course 12 V trigger inputs and outputs are available.
The new NAD C 298 Power Amplifier features solid screw terminals for connecting the speakers.
"With our recent introduction of the NAD Masters M33 and shortly thereafter the NAD Masters M28, we knew that there would be a great demand for a pure two-channel amplifier with Purifi self-clocking technology. The C 298 will find many applications wherever a state-of-the-art two-channel amplifier or a powerful monoblock is required. Within the NAD brand, the C 298 is the perfect complement to the C 658 or as an additional two-channel amplifier for reference home cinema systems".

Cas Oostvogel, Product Manager of NAD Electronics International
According to the Canadians, the new NAD C 298 Power Amplifier should be available already in September 2020, at least in the USA, followed by Europe. NAD Electronics International quotes a price of US$ 1,999 for this solution, and € 1.999,- for the European market.
Getting to the point
Bislang war die neue vom Spezialisten Purify entwickelte und durch NAD lizenzierte Purify Eigentakt Amplification Technology allein Lösungen der NAD Masters Series, und damit dem High-end bzw. ausgewiesenen Premium-Segment vorbehalten, nun soll diese erstmals auch bei einer Lösung in der NAD Classic Series zum Einsatz kommen, denn nunmehr stellen die Kanadier den neuen NAD C 298 Power Amplifier vor, einen Stereo Leistungsverstärker, der ebenfalls auf diese besonders effektive, leistungsstarke Technologie setzt und damit als wahres Kraftpaket beworben wird.