Mytek describes the new Mytek Liberty DAC II, which has just become available, as a particularly flexible, attractively priced D/A converter with integrated headphone amplifier. In compact form, it is said to offer impressive results.
With the new Mytek Liberty DAC II, a compact D/A converter is available that is equipped for all content in hi-res audio and also comes with a headphone amplifier. The fact that this is the latest generation of an extremely successful solution from the US specialist Mytek Audio is probably already apparent from the product name.
As with its predecessor, the company promises outstanding performance data in a small device with an attractive price.
Mytek Liberty DAC II – The New Generation
The Mytek Liberty DAC II is Mytek's most affordable yet exceptionally powerful D/A converter, the company says, highlighting its broad support for a wide range of formats.
The Mytek Liberty DAC II is capable of processing both Linear PCM and DSD and also supports content encoded in the lossy compressed format MQA.
The D/A converter has multiple digital inputs, digital volume control and unbalanced and balanced analogue outputs, as well as a powerful headphone amplifier. The Mytek Liberty DAC II is designed, says the company, as a little brother to the Mytek Brooklyn DAC, offering robust performance in a small portable 1/3 rack enclosure.
From USB to TOS-Link
As far as digital interfaces are concerned, the new Mytek Liberty DAC II first and foremost offers a USB port, whereby it is a USB 2.0 port with USB Audio 2.0 support. This means that you only need drivers for Microsoft Windows, but not for Apple macOS or Linux.
Via USB, the full performance potential of the Mytek Liberty DAC II can be used, namely signals in Linear PCM with up to 32 bit and 768 kHz, thus also the 32 bit 384 kHz often referred to as DXD, furthermore DSD up to DSD512. As already described, content is also processed in MQA, with an integrated hardware MQA decoder certified by MQA.
Another possibility to integrate digital sources is available with an AES/EBU interface that supports linear PCM signals up to 24 bit and 192 kHz as well as DSD via DoP, i.e. DSD over PCM. This is also the case with the two coaxial S/PDIF interfaces of the new Mytek Liberty DAC II, which also has an optical S/PDIF interface that supports linear PCM signals at 24 bits and 192 kHz, as well as DSD in the form of DoP.
It is interesting to note that the developers also designate the TOS link of the new Mytek Liberty DAC II as Alesis ADAT-compatible, but this is unlikely to be of any practical relevance in hi-fi use.
The signal processing is done with the help of a D/A converter from the specialist ESS Technology Inc. in the form of an ESS SABRE ES9038PRO Flagship HyperStream II 8-Channel Audio DAC.
Balanced and unbalanced analogue outputs
The new Mytek Liberty DAC II boasts both balanced and unbalanced analogue outputs, with these taking the form of a pair of XLRs and a pair of RCA jacks respectively.
High-quality headphone amplifier
When it comes to the integrated headphone amplifier of the new Mytek Liberty DAC II, the manufacturer refers to it as a Reference High-current High-transient Headphone Amplifier, which is supposed to be able to drive a variety of different headphone models without any problems. Even models with very low and very high impedance should not pose any problems for the Mytek Liberty DAC II. The manufacturer gives 300 mA and 3 watts as reference values.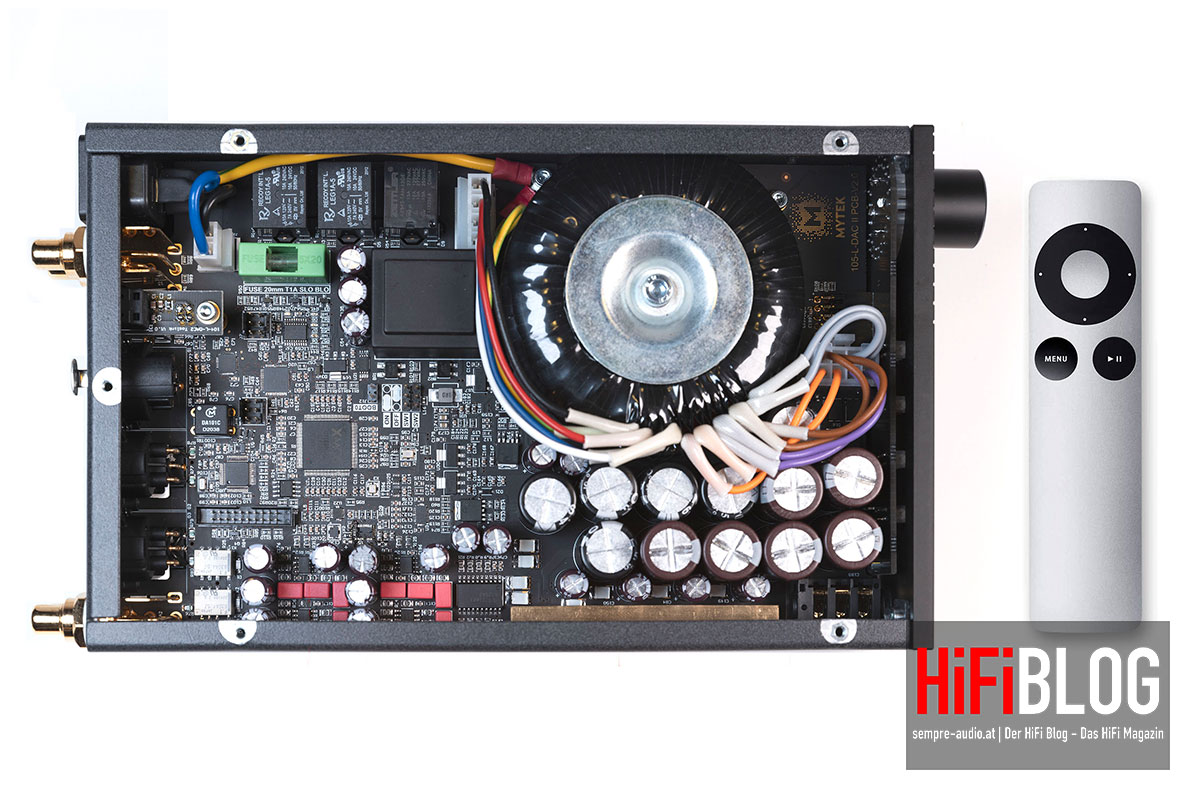 Simple control
The new Mytek Liberty DAC II is supposed to shine with a particularly simple control, where actually only a button and a rotary encoder are available. The button is used to select the input, whereby a longer press also takes over the function as a standby button. The rotary encoder for volume control has an LED ring, the active input as well as the resolution of the applied signal is also displayed via numerous status LEDs on the front.
Sophisticated volume control
By the way, the control of the volume is done on a digital level, namely by a hardware-based dynamic 32-bit volume control with 192 dB dynamic range and with 256 steps in 0.5 dB steps, which can also be controlled via an included infrared remote control, via a connected computer via USB HID or even a Roon Core. This means that the Mytek Liberty DAC II is a Roon-tested D/A converter.
Solid power supply
The manufacturer explicitly emphasises the generously dimensioned power supply of the new Mytek Liberty DAC II. This is based on a linear power supply with toroidal transformer and 48,000uF filter capacity.
With its black aluminium housing, the new Mytek Liberty DAC II measures no more than 140 mm in width, 225 mm in depth and 44 mm in height. Nevertheless, it weighs in at 2 kg.
The Mytek Liberty DAC II can already be ordered in the USA, where the price is listed at US$ 1,295.
Getting to the point
It is remarkable what Mytek Audio offers in the new Mytek Liberty DAC II in the form of a very compact system. Even if the combination of D/A converter and headphone amplifier doesn't sound very spectacular at first, everything here is implemented on a very high level and thus guarantees on the one hand flexibility in use and at the same time probably excellent sound quality.
| PRODUCT | MYTEK LIBERTY DAC II |
| --- | --- |
| Price | US$ 1.295,- |