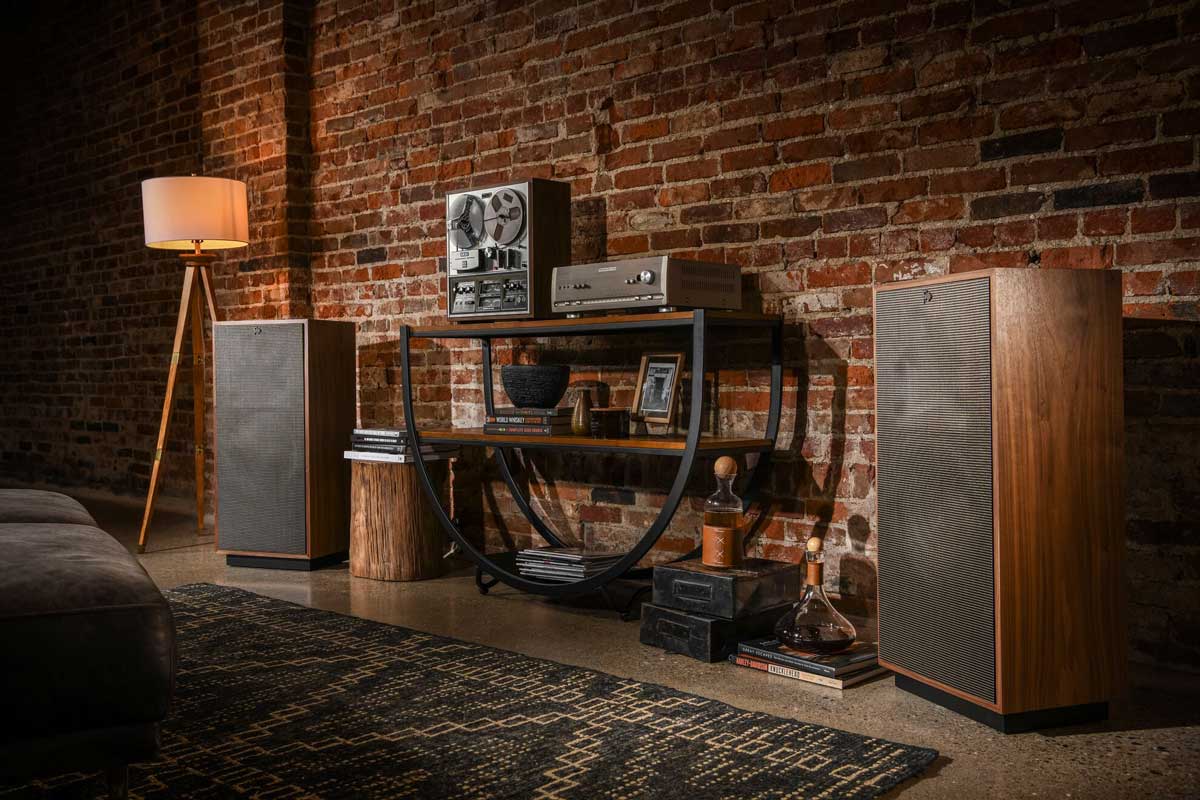 High performance is what the Klipsch Heritage Forte IV stands for, the latest addition to the Klipsch Heritage Classic Premium Series and thus the latest generation of a speaker system that may well be described as a timeless classic.
Klipsch Heritage Forte IV, a loudspeaker that appears as a worthy representative of the Klipsch Heritage Classic Premium Series and which, it can be said at first glance, is a timeless classic.
A classic since 1985
It is not that long ago that Klipsch presented the Klipsch Forte, because it was in 1985. Of course, that is an eternity by conventional standards, but they do not apply to a company like the US loudspeaker specialist, after all, it is one of the oldest companies in the industry as a whole, which also always tries to maintain traditions. Klipsch can refer to a multitude of loudspeaker systems whose history goes back 20, 30, 40 and sometimes even more years. So the 35 years of the Klipsch Heritage Forte IV actually seem quite normal…
Klipsch Heritage Forte IV – The fourth generation
As described, Klipsch presented the first Klipsch Forte in 1985. After the second generation, Klipsch seemed to discontinue the concept in 1996, as a somewhat longer break followed. The market had changed significantly in parts, so that classic loudspeaker designs of the 1980s were not really in vogue. It wasn't until 2017 that Klipsch took up the concept again and presented the third generation of the Klipsch Forte, and now we have already reached the fourth generation.
Vintage look is all the rage
Of course, there's no reason why Klipsch is focusing on classic designs. Solutions with a typical vintage look are currently very popular with many users, so loudspeaker systems can be a little more expansive, even a little more massive, as the new Klipsch Heritage Forte IV undoubtedly is. This is not really a slim, compact loudspeaker system.
Top quality
Like all products in the Klipsch Heritage Classic Premium Series, the new Klipsch Heritage Forte IV is handcrafted in Hope, a small town in the USA, more precisely in the state of Arkansas. According to the manufacturer, only high-quality materials are used.
In this case, the cabinet is finished with exclusive real wood veneers, whereby the individual veneer sheets are, according to the manufacturer's promise, exactly matched to each other. In addition, veneers are chosen that have been cut from solid trunks in order to achieve the largest possible natural grain. The respective pair of Klipsch Heritage Forte IVs is, of course, also matched in the best possible way, so that here, too, the look is perfect down to the last detail.
Four design variants are available: Distressed Oak with Lambswool Grille, Black Ash with Salt & Pepper Grille, Amerinac Walnut with Salt & Pepper Grille, and Natural Cherry with Salt & Pepper Grille. The designation "Salt & Pepper" stands, of course, for the classic grey mottled textile fabric that we know from the "good old days".
To be clear about the dimensions, the Klipsch Heritage Forte IV measures 90.81 cm in height, 42.24 cm in width and 33 cm in depth. The solid MDF cabinet with multiple internal bracing and equipped with powerful drivers weighs 32.7 kg.
Three-way system for legendary Klipsch sound
The new Klipsch Heritage Forte IV is designed as a three-way system, whereby, of course, how could it be otherwise, the tweeter driver with Klipsch Tractrix Horn is particularly eye-catching.
This is a Klipsch K-100-TI 1 inch Titanium Diaphragm Compression Driver with Klipsch K-79T Horn.
The Mittenton driver is a Klipsch K-702 1.75 inch polyimide compression driver with a Klipsch K-703-M horn.
The lowest frequency range is covered by a Klipsch K-281 12-inch woofer designed as a fibre-composite cone in conjunction with another Klipsch KD-15 15-inch passive cone radiator.
The completely redesigned crossover, optimised for efficiency and purest sound, intervenes at 650 Hz and 5.2 kHz, respectively, and the speaker system is supposed to reproduce a frequency range between 38 Hz and 20 kHz.
Impedance is rated at 8 ohms, sensitivity at a remarkable 99 dB, and recommended amplifier power at 100 watts, with a peak load of 400 watts.
The Klipsch Heritage Forte IV's connection panel is designed for bi-amping or bi-wiring, using solid screw terminals in the good tradition that can easily accommodate even massive cables and guarantee a secure connection at all times.
With letter and seal…
Before the loudspeaker systems leave the factory, they are marked with a consecutive serial number, as well as with the signature of the employee who is responsible for this model. This is to underline the high quality standard that is set here. In addition, each speaker is unique.
The new Klipsch Heritage Forte IV should be available in specialist shops within the next few days. For this new loudspeaker system from the specialist Klipsch, you have to budget € 2,799, whereby this is to be understood as the price per unit.
Getting to the point
With the Klipsch Heritage Forte IV, Klipsch once again presents a loudspeaker system that is entirely in keeping with the decades of tradition of the US specialist. A loudspeaker system that knows how to celebrate this history and that is not afraid to appear accordingly powerful and self-confident. From a purely technical point of view, too, this is a system that will live up to the Klipsch name in the spirit of its founder, Paul W. Klipsch.