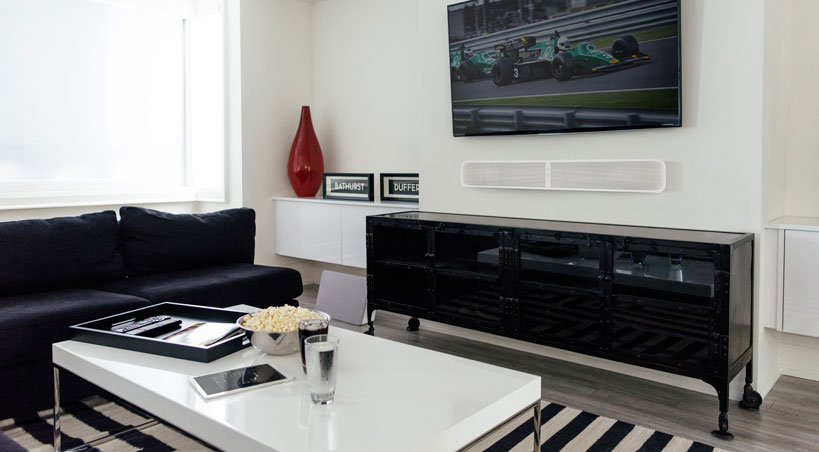 Above all, the Bluesound PULSE Soundbar 2i and the Bluesound POWERNODE 2i are the focus of the latest firmware update of BluOS, which is now available. With the help of BluOS v3.12.13, these are to be able to offer a special new surround mode, which also brings advantages for stereo content.
---
Normally, a clear distinction is made between stereo and surround, the former is clearly designed for two channels, the latter provides surround sound based on multi-channel recordings. But if you own a multichannel system, you may well want to play back content that is actually designed for stereo via your surround configuration. The boundaries are therefore somewhat blurred here.
Such options are known from AV receivers, for example, where special DSP algorithms ensure that content is played back in stereo via a surround configuration, so that you also benefit from the surround channels and can enjoy an artificially generated surround sound. This may not be an issue for purists, but some people can certainly enjoy it.
Bluesound International, a subsidiary of the Canadian Lenbrook Group, now also wants to provide such a feature with selected streaming solutions from the Bluesound product line. Specifically, the solutions Bluesound PULSE Soundbar 2i and Bluesound POWERNODE 2i, which now receive a new so-called Stereo Surround mode with the latest update of the BluOS streaming platform.
This is based on a DSP algorithm borrowed from its sister brand NAD Electronics International, which is now included in BluOS v3.12.13. If a so-called home cinema group has been configured around the two systems Bluesound PULSE Soundbar 2i and Bluesound POWERNODE 2i, i.e. if surround speakers are used in addition to the two front channels, the new algorithm allows these to be used in stereo as well. If the new stereo surround mode is activated, additional signals are generated for the rear surround speakers based on the stereo signal.
Bluesound International would like to point out that the Stereo Surround mode uses only the natural spatial atmosphere already contained in almost all well-produced stereo recordings, thus adding no artificial room ambience or other sound elements. This guarantees that the new Bluesound Stereo Surround mode stays much closer to the original recording and is therefore not comparable to similar solutions on the market. The result is also much more accurate than those generated by various Virtual Surround solutions, as separate speakers are actually used for the surround channels.
"More and more customers are looking for high quality, wireless surround sound options for everyday listening pleasure. With Stereo Surround, we offer them a technologically sophisticated but highly natural and credible spatial reproduction that creates a noticeably more intense listening experience, even when combined with stereo content."

Matt Simmonds, Bluesound Product Manager
The new firmware BluOS v3.12.13 is already available for download. For existing customers it is of course available free of charge in the proven way.
Getting to the point
In order to be able to play back content in stereo room filling with a home cinema group built around the solutions Bluesound PULSE Soundbar 2i or a Bluesound POWERNODE 2i with corresponding surround speakers from Bluesound International, BluOS equips the latest version of the streaming platform with the Stereo Surround mode. This comes from the subsidiary NAD Electronics and is intended to provide a natural, room-filling sound.
You are currently viewing a placeholder content from Facebook. To access the actual content, click the button below. Please note that doing so will share data with third-party providers.
More Information