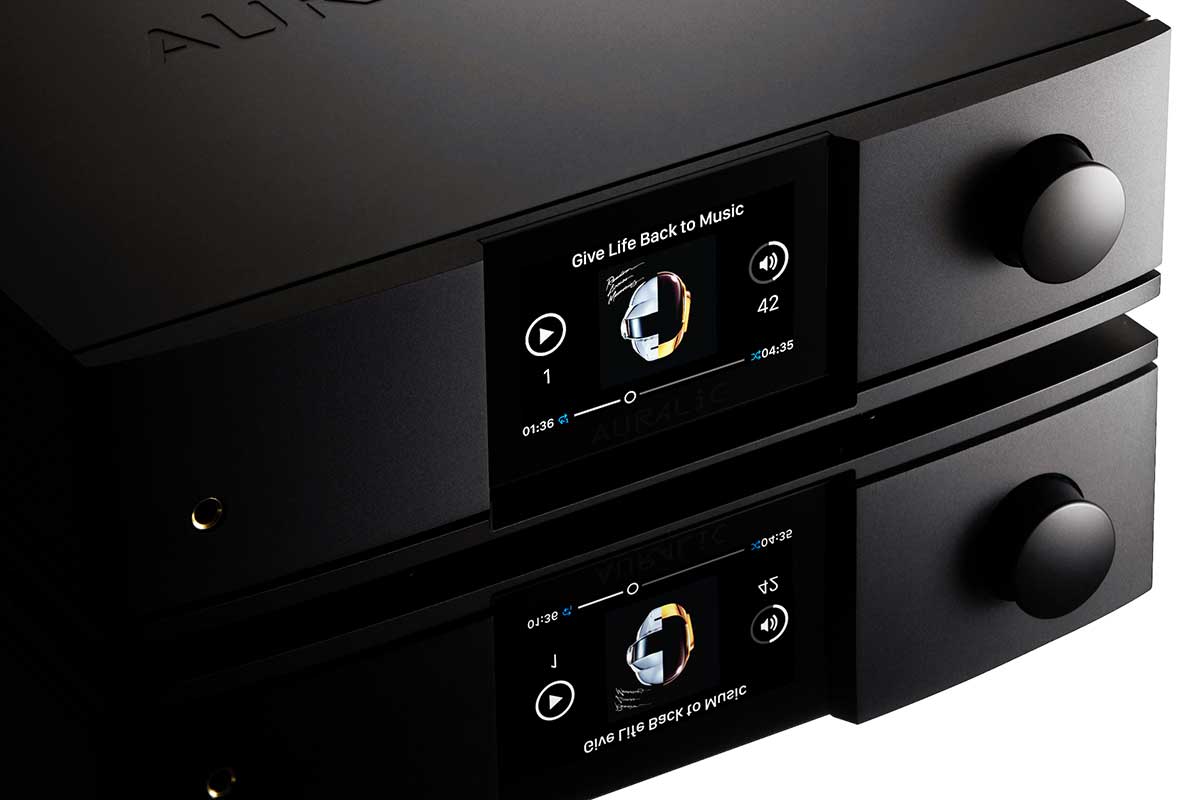 The new AURALiC ALTAIR G2.1 is designed as a fully equipped solution for digital as well as analogue sources. Extensive equipment thus meets flexible function paired with high ease of use and should appeal even to demanding hi-fi enthusiasts.
AURALiC ALTAIR G2.1 Digital Audio Streamer This is the continuation of a success story that has already spanned many years. Founded in 2009, AURALiC Ltd. has built up an impeccable reputation over the years, first and foremost as a streaming specialist, whereby the company has long since gone beyond streaming alone.
Nevertheless, the systems from AURALiC Ltd. are characterised above all by their flexibility and high quality in streaming, and this of course also applies to the latest addition, the AURALiC ALTAIR G2.1.
AURALiC ALTAIR G2.1 as a full-featured source for digital and analogue
But streaming is only one aspect of the new AURALiC ALTAIR G2.1. The manufacturer refers to it as the AURALiC ALTAIR G2.1 digital audio streamer, but at the same time promises a fully equipped digital as well as analogue source, thus essentially combining everything a discerning hi-fi enthusiast needs for a flexible, modern audio system.
According to the manufacturer, the name ALTAIR has always been synonymous with extensive functions and thus flexibility, but the new AURALiC ALTAIR G2.1 opens a completely new chapter in this respect. Based on the previous recipe for success, the latest generation goes a few steps further and transfers the ALTAIR concept to the AURALiC G2.1 Premium Series for the first time.
Extensive features, top sonic performance
The manufacturer states that the new AURALiC ALTAIR G2.1, like its AURALiC G1 counterpart, offers all the functions and features for which AURALiC is renowned. However, everything essential has been optimised once again and packed into a compact, perfectly shielded housing, just as it is in the spirit of the G2.1 ethos.
Pure computing power for the highest demands
Let's start with the heart of the system, which is ultimately decisive for signal processing. Considering the high demands that users can place on the new AURALiC ALTAIR G2.1, it was not easy for the developers to choose the "right" processor.
In the end, the decision was once again made in favour of the so-called Tesla platform, which, according to AURALiC Ltd., is now used as the Tesla G2 Platform and which, with a 50 per cent increase in performance compared to previous generations, offers a particularly solid basis with sufficient scope to actually map all the required functionality with high performance for intuitive, fluid operation and accurate signal processing.
AURALiC Lightning DS as a streaming platform
In a proven manner, the so-called AURALiC Lightning DS streaming platform forms the basis for the task as a flexible streaming client, which functions as a dlna-certified UPnP streaming client and can thus access corresponding shares in the network.
The system can thus easily play back any kind of audio data up to hi-res audio from the network, whereby this naturally includes not only its own data, but also direct access to streaming services such as Qobuz, TIDAL and Spotify. The latter service also includes the Spotify Connect function. Further integrations are to follow, according to the manufacturer's promise. We are guessing that TIDAL Connect will be one of the first, just to mention this in passing.
Of course, the AURALiC ALTAIR G2.1 is also Roon-ready and is listed as a Roon-ready device by Roon Labs LLC.
The integration into the network is done either via a tri-band WiFi module according to IEEE 802.11ac or by cable via a Gigabit Ethernet interface, which is mentioned here for the sake of completeness.
If you have stored data directly on a USB storage medium, you can of course also play them back, and even install a hard disk. If desired, this can be ordered directly from the factory with a storage capacity of 2 TByte in the form of an SSD and thus as a storage medium without moving components that could cause disturbing operating noises.
No matter how data is played back, the AURALiC Lightning DS for Apple iOS or via its own web interface always ensures intuitive control. OpenHome compatible apps such as BubbleUPnP or Kazoo can also be used.
Integrated D/A converter of the highest quality
AURALiC Ltd. has always taken great care in the processing of digital data, and the new AURALiC ALTAIR G2.1 is no exception, using Dual Femto Second Clocks for absolutely perfect timing with minimal jitter that can damage sound quality.
The AURALiC ALTAIR G2.1 processes data in Linear PCM format at up to 32 bits and 384 kHz and DSD native including DSD512.
This signal processing is not only available to the streaming client, but also to external digital sources. For this purpose, the new AURALiC ALTAIR G2.1 offers first and foremost a USB interface for direct connection to a PC or Mac. In addition, there is a coaxial and optical S/PDIF interface as well as an AES/EBU interface. So you are very well equipped for a wide variety of digital sources.
Open for analogue, including phono preamplifier
As described above, the new AURALiC ALTAIR G2.1 digital audio streamer is also designed to integrate the analogue world, independent of the "digital" basis of the system, so that there is no need to worry about negative influences when using it as a preamplifier.
On the back of the system, a phono preamplifier is the first thing that catches the eye, designed for turntables equipped with MM cartridge systems.
In addition, there is another line in, designed as a pair of cinch sockets. It should be mentioned in passing that this can be configured as a bypass for home cinema integration.
Analogue signals leave the new AURALiC ALTAIR G2.1 digital audio streamer either unbalanced via a pair of RCA sockets or balanced via XLR connections.
By the way, the manufacturer relies on a Class A Orfeo output module, which guarantees an ultra-linear frequency response with minimal noise and free of any distortion.
The volume is controlled solely on an analogue level via a resistor network borrowed from the AURALiC VEGA G2.1.
A headphone connection in the form of a 3.5 mm stereo min jack is also available directly on the front.
Elegantly packaged
In the proven manner, a timelessly elegant, but above all extremely solid aluminium housing is used, which offers the electronics the necessary protection from disturbing external influences.
The manufacturer refers to this as a Unitiy Chassis II, which has additional copper insulation inside and rests on six specially damped feet.
The new AURALiC ALTAIR G2.1 should be available in specialist shops within the next few days. The distributor audioNEXT GmbH in Essen gives a recommended retail price of € 4,999 for this solution.
Getting to the point
The new AURALiC ALTAIR G2.1 Digital Audio Streamer is the latest chapter in the success story of AURALiC Ltd. The company promises not only a flexible streaming client based on AURALiC Lightning DS, but also an outstanding D/A converter and, in particular, an analogue preamplifier, including a phono preamplifier, so that the new AURALiC ALTAIR G2.1 is a fully equipped digital and analogue source component at the highest audiophile level.