With Audirvana Studio 2.0.0 and Audirvana Origin 2.0.0, the French software company Audirvana SAS delivers the latest generation of these extremely versatile and flexible tools for Microsoft Windows and Apple macOS, whereby Audirvana Studio 2.0.0 is available as before for subscribers and Audirvana Origin 2.0.0 for all those who decide to make a one-off payment. Both versions are characterised by a series of extremely exciting innovations, but above all by a multitude of detailed improvements.
Audirvana – From Tool for Apple iTunes to Flexible Media Player and Versatile Streaming System
Damien Plisson, the founder and developer of Audirvana SAS, initially conceived his software tool as an extension for the software solution Apple iTunes for Apple macOS, whereby its sole task was to "wrest" the actual signal processing from the operating system and take it over, thus raising it to a much higher level of quality.
Gradually, over the years, the range of functions of the software solution was expanded until finally an extremely flexible independent media player was available, which also included more and more functions for managing its own media library and was ultimately even expanded into a flexible streaming solution with the integration of streaming services such as TIDAL, Qobuz and HRA Streaming from HIGHRESAUDIO, for which Audirvana SAS naturally also offered corresponding apps for smartphones and tablets for convenient control.
What was initially conceived for Apple macOS alone was also implemented for Microsoft Windows, and today Audirvana Studio presents itself as an extremely flexible solution, offering it in the form of a subscription to be paid monthly or annually. With Audirvana Origin, Audirvana SAS again decided in April 2022 to design a variant of its software that is offered as a regular purchase version, although here the user is limited solely to the audio data stored locally on the PC or Mac.
With the new version Audirvana Studio 2.0.0 as well as Audirvana Origin 2.0.0, the company wants to once again significantly expand the range of functions of the solutions and make their handling even more versatile.
Google Chromecast for enhanced multi-room audio streaming
The most important innovation is that Audirvana Studio 2.0.0 and Audirvana Origin 2.0.0 are now able to stream audio via Google Chromecast. This provides an alternative to the previously offered music streaming via UPnP, which is particularly exciting because Google Chromecast is supported by a variety of solutions on the market, across the different price and quality classes.
The two software tools support streaming via Google Chromecast up to 24 bit and 96 kHz, as this technology platform provides. In addition, Google Chromecast is of course equipped for multi-room audio streaming, Audirvana Studio 2.0.0 as well as Audirvana Origin 2.0.0 thus support hi-res audio in multi-room connection with the most diverse solutions, from small wireless speakers to AV or HiFi systems.
Improved UPnP Streaming – Universal Gapless Playback
Streaming via UPnP has also been improved with Audirvana Studio 2.0.0 and Audirvana Origin 2.0.0, namely with regard to universal gapless playback. This should now work even if a streaming client itself does not actually support it.
Individual presets are saved
Another new feature is that device-specific settings, such as upsampling or similar, are now saved individually for each device and are thus available again at any time. This may seem like a minor detail, but of course it makes everyday use much easier.
Updated Audio Scan
An extremely interesting feature of Audirvana Studio 2.0.0 as well as Audirvana Origin 2.0.0 is that it offers various analysis functions. This is particularly important because hi-res audio data that does not have the resolution promised by the provider can be mercilessly exposed. Compressed content as well as upsampling can be detected in the simplest way. With Audirvana Studio 2.0.0 and Audirvana Origin 2.0.0, the so-called HD Analyzer has been further developed so that more information about tracks is now available.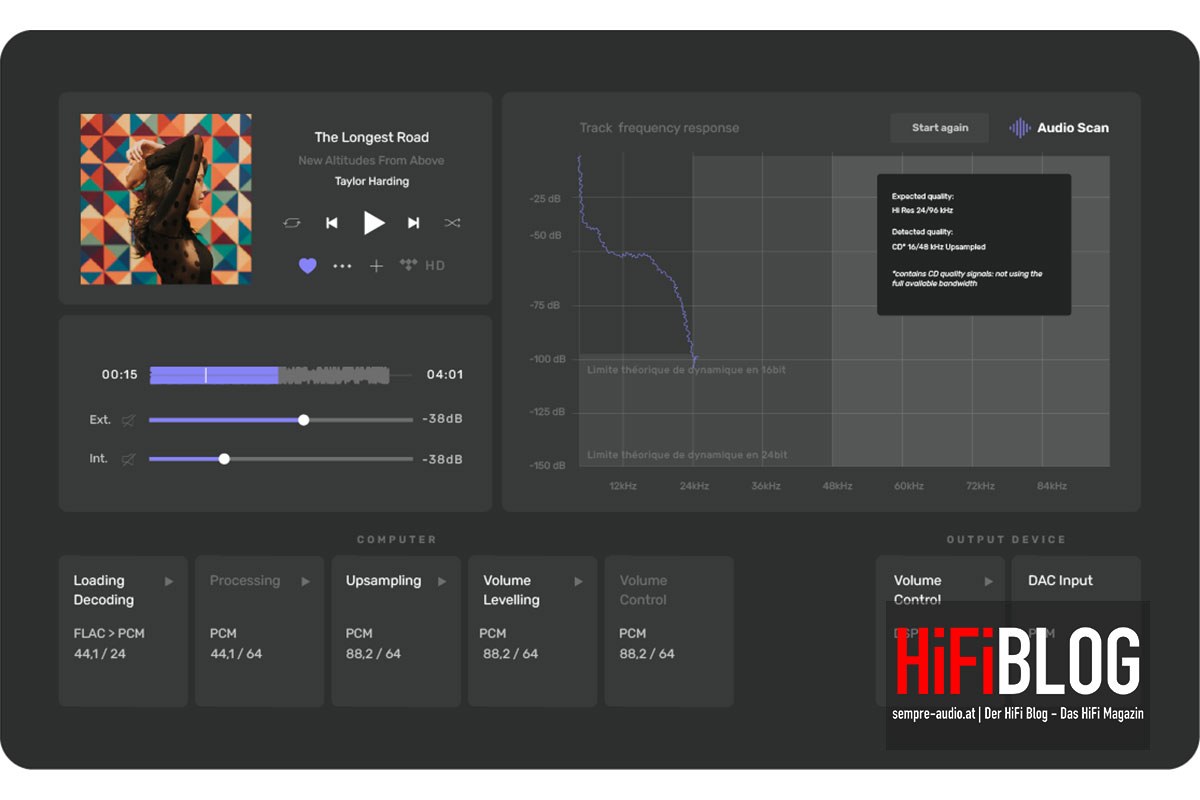 Revised User Interface
Most importantly, the new versions Audirvana Studio 2.0.0 and Audirvana Origin 2.0.0 feature a revised user interface, which is reflected in many areas and is intended to simplify handling even further, while at the same time providing more options.
For example, alphabetical keyboard shortcuts are now possible as well as editing the order of the source list, extended actions are available for the various sorting criteria and displays, and the creation and management of playlists has also been revised.
Another new feature is that the home screen can now be changed according to one's own preferences, and even the somewhat technically demanding settings around signal processing have been optimised.
New Audirvana Remote App
As mentioned earlier, Remote Apps have been an important companion to Audirvana Studio for years. With Audirvana Studio 2.0.0, a new Audirvana Remote App is now available, the most important innovation of which is that it finally offers the so-called Landscape Mode for tablets.
Finally, it should also be mentioned that the login window for account login now finally uses the system browser to enable the use of the password manager for one-click login. So the tedious typing of username and password that was required from time to time for authentication is now no longer necessary.
Prices and availability
Audirvana Studio 2.0.0 and Audirvana Origin 2.0.0 are available immediately. Audirvana 2.0.0 costs either € 6,99 per month or € 69,99 per year. Audirvana Origin 2.0.0 can be purchased for € 119,99, with updates promised for at least until 2025. For new customers, the provider offers a trial version with full functionality.
Getting to the point
With Audirvana Studio 2.0.0 and Audirvana Origin 2.0.0, the solutions from Audirvana SAS once again take a big step towards even more flexibility, because in addition to numerous detail improvements in various areas, above all through an optimised user interface, these solutions are now able to stream music not only via UPnP, but also via Google Chromecast. This opens up an immensely broad product range of different streaming systems, which can now be integrated around Audirvana Studio 2.0.0 and Audirvana Origin 2.0.0 in an extremely flexible and at the same time very convenient way.
PRODUCT
AUDIRVANA STUDIO 2.0.0 AND AUDIRVANA ORIGIN 2.0.0
Price
Audirvana Studio 2.0.0 monthly payment € 6,98 per month
Audirvana Studio 2.0.0 subscription with annual payment € 69,98 per year
Audirvana Origin 2.0.0 € 119,99