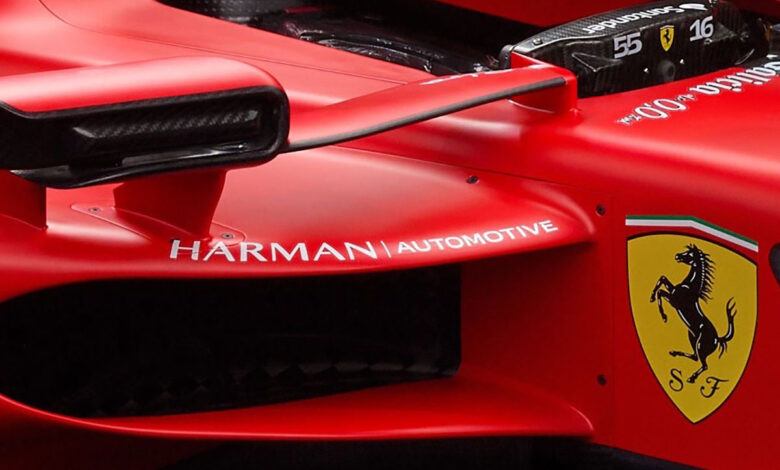 It is not only a marketing partnership that Harman International Industries with its Harman Automotive Division is now announcing together with Ferrari S.p.A., but above all a technology partnership. Together, they want to drive forward the development of the so-called in-cabin experience of the future, which focuses on the Digital Cockpit and the Harman Ready Upgrade.
Together, they want to optimise the technical possibilities, the interfaces to the user and thus the in-car experience and integrate these technologies into the entire Ferrari S.p.A. vehicle range. Harman Automotive thus becomes the exclusive In-Cabin Experience Team Partner of Scuderia Ferrari.
Harman Automotive – One of the leading suppliers
Harman Automotive is part of Harman International Industries and thus a subsidiary of Samsung Electronics Co. Ltd. and has been regarded for years as one of the leading companies in the strongly flourishing automotive segment.
For a long time now, the automotive sector has had nothing whatsoever to do with what used to be understood by the term car hi-fi, for technology providers such as Harman Automotive supply entire platforms for vehicle manufacturers that take over the control of the vehicle itself, thus linking the on-board computer with the entertainment system.
And this is exactly what the now announced partnership between Harman Automotive and Ferrari S.p.A. is all about.
"Our partnership brings together two brands known for excellence and for pushing the boundaries of technology and innovation. We look forward to working with Harman to extend our lead in interiors and provide our customers with an unparalleled driving experience."

Benedetto Vigna, CEO of Ferrari S.p.A.
Ferrari to rely on Harman Ready Upgrade hardware and software
This is to be a partnership for many years to come, Harman Automotive has announced, with the aim of developing and jointly bringing to market the next generation of in-vehicle systems.
Ferrari S.p.A. will use Harman Ready Upgrade hardware and software to quickly and cost-effectively provide future-proof systems that are designed to be at the highest level of functionality and sound when used as in-car entertainment systems.
Harman Ready Upgrade represents a range of products that significantly reduces time-to-market and costs for car manufacturers and enables consumers to easily enhance their own in-car experience. Harman Ready Upgrade transforms the car into a modern electronic device that can be updated and personalised with new features and services at any time – similar to a smartphone.
For Ferrari S.p.A., Harman Ready Upgrade allows integration into the vehicles, offering optimised performance without having to invest in extensive software development.
Harman Automotive to become exclusive In-cabin Experience Team Partner of Scuderia Ferrari
The partnership also extends to the race track, as Harman Automotive will become Scuderia Ferrari's exclusive In-cabin Experience Team Partner from the 2023 Formula One season, the two companies also announced.
"Harman Automotive and Ferrari share an expertise, tenacity and willingness to innovate that are tailor-made to enable a new era of motoring. I have no doubt that this combination will deliver customer experiences that delight consumers and bring our value proposition of Consumer Experiences. Automotive Grade. to life – on the track and on the road."

Christian Sobottka, President, Harman Automotive
Getting to the point
The automotive sector is becoming increasingly important to consumer electronics companies, especially in light of the fact that it is a thriving market that they are only too happy to participate in. One of the market leaders is Harman Automotive of Harman International Industries, which can now announce another partnership, a very prestigious one at that, with the Italian noble brand Ferrari S.p.A. This partnership is not only understood as a marketing cooperation, but actually as a technology partnership designed for several years, which is also to extend to Formula 1. Harman Automotive is now the exclusive in-cabin experience team partner of Scuderia Ferrari.