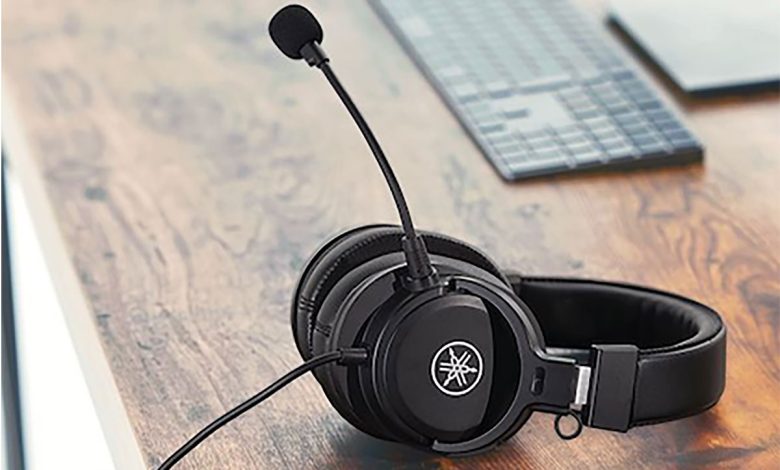 The new Yamaha YH-G01 headset, which Yamaha Music Europe GmbH has already announced and will now officially present at IFA 2022 in Berlin, is said to be a particularly versatile solution. The new headset is said to be ideal for games thanks to a range of special features, but also for the home office and home schooling sectors, i.e. for voice calls and video chats.
Yamaha YH-G01 Headset – Indispensable communication tool
Yamaha Music Europe GmbH is convinced that a headset is indispensable communication equipment in the remote age. Just as the living environment, the working world and even the school day has changed drastically for many people in recent months, home schooling and home offices will probably continue to be at least an option for many people in the future.
In order to be able to communicate with other people in the best possible way, especially via a PC or Mac, be it via video chat or even voice calls, an optimally tailored solution is required, and this is exactly what Yamaha Music Europe GmbH offers with the new Yamaha YH-G01 headset.
Comfort and sound quality top priority
The new Yamaha YH-G01 headset was designed with two features in mind: comfort and sound quality.
The Yamaha YH-G01 headset features a very lightweight construction that weighs only 260 grams and is designed to exert only moderate pressure on the user's head, thus ensuring a secure fit at all times, but also not pinching, so that it can be used for hours without any problems.
Another essential aspect is that they rely on ear pads here, which are so-called mesh ear pads and thus allow a continuous exchange of air and thus prevent sweating.
The Yamaha YH-G01 headset is tuned to guarantee a natural and balanced performance.
When it comes to the best possible sound quality, we also have to mention the integrated microphone, because the Yamaha YH-G01 headset is not a dynamic, but rather a condenser microphone. Here, too, everything was done to achieve the most natural, detailed reproduction possible and a high sensitivity at the same time, so that the user can speak normally even in quiet sound. Ambient noise should be suppressed as far as possible, even if the Yamaha YH-G01 headset does not have active noise cancellation.
Optimal for games
Apart from the use in the professional everyday life one is to be able to have however also completely simply fun with the Yamaha YH G01 Headset, and not only if one enjoys music over it. According to Yamaha Music Europe GmbH, the new Yamaha YH-G01 headset is also perfectly suited for ambitious gamers, especially when used in combination with the new Yamaha ZG01 Game Streaming Audio Mixer from the Yamaha ZG Series. The company even offers these two solutions as a complete package in the form of the so-called Yamaha ZG01 Pack.
Prices and availability
The new Yamaha YH-G01 headset will be presented in Berlin during the IFA 2022, but should already be available in stores these days. The recommended retail price is € 199,- from the manufacturer. For gaming enthusiasts, it should also be mentioned that the Yamaha ZG01 Pack just mentioned is available at a price of € 499,-.
Getting to the point
For many years, the headset market was left to a few designated specialists alone; the bulk of manufacturers in the headphone sector didn't really care about this particular product group. The changes in recent months have changed this fundamentally, the segment of headsets moved more and more into the focus of consumers, because for voice calls and video chats, high-quality solutions are virtually indispensable. So it's not surprising that Yamaha Music Europe GmbH now also has a suitable solution ready with the new Yamaha YH-G01 headset, which could also be of particular interest to gamers.
PRODUCT
YAMAHA YH-G01 HEADSET
Price
Yamaha YH-G01 Headset € 199,-
Yamaha ZG01 Pack € 499,-