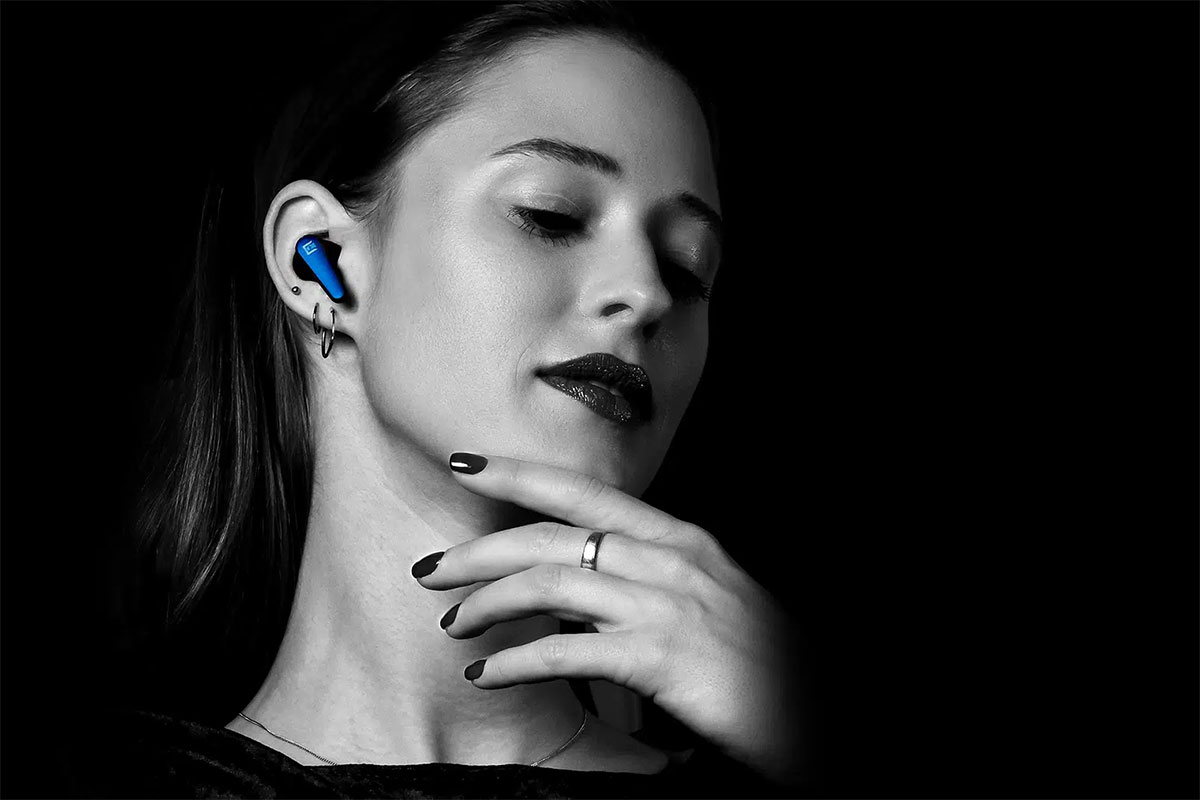 These are the first True Wireless Earbuds with active noise cancellation from Ultrasone AG, which the company is now introducing with the new Ultrasone LAPIS ANC. These are supposed to convince with powerful immersive sound.
30 years of research and development have gone into the new Ultrasone LAPIS ANC True Wireless Earbuds, the first of their kind ever to be introduced by Ultrasone AG, which are not only designed to provide particularly powerful immersive sound, but are also equipped with active noise cancellation.
The company also promises particularly simple handling and a long battery life.
Ultrasone LAPIS ANC True Wireless Earbuds – Versatile Gems
Ultrasone AG calls these new in-ear headphones a true gem, a particularly versatile gem that boasts outstanding functions and is ideally equipped for all situations in life.
It is striking that a very distinctive design was chosen, the headphones have, if you want to put it that way, a teardrop shape.
The housing with the driver is bulbous and ends in the eartips on one side, which are inserted into the ear canal, while on the other side there is a small projection that encloses the electronics and – from a very practical point of view – seems ideal for inserting the in-ear headphones into the ear or removing them.
Obviously, the Ultrasone LAPIS ANC True Wireless Earbuds are ergonomically shaped so that they fit comfortably in the ear canal and offer a secure hold.
Ultrasone S-Logic Technology
It is striking that Ultrasone AG also uses its unique Ultrasone S-Logic Technology in this class. This technology is based on the fact that the drivers are not installed parallel to the ear, but rather slightly angled in, so that even this small trick guarantees significantly more spatial hearing.
The developers promise that the Ultrasone S-Logic Technology in the new Ultrasone LAPIS ANC True Wireless Earbuds will provide a spatial perception and a sound stage that is second to none.
Another advantage of this technology is also said to come into play, namely that a significantly lower level is required compared to conventional designs in order to achieve a full, rich and detailed sound. This is noticeably easier on the ear, even during long listening sessions.
By the way, the new Ultrasone LAPIS ANC True Wireless Earbuds rely on a very generously dimensioned driver with a diameter of 13 mm, whereby the frequency range is "limited" to the usual 20 Hz to 20 kHz in this class solely due to the type of signal transmission via Bluetooth.
Bluetooth 5.2 and Hybrid ANC
Ultrasone AG relies on Bluetooth 5.2 for signal transmission in the new Ultrasone LAPIS ANC True Wireless Earbuds and promises particularly accurate active noise cancellation.
Six microphones are integrated into the Ultrasone LAPIS ANC True Wireless Earbuds, which constantly analyse the surroundings and suppress ambient noise accordingly.
Ambient Sound Mode
Once again, it must be emphasised that a so-called Ambient Sound Mode is supported, in which the user can specify that he or she is not completely disconnected from the environment, but that ambient noise is allowed to pass through to a certain degree.
After all, the active noise suppression in combination with the passive attenuation already effective in IN-ear headphones would result in a reduction of ambient noise of up to 40 dB, so that one can hear almost nothing of the environment.
Simple control
Activating or deactivating the noise cancellation is as intuitive as the overall control, quite simply via sensor button fields on the outside of the ear tips.
This also includes the hands-free function, which the Ultrasone LAPIS ANC True Wireless Earbuds naturally offer, with the manufacturer promising crystal-clear voice quality. Likewise, the six microphones can of course also be used to control the smartphone via voice, be it Apple Siri on Apple iOS or Google Assistant on Google Android.
Long battery life
The 65 mAh battery integrated in the earplugs allows up to nine hours of playtime, and the transport case with 650 mAh battery included in the scope of delivery allows a further 35 hours of playtime.
It is interesting to note that after only ten minutes of charging, one and a half hours of music enjoyment are guaranteed.
It is also worth mentioning that the transport case can not only be charged via USB-C, but also supports Qi wireless charging.
Prices and availability
Ultrasone AG states that the new Ultrasone LAPIS ANC True Wireless Earbuds are already available for pre-order directly via the company's website, with delivery expected by the end of January or early February 2022.
The recommended retail price for the new Ultrasone LAPIS ANC True Wireless Earbuds is € 179.
Getting to the point
So now the German company Ultrasone AG is also betting on in-ear headphones with Bluetooth, so-called True Wireless in-ear headphones, which feature active noise cancellation, a so-called ANC (Active Noise Cancelling). The Ultrasone LAPIS ANC True Wireless Earbuds are also said to feature a fine sound based on Ultrasone S-Logic Technology as well as a long battery life and intuitive operation.
| PRODUCT | ULTRASONE LAPIS ANC TRUE WIRELESS EARBUDS |
| --- | --- |
| Price | € 179,- |
You are currently viewing a placeholder content from Facebook. To access the actual content, click the button below. Please note that doing so will share data with third-party providers.
More Information