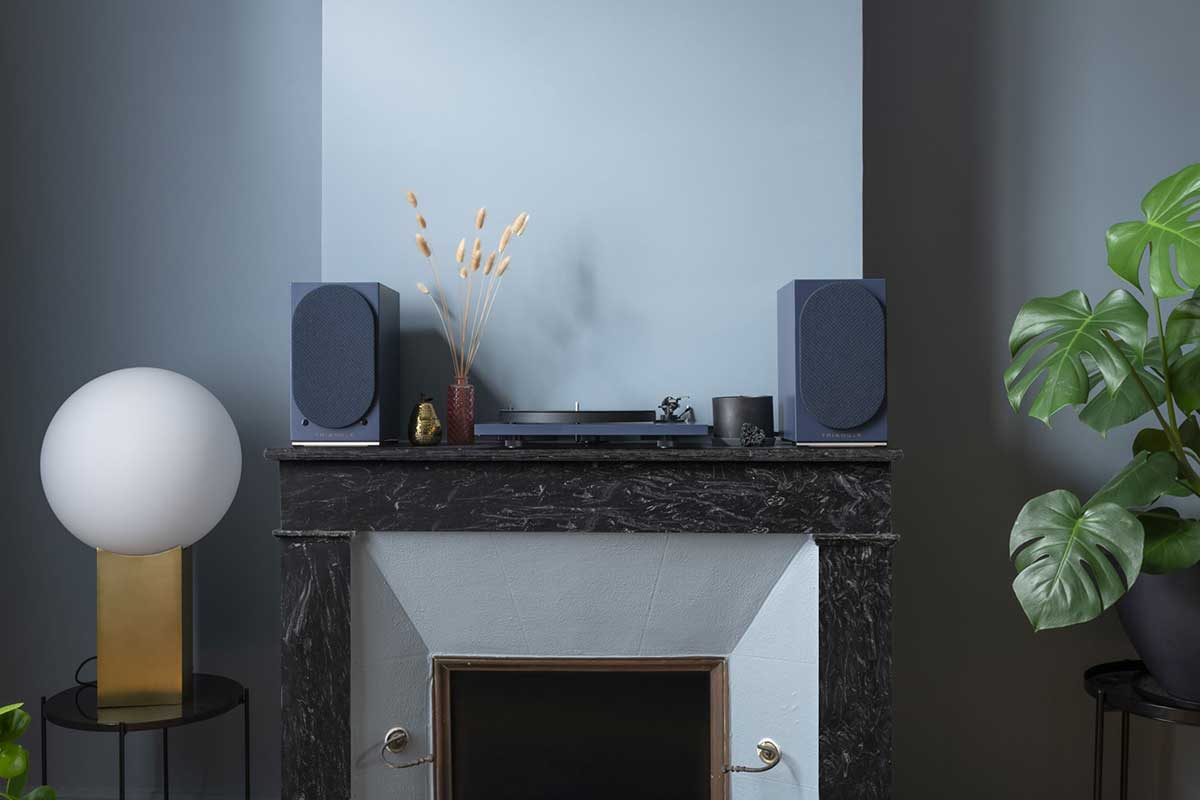 Once again, the French company Triangle Electroacoustique dedicates itself to an active loudspeaker system that is a full-fledged hi-fi system in itself, with the new Triangle AIO TWIN Speakers.
Triangle AIO TWIN Speakers is the latest system from Triangle Electroacoustique, the French specialist for loudspeaker systems. The fact that this is once again a compact, versatile active loudspeaker system shows that the French are consistently trying to expand their target group.
Although Triangle Electroacoustique can point to years of expertise in the development of loudspeaker systems, for a long time the company was dedicated to the designated premium segment and thus was probably not as well known to a broader customer base as some other manufacturers.
Triangle AIO TWIN Speakers for new customer groups
For some time now, Triangle Electroacoustique has obviously been trying to gain a foothold in a somewhat broader market and has been focusing on so-called wireless speakers, such as the latest product, the Triangle AIO TWIN Speakers.
Among other things, the company founded the Triangle AIO Multiroom Audio Streaming System and presented the Triangle Elara LN01A Wireless Active Speaker System, the latter a concept very similar to the new model, because here, too, a pair of active speakers is supposed to be able to take over the function of a complete hi-fi system. And the new Triangle AIO TWIN Speakers are, as the name suggests, part of the Triangle AIO Multiroom Audio Streaming System.
Packed with the latest technology
The new Triangle AIO TWIN Speakers are said to be a solution packed with the latest technology, but also the expertise of the speaker specialist, and last but not least, a compact, elegant design. The Triangle AIO TWIN Speakers are said to represent a state-of-the-art product.
Two-way bass reflex system
The Triangle AIO TWIN Speakers are active two-way systems that use a 25 mm tweeter in combination with a 13 cm low-mid driver and a rear-firing bass reflex system. They are driven by Class D amplifier modules with a power output of two times 50 watts. The frequency response that can be covered with this solution is specified as 56 Hz up to 22 kHz.
Interfaces…. all there
When it comes to connecting sources to the Triangle AIO TWIN speakers, this can be done in an analogue way with a pair of RCA sockets. Interestingly, there is also a phono preamplifier, which is designed for turntables equipped with an MM cartridge system. In addition, there is another analogue input, which is a 3.5 mm stereo mini-jack; digital signal sources can be connected via an optical S/PDIF interface.
For the sake of completeness, it should be mentioned here that an external subwoofer can also be connected via a corresponding cinch output.
By the way, storage media can also be used directly as a source; a corresponding USB port is located on the rear panel. This can also be used for charging a mobile device.
Integration into the network via cable and WiFi
The new Triangle AIO TWIN speakers offer full flexibility as soon as they are integrated into the network, which can be done either via cable or the integrated WiFi module according to IEEE 802.11n.
When it comes to streaming, the Triangle AIO app for Apple iOS and Google Android is available to play your own content or that offered via services such as Spotify, Deezer, Qobuz and TIDAL. Internet radio and podcasts are also available.
Multiroom audio streaming via Linkplay technology
With the help of the app, as well as the Linkplay technology, it is also possible to realise multi-room audio streaming. Streaming can be controlled directly via the app in each individual room, the volume can be adjusted, the sound can be optimised via the sound control or different speakers can be connected with each other.
The Triangle AIO TWIN Speakers support streaming audio signals with a resolution of up to 24 bit and 192 kHz.
Bluetooth 5.0 another option
But music can also be played back flexibly without a network, using smartphones and tablets that are connected via Bluetooth 5.0. In the simplest case, the SBC codec is supported, with Apple the AAC codec, and with Google Android aptX, aptX HD and aptX LL. Ultimately, playback in CD quality, even hi-res audio with up to 24 bits 48 kHz, is possible here too – at least with Google Android.
Particularly elegant design
A very important aspect in the development of the Triangle AIO TWIN Speakers was an outstanding design. Not only the proverbial French esprit is relied on, but also the cooperation with the Scandinavian specialist Gabriel, who are responsible for the textile covering of the loudspeaker grill.
The fabric Bond is used, which looks particularly elegant, is very durable and will be a real feast for the eyes for years to come.
The colour scheme is based on current furnishing trends and is available in Graphite Black, Frost White, Linen Grey, Abyss Blue and Brown Maple.
Optional record player from Pro-Ject Audio Systems
With the Triangle Elara LN01A Wireless Active Speaker System already mentioned, the French company relied on the cooperation with Pro-Ject Audio Systems and offered a perfectly coordinated complete package consisting of active speaker systems and matching record player.
The new Triangle AIO TWIN speakers are designed in the same way and offer a corresponding package in which speaker and turntable fit together perfectly. The turntable from Pro-Ject Audio Systems is equipped ex works with a cartridge system that matches the phono preamplifier integrated into the speakers, specifically an MM cartridge of the type Ortofon OM-10E.
Getting to the point
The French loudspeaker manufacturer Triangle Electroacoustique has already demonstrated its skill in developing compact, versatile active loudspeaker systems that are aimed at the widest possible target group. To users who want a flexible system with the least amount of effort, but which still performs at a level of quality that can be expected from such a renowned loudspeaker specialist as Triangle Electroacoustique. All this also applies to the new Triangle AIO TWIN Speakers, which really do have all the features you want from a compact hi-fi system, optionally even including a record player.