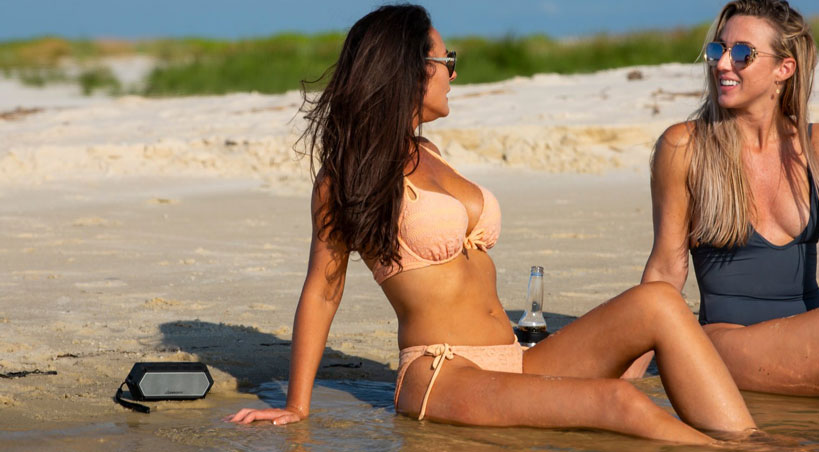 Particularly stable and robust, resistant to water, and thus ideally equipped for music directly from your smartphone whenever and wherever you want it, the Soundcast VG1, a portable Bluetooth speaker from the specialist Soundcast LLC., which is completely committed to solutions for outdoor use and proves its competence with this "small" mobile companion, presents itself.
---
The company Soundcast LLC. has been known for years as a specialist for outdoor solutions. From the very beginning, the US company has been dedicated to developing wireless audio solutions that deliver compelling sound and can be used in situations and environments where traditional audio solutions fail or require a tremendous amount of effort to accomplish the tasks that Soundcast LLC. products are designed to do. The company therefore likes to talk about lifestyle solutions that are offered.
In the past, the company's product range included many innovative streaming solutions for hi-fi and home cinema, but other solutions from Soundcast LLC have always stood out. For example, products such as Soundcast OutCast and Soundcast OutCast Jr. Both are very powerful, and especially powerful speakers that can play music outdoors via wireless systems, under any weather conditions, and thanks to their integrated powerful batteries they can be used independently of the mains power supply or via 12 V power supplies, even when camping or even on boats. These solutions were not only recommended for purely private use, but were also often used for commercial applications, for example in the gastronomy sector and at outdoor events in general. A solution designed primarily for the private user was available in the form of Soundcast Melody.
But all this is history, the product range has long since been repositioned from Grundd to Soundcast LLC. which concentrates entirely on outdoor solutions for the consumer segment. So you can find in the product range of Soundcast LLC. Bluetooth Speakers, whereby these differ significantly from conventional systems in this area. While other manufacturers also offer some Bluetooth speakers for outdoor use, Soundcast LLC. solutions are all designed as rugged, durable solutions that can be used outdoors at any time of year.
A good example of this is the Soundcast VG1 Premium Waterproof Bluetooth Speaker. This Bluetooth speaker already offers everything that makes Soundcast LLC. solutions stand out.
Well, we've already tested many of these solutions, but never before have we had the immediate impression that we're holding a really robust and solid product in our hands. The Soundcast VG1 Premium Waterproof Bluetooth Speaker gives the impression that nothing can shake it, that it's a really tough guy that's made for the wild. So you don't have to worry about this portable speaker being damaged when used outdoors, even if it's handled a little rough. The Soundcast VG1 Premium Waterproof Bluetooth Speaker is waterproof to IP67, which is the manufacturer's claim.
Its rubberized housing with a metal speaker grille measures 74 mm in height, 59 mm in depth and 173 mm in width, so it fits easily into a backpack. It can also be attached to a rucksack with a loop, or dangle loosely from the wrist. However, the Soundcast VG1 Premium Waterproof Bluetooth Speaker is not too light, which has to be mentioned already. After all, it weighs 453 g, whereby this is of course mainly due to the robust workmanship. Nothing comes from nothing…
The solid cabinet has of course another advantage, because it provides a base that is well protected against resonances and vibrations, so that the full-range aluminium cone drivers with butyl rubber surround can reach their full potential. Paired with a passive bass driver that acts to the rear, a frequency range between 76 Hz and 20 kHz should be possible.
The Soundcast VG1 Premium Waterproof Bluetooth Speaker hides a 3.5 mm stereo mini jack input behind a cover, but the primary interface is probably the integrated Bluetooth interface, whereby this also supports the codec apt-X as well as AAC. Both current smartphones with Google Android and Apple iOS can thus deliver the best possible quality.
Of course, the Soundcast VG1 Premium Waterproof Bluetooth Speaker can also be used as a hands-free device and also for voice control, for example via Apple Siri, whereby, in addition to the main switch and two buttons for volume control, a corresponding button is found on the top of the portable speaker, which functions as a play/stop button during normal operation.
By the way, it is pleasant that Soundcast LLC. avoids talking about a stereo solution with the Soundcast VG1 Premium Waterproof Bluetooth Speaker. As with all other such solutions, it's not even possible to talk about stereo, the two speakers arranged directly next to each other deliver mono, no more, no less. Nevertheless, you can combine two Soundcast VG1 Premium Waterproof Bluetooth speakers into a stereo set via TWS Configuration (True Wireless Stereo), i.e. wirelessly, an AUX-out is available and the integrated battery is charged via a USB port. Both an AUX cable with two 3.5 mm stereo jack plugs and a USB charging cable are included in the scope of delivery, as well as the already mentioned carrying strap and a suitable transport case.
Let's now get to our impressions, which we could gain after a few days of intensive use of the Soundcast VG1 Premium Waterproof Bluetooth Speaker. We have already mentioned that this solution is obviously a very robust one. The fact that one doesn't have to worry about dirt and water should also be emphasized here. Especially if one takes a portable speaker outside, it is very annoying to have to constantly take care that nothing happens to the good piece. The Soundcast VG1 Premium Waterproof Bluetooth Speaker doesn't care, it probably takes it all away…
We were also convinced by the sound of the portable speaker from Soundcast LLC, although it must be said that the Soundcast VG1 Premium Waterproof Bluetooth Speaker is probably not for absolute bass fetishists and also not for all those who want to use it at a garden party. The Soundcast VG1 Premium Waterproof Bluetooth Speaker is clearly designed as a so-called personal audio solution, providing a balanced, even, compared to its size, quite rich sound, as long as you limit yourself to "reasonable" volume. That's what it was made for, because for everything else Soundcast LLC. offers special solutions anyway, as mentioned at the beginning.
A very important point is of course the battery life. The manufacturer states this with approximately 15 hours for the Soundcast VG1 Premium Waterproof Bluetooth Speaker. According to our experience, this is a quite realistic value, whereby this of course directly depends on the level at which the Soundcast VG1 Premium Waterproof Bluetooth Speaker is actually operated.
Getting to the point
With the Soundcast VG1 Premium Waterproof Bluetooth Speaker, Soundcast LLC. proves that they have rightly been considered specialists for outdoor solutions of a special kind for years. The experience gained with such solutions has all been incorporated into the "small" Bluetooth Speaker, which presents itself as one of the most robust of its kind and also draws attention to itself with truly convincing sound. This gives the Soundcast VG1 Premium Waterproof Bluetooth Speaker a clear recommendation.
Soundcast LLC. clearly delivers one of the most robust outdoor solutions with the Soundcast VG1 Premium Waterproof Bluetooth Speaker, enabling you to enjoy music from your smartphone anywhere, anytime in amazing quality. The "little one" can't be harmed by rain, water at the sea or pool, snow, dust… it just don't care. This makes it the perfect mobile companion for all outdoor activities.
Manufacturer:
Soundcast LLC.
Distribution:
AUDIOWERK e.Kfm.
Price:
€ 120,-
The Good
– Extremely robust
– resistant to dirt and water
– compact and handy
– very good sound
The Bad
– Not the lightest in its class