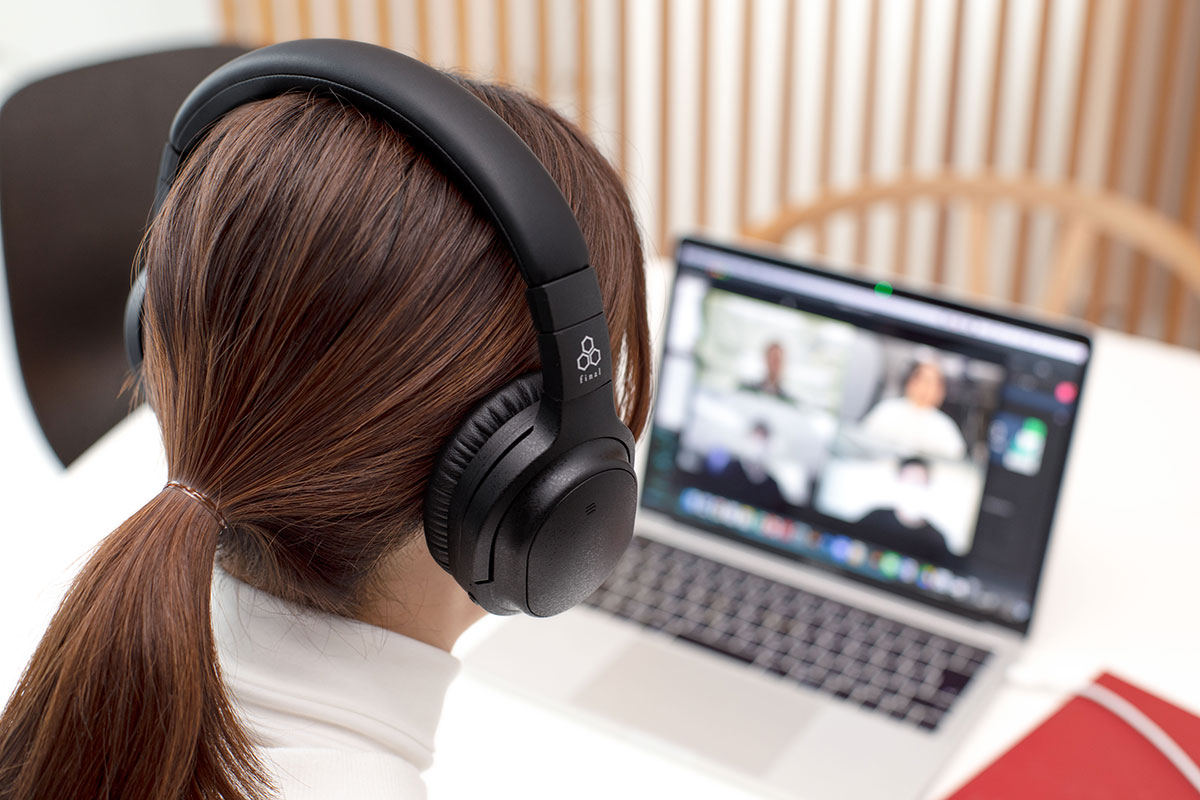 Outstanding sound quality through optimised drivers, free from disturbing influences through Hybrid Noise-cancellation Methology, wireless comfort through Bluetooth, all this is promised by final Inc. for the new final UX3000, the first of its kind from the Japanese company.
With the new final UX3000, final Inc. presents the first solution of the final UX Series and thus the first over-ear headphones of the Japanese specialist that rely on Bluetooth and Hybrid Active Noise Cancelling. State-of-the-art technologies and functions are supposed to guarantee excellent sound quality, whereby the company explicitly emphasises that with the new final UX3000, one does not have to accept any of the disadvantages that some other solutions with similar features have. Neither the wireless signal transmission via Bluetooth nor the active noise suppression should have a negative effect on the sound in any way.
The new final UX3000 should thus prove to be a wireless over-ear headphone with Hybrid Active Noise-cancelling that can fully satisfy even audiophile users, final Inc. is convinced of this.
final UX3000 – A completely different approach
final Inc. rightly states that solutions with so-called Hybrid Active Noise-Cancelling are based on the fact that first of all microphones are attached to the outside of the ear cup and inside it, and their signals are compared via a DSP. Based on this analysis, a signal is generated that is added to the useful signal and thus fades out external noise as a counter signal, in which the signals overlap and thus neutralise each other.
So much for the theory; in practice, according to final Ltd., this means that the drivers are subjected to a considerable load, resulting in a significant deterioration of the sound quality.
Conventional concepts try to compensate for this by amplifying the low frequencies with the help of DSP-based signal processing, but in the end this does not really produce optimal results either, as the sound characteristics seem unnatural, according to the assessment of final Inc.
Therefore, the Japanese decided to solve this problem in a different way, namely with a specially developed driver. The new final UX3000 is a solution with a specially optimised driver, which is highly resilient, so that the negative effect described does not occur to such an extent. In addition, a special tuning via the DSP is carried out for the high frequencies in order to guarantee a natural sound even when using active noise cancellation.
Regarding more detailed technical data about the driver, final Inc. is discreetly reticent and only states that the frequency range that can be transmitted by the final UX3000 is 20 Hz to 20 kHz, whereby this is primarily determined by the signal transmission via Bluetooth.
Bluetooth 5.0 with Multipoint Connection
The new final UX3000 transmits signals via Bluetooth 5.0, supporting the Bluetooth profiles A2DP, AVRCP, HSP and HFP. The final UX3000 supports the lossy SBC and AAC Bluetooth codecs, but also aptX and aptX LL.
Particularly noteworthy is the fact that the final UX3000 allows multipoint connection, i.e. simultaneous pairing with two devices. This is of interest, for example, if you enjoy music via a portable hi-res audio player and at the same time do not want to miss a call from your smartphone, so that you can switch seamlessly between them.
Crystal clear voice quality for phone calls
Speaking of phone calls, the final UX3000 can of course also be used to make phone calls, for which it also uses the aforementioned active noise cancellation system, so you can concentrate fully on the conversation, even in noisy surroundings.
Multi-fit case mechanism for a perfect fit
Of course, a manufacturer like final Inc. pays attention to the highest wearing comfort in a premium class product like the final UX3000, and this is supposed to be guaranteed by a so-called multi-fit housing. A particularly flexible adjustment by turning upwards, downwards, left and right is supposed to provide ideal results for every head shape, while ear pads with low elasticity do not lead to fatigue even during prolonged use, thus ensuring a firm fit with optimal shielding, but without an annoying feeling when worn.
It should be mentioned that the final UX3000 can of course be folded for space-saving storage and easy transport, disappearing into the soft pouch included in the delivery, in which it is optimally protected.
Shibo texture for an appealing feel
Shibo, this Japanese word stands for folds on the surface of paper and leather, and this is exactly how final Inc. describes the texture that adorns the outside of the ear cups of the final UX3000.
This Shibo texture is not only supposed to look particularly elegant, it is also dirt-repellent and thus insensitive to fingerprints, for example, and it also gives the user a particularly appealing, high-quality feel.
Long battery life of up to 35 hours
final Inc. advertises that the new final UX3000 offers a playing time of up to 35 hours, thanks to a 700 mAh battery. However, this figure only applies to playback without active noise cancellation; if this is activated, the playback time is still an impressive 25 hours.
Charging is via USB-C, and the corresponding USB-A to USB-C cable is included in the scope of delivery. According to the manufacturer, charging takes around two and a half hours.
If charging is not possible, the final UX3000 can of course also be used passively; the corresponding audio cable with 3.5 mm stereo mini-jack is included in the package.
Control via buttons
final Inc. decided not to equip the final UX3000 with a sensor field for control, as is often the case, but simply with buttons. This offers the immense advantage that you can actually feel these controls with your fingers and thus control them safely in any situation.
Prices and availability
The new final UX3000 and with it the first scion of the new final UX Series is now available in specialised shops. The recommended retail price is € 139,-.
Getting to the point
What makes the new final UX3000 stand out is a specially tuned driver that is ideally suited to the special characteristics of Bluetooth headphones with active noise cancellation. While conventional concepts compensate for disadvantages resulting from signal transmission via Bluetooth and active noise cancellation by using a DSP, here a driver is used that has been designed in such a way that only minimal corrections have to be made by the electronics in order to guarantee a much more natural sound image, according to the description of the Japanese specialist final Inc. who therefore speaks of Bluetooth headphones with active noise cancellation that are optimally suited even for audiophile users.
| PRODUCT | FINAL UX3000 WIRELESS OVER-EAR HEADPHONES WITH ACTIVE NOISE CANCELLING |
| --- | --- |
| Price | € 139,- |