The new Block SYMPHONIE is the perfect solution for all those who want to save space but still do not want to forego hi-fi sound and maximum flexibility in use. This is what Audioblock GmbH is now promising for the new flagship of the Block Smart Radio Series, which is available immediately. In a compact form, it offers a CD player, radio and streaming via Bluetooth and the network, and other sources can also be connected without any problems.
Block SYMPHONIE – The compact all-in-one system
As with all solutions in the Block Smart Radio Series, the new Block SYMPHONIE is an all-in-one system, although in this case the German company Audioblock GmbH refers to it as a complete hi-fi system.
It is, however, a hi-fi system that does not require additional loudspeaker systems, which are already built into the 850 mm wide, 350 mm deep and 155 mm high cabinet.
The cabinet, it should be noted, is made of MDF and has an aluminium front on which all controls are located and which is flanked by the speakers on the left and right. The speaker drivers are protected by a textile covering.
The entire system rests on aluminium feet and is available in black, anthracite or white. After all, the Block SYMPHONIE weighs 12.6 kg, an indication of the high quality and solid workmanship of this solution.
Rich sound through integrated subwoofer
The new Block SYMPHONIE initially relies on two full-range drivers as well as an additional subwoofer, which is located on the underside of the system and thus ensures even radiation into the room. The frequency range of the speakers is supposed to be between 85 Hz and 30 kHz, the subwoofer takes over downwards from 38 Hz to 108 Hz.
The new Block SYMPHONIE is driven by 80 watts of music power, as the manufacturer reveals in the data sheet.
CD, radio and streaming via Bluetooth and WiFi
As already mentioned, the new Block SYMPHONIE is once again supposed to be a particularly flexible solution that can play music from a wide variety of sources.
For example, the new Block SYMPHONIE can play audio CDs, whereby a slot-in drive is used. In this context, it should be mentioned that the drive can play data CD-ROMs with MP3 files in addition to pure audio CDs.
Radio is available via FM and DAB+, but Internet radio is also offered, because the new Block SYMPHONIE can of course be integrated into the network via WiFi. For all three types of radio reception, 10 station memories are available.
Of course, the new Block SYMPHONIE can offer all the functions you would expect from a so-called radio alarm clock, i.e. it offers both an alarm clock and a sleep timer.
By the way, in the network, you can also use the new Block SYMPHONIE as a dlna-certified UPnP streaming client via the UNDOCK app and access services such as Spotify via Spotify Connect. In addition, services such as Amazon Music and Deezer are also available.
If you want to use mobile devices such as smartphones directly as a source, you can do this via Bluetooth and corresponding storage media can be connected as a source via a USB port.
A digital input in the form of an optical S/PDIF interface can be used to connect a TV, for example, and an analogue input in the form of a pair of cinch sockets is not missing either. A 3.5 mm stereo mini-jack is available for headphones.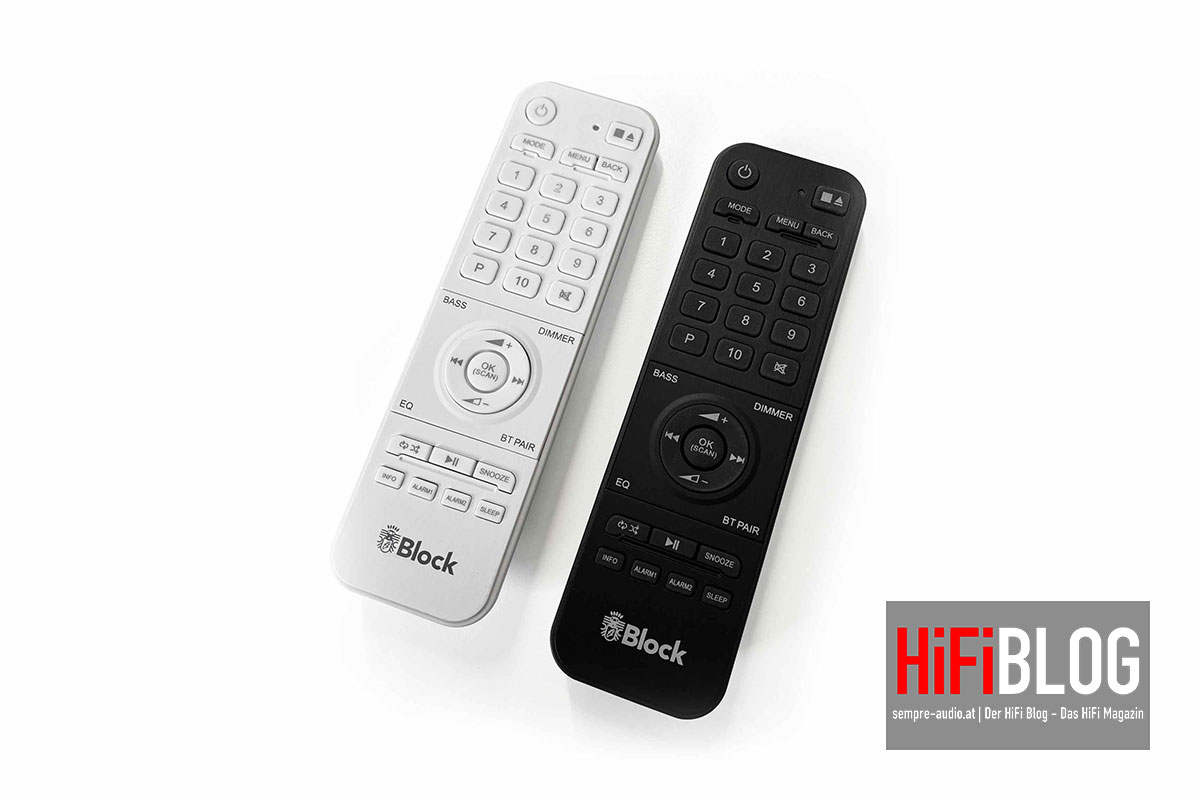 Simple operation, wireless charging
Finally, it should be mentioned that the new Block SYMPHONIE is intended to be particularly simple to operate, with numerous buttons and a rotary encoder directly on the front for direct access to all functions, and a colour display with 320 x 240 pixels showing all relevant information.
In addition, the new Block SYMPHONIE naturally comes with a matching infrared remote control.
It is also worth mentioning that the new Block SYMPHONIE has a field on the top where you can place a smartphone for wireless charging.
Prices and availability
The new Block SYMPHONIE should be available in specialist shops within the next few days. As already described, the customer can choose between the versions black, anthracite and white. The recommended retail price is € 1.199,-.
By the way, the new Block SYMPHONIE will soon be available with optional feet that will turn the all-in-one system into a piece of sound furniture.
Getting to the point
The new flagship of the Block Smart Radio Series, the Block SYMPHONIE, is a solution that offers hi-fi sound in a compact form and at the same time is extremely versatile. The German company Audioblock GmbH is thus clearly providing an exciting alternative to conventional soundbar systems. The Block SYMPHONIE is thus suitable as a central audio system around the TV set.
| PRODUCT | BLOCK SYMPHONIE |
| --- | --- |
| Price | € 1.199,- |
You are currently viewing a placeholder content from Facebook. To access the actual content, click the button below. Please note that doing so will share data with third-party providers.
More Information