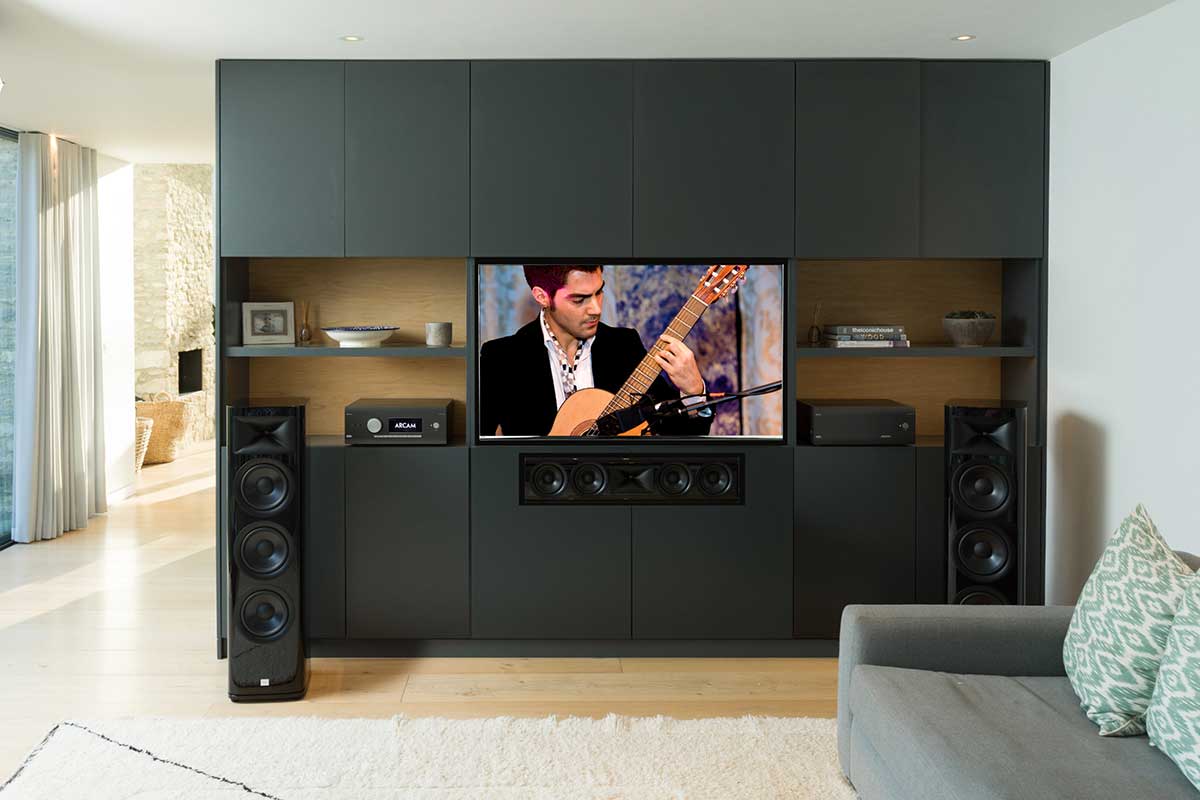 With the help of the Arcam HDMI 2.1 Upgrade, the entire current range of AV receivers from Arcam will be upgraded and brought up to date in the fourth quarter of this year. This applies to the Arcam AVR10, Arcam AVR20, Arcam AVR30 and Arcam AVR40 models.
HDMI 2.1 is currently the latest standard when it comes to signal transmission of audio and video in the home cinema segment. With this standard, the possibilities of the HDMI interface have once again been massively expanded, especially with regard to the achievable data rates and ultimately the supported resolutions for image and sound.
48 Gbps for resolutions up to 10K and frame rates up to 120 fps
Whereas HDMI 2.0 had to "make do" with a data rate of up to 18 Gbps, HDMI 2.1 offers up to 48 Gbps, so that video data up to 10K and frame rates up to 120 fps are supported.
As before, HDMI 2.1 also relies on the proven connections, and is backwards compatible with existing HDMI 2.0 cables and corresponding components, but requires new so-called Ultra High Speed HDMI cables for full performance.
So much for the basic technical data in a nutshell, what does it look like in practice? Well, many current TV sets are already equipped for HDMI 2.1, and 8K game consoles are probably the most important source devices currently available that actually deliver such high resolutions.
Those who actually want to benefit from this, of course, need a corresponding AV receiver, and the current AV receivers of the English company A & R Cambridge Ltd. and thus of the Arcam brand are to be among those models that support HDMI 2.1 and all the advantages that come with it, before the end of this year. This has now been announced by the parent company Harman International Industries, itself long since part of Samsung Electronics Co Ltd.
The current product range in the AV segment of the Arcam brand is extremely broad. As you know, there are four models available. The Arcam AVR10, Arcam AVR20, Arcam AVR30 and Arcam AVR40 were all developed with upgradeability in mind from the outset, so they all have a modular structure in key areas. This applies first and foremost to the interfaces, as A & R Cambridge Ltd. now announces that it will be able to offer the Arcam HDMI 2.1 upgrade for all four AV receivers in the fourth quarter of 2021.
"With today's announcement of this upcoming HDMI upgrade, we are giving our customers peace of mind that their AVR will remain on the cutting edge of audio and video capability and support the future wave of 8K video products. We will work with our global dealer and distributor partners to ensure the upgrade process is as quick and straightforward as possible, and that performance and reliability will be top-notch."

Jim Garrett, Senior Director, Product Strategy and Planning, Harman Luxury Audio
He said care had been taken to ensure that the HDMI 2.1 circuit board could in principle be replaced very easily, but it was still necessary for the installation to be carried out by an authorised Arcam service centre.
At this stage, the company is unwilling to give any more specifics on the actual release date, so fourth quarter is the only statement. Prices for the HDMI 2.1 upgrade will also be announced in the course of the summer.
Getting to the point
The new Arcam AV receivers are already proving to be highly versatile solutions with state-of-the-art features and functionality, and are ready for 4K Ultra HD TV content with HDMI 2.0. It is pleasing to note that the Arcam AVR10, Arcam AVR20, Arcam AVR30 and Arcam AVR40 models have been developed with a modular design in mind, allowing for an upgrade to HDMI 2.1 in the fourth quarter of 2021. With the Arcam HDMI 2.1 upgrade, the AV receivers will be ready for 8K content.