Headphones
News
Technics EAH-A800 Wireless Over ear Headphones – Excellent sound, outstanding voice quality
With the new Technics EAH-A800, a wireless noise-cancelling headphone in the premium segment is available, which enables the finest sound on the go. Once again, a solution has been designed for the modern lifestyle and promises outstanding voice quality for telephone calls.
With the Technics EAH-A800, the Technics brand once again underlines its high ambitions for quality in the mobile segment as well, because with it, the Panasonic Corporation presents a wireless over-ear headphone that completely corresponds to the modern lifestyle, as ma states on record. The headphones are said to offer excellent sound quality on the one hand, but on the other hand, they are also ideally equipped for telephone calls and video calls with outstanding voice quality.
The new Technics EAH-A800 incorporates industry-leading technologies developed over more than 50 years of experience in audio development, the company said at the presentation of the new headphones at CES 2022 in Las Vegas.
Technics EAH-A800 for the modern lifestyle
Once again, the manufacturer emphasises that the new Technics EAH-A800 is a solution for the modern lifestyle, clearly in the premium segment and thus with high quality standards in all respects.
Technics understands its solutions as the pursuit of the perfect sound, and this should be reflected in all details of the new Technics EAH-A800, equipping it for a wide range of tasks.
The new Technics EAH-A800 should not only guarantee outstanding results when enjoying music, but should also be able to function as a headset, thus combining in one solution a tool for relaxation with one for optimal use in a business environment, just as the everyday life of many people has long been.
Premium Technics Sound Quality – Every nuance of the music
The first priority in the development of the new Technics EAH-A800 Wireless Over ear Headphone was, of course, to achieve the best possible sound quality; the company even speaks of a cumulative body of knowledge that has been applied here to achieve a moving audio experience.
The basis for this is, first and foremost, a newly developed 40 mm driver with a beadless dome, using a combination of different materials. This sophisticated mix of materials is designed to achieve optimum cone strength and stability, which in turn is essential for dynamically accurate, detailed imaging over a wide frequency range and free of distortion.
Another important point is the design of the cabinet, which uses an acoustic control chamber to control the airflow. This should guarantee a precise bass reproduction.
Since the new Technics EAH-A800 Wireless Over ear Headphones are an active solution, the electronics also play an important role when it comes to processing the signal as precisely as possible. The manufacturer states that they rely on special polymer thin-film capacitors, which are used in the same form in Technics' reference-class amplifiers, and which ensure a distortion-free signal path in the audio circuits and raise the sound quality to an even higher level.
Industry-leading noise cancelling technology
As already mentioned, the new Technics EAH-A800 Wireless Over ear Headphones are equipped with active adaptive noise cancellation, which Technics describes as an industry-leading solution.
This is called Dual Hybrid Noise Cancelling Technology, which combines analogue filters, feedback microphones as well as feed-forward microphones and digital filters to achieve optimal results.
Outstanding speech quality
If you use the new Technics EAH-A800 Wireless Over ear Headphones as a headset, for example for telephone calls or video calls, you will benefit from an excellent speech quality, according to the manufacturer's promise.
The basis for this is a total of eight microphones that are used in these over-ear headphones, four of which are designed as so-called MEMS microphones for crystal-clear voice quality. The remaining four microphones enable the so-called beamforming technology in combination with noise reduction, so that no disturbing ambient noise influences the speech quality. Noise cancelling is active during telephone calls, according to the manufacturer, who also refers to a unique signal processing including speech analysis for the effective suppression of ambient noise and for a clear image of the voice.
In addition, the integrated microphones are comparatively insensitive to wind noise due to their special integration into the headphones. Inside the capsules of the Technics EAH-A800, feed-forward microphones are used to make the headphones less susceptible to noise and vibrations caused by wind. In addition, the so-called main-talk microphones have been fitted with specially designed, fine-mesh grilles on the front and back, and the so-called sub-talk microphones are also said to have an attached windscreen to effectively prevent noise and vibration caused by direct wind.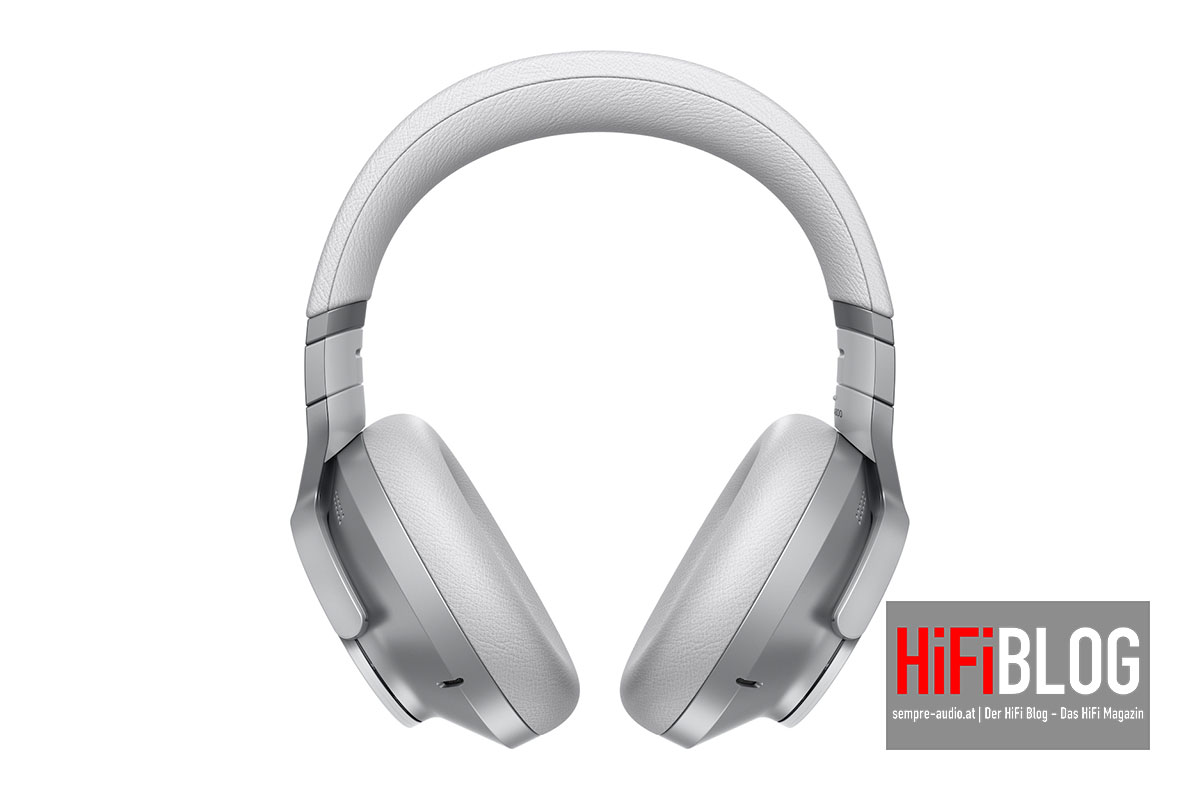 Different sound modes
Especially in connection with a particularly effective active noise cancellation, it is essential that the user can influence it in order to adjust it to the respective needs.
For example, it is essential to be able to hear what is going on around you when you are driving in traffic. It is also practical not to be completely disconnected from the environment when you want to hear announcements on public transport or when you are with your family.
For this purpose, the new Technics EAH-A800 has various interaction modes, as the manufacturer calls them. First of all, there is the Natural Ambient Mode, which allows the user to pay attention to all ambient noises while listening to music or making phone calls. This is designed in such a way that the user has the feeling of not wearing headphones at all, as it encompasses a broad sound spectrum. The so-called Attention Mode is explicitly tuned to voices, which suppresses disturbing noises but makes the voices of other people audible without any problems, even if it is only an announcement at a train station or airport.
Signal connection via Bluetooth 5.2
For signal transmission, the new Technics EAH-A800 relies on Bluetooth 5.2, which guarantees a significantly more stable connection than previous standards and also conserves resources for a longer battery life.
In addition, it offers the possibility of Bluetooth multipoint pairing, which means that the headphones can be connected to two source devices at the same time. In this way, you can listen to music via a portable hi-res audio player, for example, and when a call is received on the smartphone, the headphones automatically switch to it and the call can be made.
In order to guarantee the best quality of the "wireless" signal transmission, the new Technics EAH-A800 supports not only the Bluetooth profiles A2DP, AVRCP, HSP and HFP, but also the lossy SBC and AAC, as well as the Bluetooth codec LDAC with a signal transmission in 24 bit and 96 kHz.
High wearing comfort
As a solution in the premium segment, Technics relies not only on high manufacturing quality with high-quality materials for the new Technics EAH-A800, but also on maximum wearing comfort.
This starts with the ear pads, which the manufacturer calls 3D ear pads with a slightly curved design. This is intended to distribute the contact pressure evenly, and the ear pads are equipped with memory foam and are replaceable. In addition, the manufacturer uses ear pads with a particularly generous inner diameter, so that the ear is actually completely enclosed.
With a weight of only 298 g, the new Technics EAH-A800 can also be described as very light in its class.
Comfort is also ensured by the simple operation, which is made possible by physical buttons on the ear cup. A wear sensor automatically pauses playback as soon as the headphones are removed or even placed over the neck. If you put them back on within 60 seconds, playback resumes automatically.
Amazingly long battery life
The new Technics EAH-A800 shines with a very long battery life, which must be explicitly emphasised. It is said that a playing time of up to 60 hours can be achieved without active noise cancellation. With active noise cancellation, however, the Technics EAH-A800 also achieves up to 50 hours, whereby these figures apply to the AAC codec. In Hi-res audio, it is 40 hours with ANC activated and 50 hours without.
When used as a headset only, the Technics EAH-A800 provides up to 120 hours of talk time.
Via a quick-charge function, just 15 minutes on the mains are enough to be ready for use again for ten hours, and fully charging takes only three hours.
Charging is done via a USB-C interface, whereby the matching cable – USB-A to USB-C – with a length of 0.5 m is included in the scope of delivery, as is a detachable audio cable with a length of 1 m for passive operation.
Finally, it should be mentioned that the Technics EAH-A800 does not have to do without an app, of course; the Technics Audio Connect app for Apple iOS and Google Android is available for it. With the help of this app, the settings for noise cancelling and sound settings can be adjusted to personal needs and preferences. Even if you can't find the headphones, the app is supposed to be helpful and, of course, any firmware updates are carried out via this app.
Prices and availability
The new Technics EAH-A800 should be available in specialist shops as early as January 2022, with two variants available. First of all, there is the Technics EAH-A800 in graphite black, and secondly, there is the version in dolomite silver, both of which have a recommended retail price of € 349.
Getting to the point
With the new Technics EAH-A800, the Technics brand from Panasonic Corporation is once again expanding its range of headphones, namely with an over-ear headphone that clearly belongs to the premium segment. The finest sound is guaranteed by a particularly sophisticated active noise suppression, and the manufacturer also promises a solution that allows the best voice quality as a headset. Technics thus delivers a solution that seems ideal for the modern lifestyle, in which private enjoyment increasingly merges seamlessly with use in the business environment.
| PRODUCT | TECHNICS EAH-A800 WIRELESS OVER EAR HEADPHONES |
| --- | --- |
| Price | € 349,- |