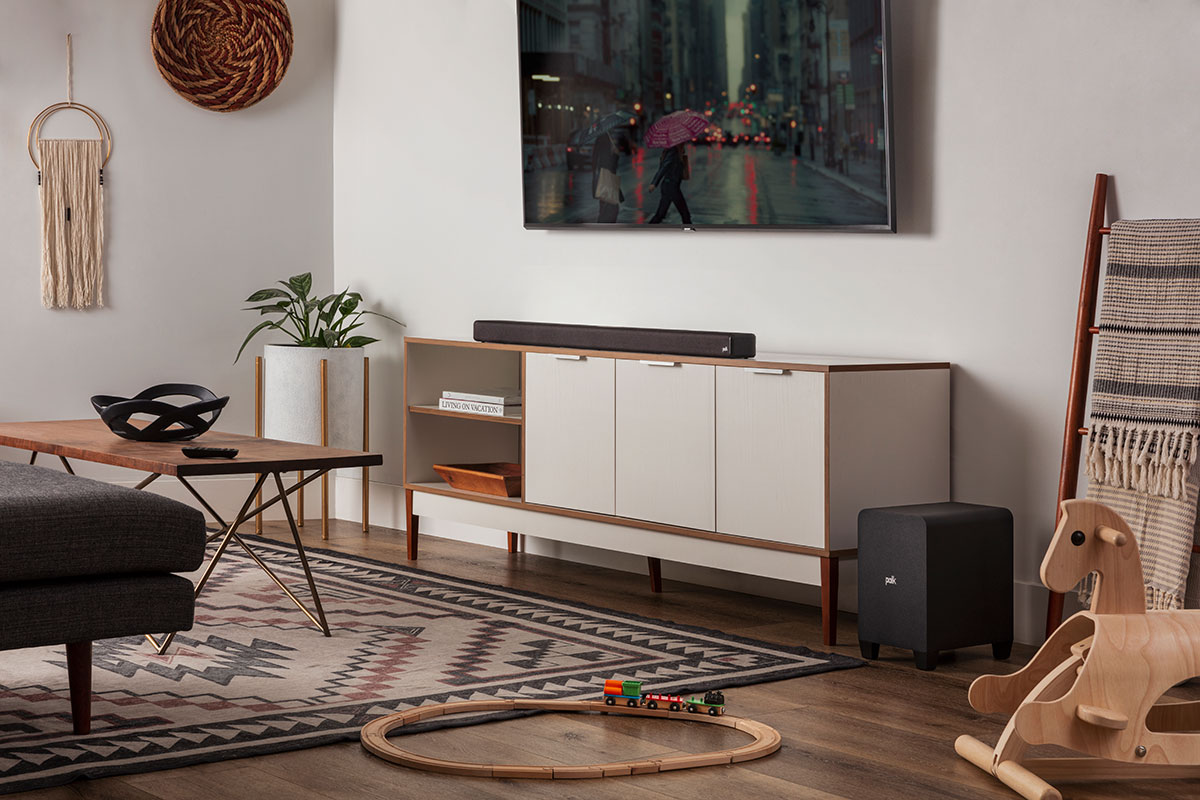 The new Polk Signa S4 soundbar with wireless subwoofer is said to stand out because it is the first such solution from Polk Audio with Dolby Atmos surround sound.
The new Polk Signa S4 is the first soundbar from Polk Audio that supports Dolby Atmos surround sound. The manufacturer emphasises the fact that this is a particularly compact, even slim solution that, in combination with a wireless subwoofer, is nevertheless supposed to deliver rich sound, especially because it is also supposed to be a very attractively positioned solution in terms of price.
The new Polk Signa S4 soundbar with wireless subwoofer delivers powerful Dolby Atmos surround sound and crystal-clear dialogue at an unbeatable price, is the clear promise of Sound United LLC, the group behind the Polk Audio brand.
Polk Signa S4 – Immersive surround sound from just one source
Achieving appealing sound from just one source is in principle a very difficult task, all the more so because a soundbar is supposed to be as slim a device as possible that can be integrated seamlessly into the living environment.
The matter becomes even more complex when this source should not only offer stereo but also surround sound, in this case even immersive surround sound in Dolby Atmos.
Seven-speaker array, Dolby Atmos upfiring speakers plus wireless subwoofer
According to the manufacturer, the slim soundbar uses an array of seven speakers, with a designated centre channel and optimised left and right tweeters and woofers. According to the company, this allows for an astonishingly wide sound stage.
In addition, there are two speakers radiating upwards, which are designed as so-called Dolby Atmos upfiring speakers and are thus responsible for the reproduction of immersive surround.
The new Polk Signa S4 Soundbar, like many other such solutions for the reproduction of surround sound, relies on the inclusion of the room and "plays" it by means of reflections on the walls and ceilings. This means that the effect that can be achieved depends very much on the individual conditions of the living room and the optimal placement of the soundbar itself.
Various DSP functions
It should be emphasised that the Polk Signa S4 has an upmix function that can prepare any content for surround playback and thus offer a virtual Dolby Atmos sound experience, as the manufacturer himself puts it.
VoiceAdjust Technology is supposed to optimise speech intelligibility and Dolby Volume Technology ensures a constant volume for different content such as films and commercial breaks and, of course, other DSP functions such as sound modes for different content such as films or music are available. A special night mode can also be selected to reduce the bass a little late at night. In addition, the bass level for the system's wireless subwoofer can be adjusted according to one's own preferences via Bass Adjust.
Foto © Sound United LLC. | Polk Signa S4 Soundbar

Foto © Sound United LLC. | Polk Signa S4 Soundbar

Foto © Sound United LLC. | Polk Signa S4 Soundbar

Foto © Sound United LLC. | Polk Signa S4 Soundbar

Foto © Sound United LLC. | Polk Signa S4 Soundbar

Foto © Sound United LLC. | Polk Signa S4 Soundbar

Foto © Sound United LLC. | Polk Signa S4 Soundbar
Simple installation, simple operation
The manufacturer expressly emphasises the easy installation of the new soundbar. The connection to the TV set is established via the HDMI cable supplied. This ensures that audio signals, even with Dolby Atmos, are transferred to the Polk Signa S4 without any problems, because its HDMI connection supports a so-called eARC, i.e. an enhanced Audio Return Channel. HDMI CEC also ensures central control via the TV's remote control. Older TVs without HDMI can also be connected via an optical digital cable, which is also included in the scope of delivery. There is also an AUX input for analogue signals, which is mentioned for the sake of completeness.
By the way, if you want to use the Polk Signa S4 for music playback directly from a smartphone or tablet, you can do so via the integrated Bluetooth module.
First and foremost, the Polk Signa S4 will probably be placed directly under the TV set on a lowboard or sideboard, but wall mounting is also possible. The corresponding holes are located directly on the back of the soundbar, so there is no need for a separate mounting device.
The wireless subwoofer can be placed anywhere in the room anyway, the only requirement is a power socket within reach.
"The Polk Signa S4 soundbar delivers outstanding Dolby Atmos surround sound that makes movies with special effects, music and games equally enjoyable. Whether you're buying your first soundbar or upgrading your system to Dolby Atmos, the Signa S4 once again delivers on the Polk promise of outstanding sound quality at an affordable price."

Frank Sterns, President of Polk Audio
Pricing and availability
According to the manufacturer, the new Polk Signa S4 should be in stores as early as these days. the suggested retail price for this soundbar with Dolby Atmos is listed at just €349.
Getting to the point
As mentioned in the introduction, one of the most striking features of the new Polk Signa S4 is the price at which it is offered. In fact, with a recommended retail price of only € 349, this new soundbar from Polk Audio might be one of the cheapest, if not the cheapest so far, to come up with Dolby Atmos.
| PRODUCT | POLK SIGNA S4 |
| --- | --- |
| Price | € 349,- |
You are currently viewing a placeholder content from Facebook. To access the actual content, click the button below. Please note that doing so will share data with third-party providers.
More Information