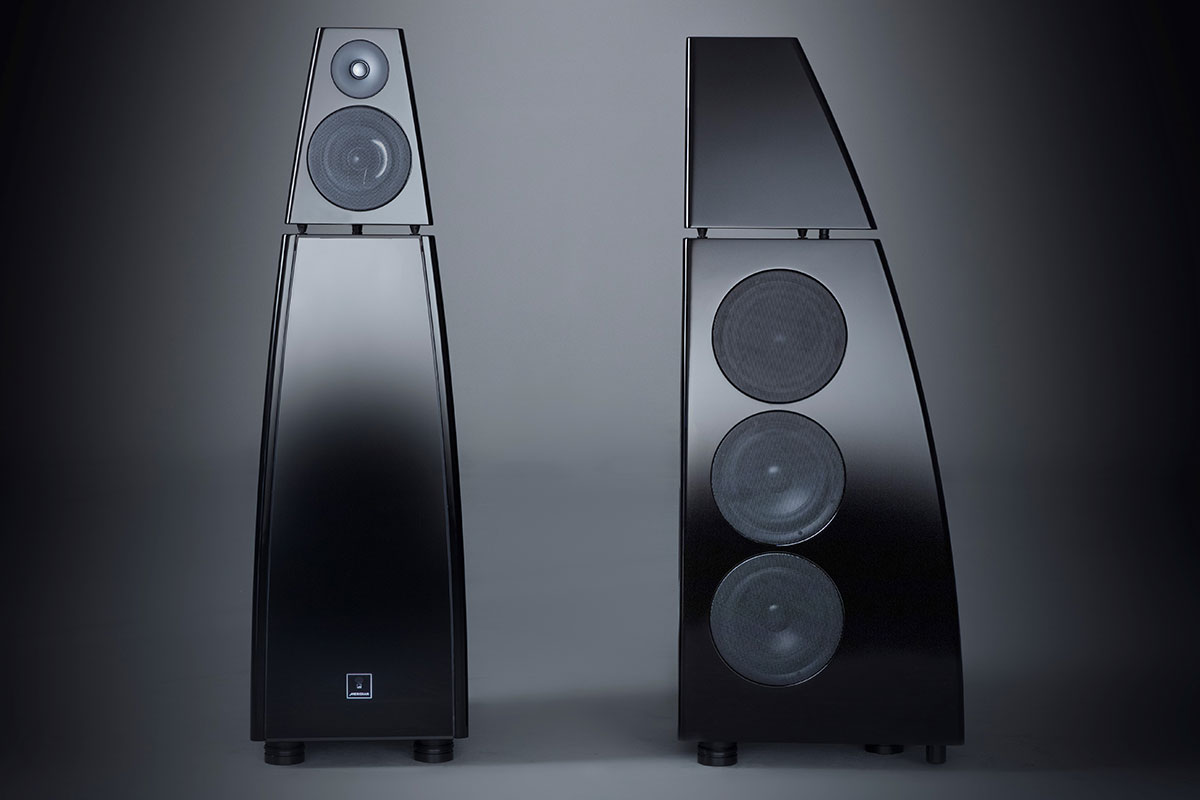 Meridian Audio calls the new Meridian DSP8000 XE a solution based for the first time on a completely new audio architecture and describes it as a DSP Digital Active Loudspeaker of a new generation.
Meridian Audio Ltd. calls the new Meridian DSP8000 XE Digital Active Loudspeaker a DSP Active Loudspeaker of a completely new generation, the flagship that places itself at the top of the Meridian Reference Series.
The English company even describes this solution as the result of groundbreaking new developments in the field of digital active loudspeakers.
Meridian DSP8000 XE Digital Active Loudspeaker – The Result of the Extreme Engineering Program
The Meridian DSP8000 XE Digital Active Loudspeaker is the first Meridian Audio loudspeaker to emerge from the company's Extreme Engineering Program, which began more than six years ago. Based on psychoacoustics and developed by experts, the Extreme Engineering Program was created to redesign every element of Meridian Audio's product platforms, including software and hardware, according to the Englishman's description.
"We are thrilled to introduce the first new Meridian loudspeaker developed through our Extreme Engineering Programme. The DSP8000 XE demonstrates the full force of Meridian's experience, expertise and continued investment in audio technology research and development."

John Buchanan, CEO Meridian Audio
An important aspect that emerged from what Meridian Audio says was a significant investment in development under this programme was a new design concept known as Precision Sonic Transport, or PST for short.
Meridian Precision Sonic Transport
PST applies innovative techniques and new processes to ensure that every aspect of the audio signal receives maximum fidelity as it travels through the loudspeaker. Every detail and emotion should be reproduced for the listener exactly as it was captured in the recording. The Meridian DSP8000 XE Digital Active Loudspeaker is the first Meridian Audio product to benefit from the improvements made possible by PST. Already revealing that they are of course already working on other solutions that will also take advantage of this development, this is mentioned in passing.
"The DSP8000 XE embodies all of Meridian's core values and breaks new ground in Meridian loudspeaker performance with the first implementation of our Precision Sonic Transport design concept. The all-new hardware and software platforms combine a new level of precision, performance and emotional engagement, and the result is a holographic sound experience as immersive as if the speakers were not in the room."

John Buchanan, CEO Meridian Audio
The new audio architecture on which the new Meridian DSP8000 XE Digital Active Loudspeaker is based relies on even higher-quality and higher-performance components than before and, combined with expertise in psychoacoustics, is said to deliver exceptional sound quality.
Meridian Atlas Software Core
A key foundation is the Atlas Software Core, a completely new audio processing and control platform that Meridian Audio believes will be a game-changer. Atlas Software Core houses Meridian Audio's most powerful DSP engine to date, enabling the implementation of new optimisation technologies and features. It also enables even more power to be extracted and delivered from Meridian Audio's existing proprietary audio technologies.
Meridian R1 electronics platform
The Meridian R1 electronics platform is the essential hardware infrastructure that implements the Precision Sonic Transport design concept in the Meridian DSP8000 XE Digital Active Loudspeaker. It features all-new, high-specification digital and analogue circuitry and sophisticated signal-enhancing developments.
First and foremost, this includes the so-called Command Board as a state-of-the-art processing module, which is responsible for the powerful DSP processing engine and the control of the loudspeaker's functions.
Sync-Link ensures the transmission of precise, re-clocked digital audio signals via shielded RJ45 connections from the Command Board directly to the new DAC boards.
All new DACs and amplifiers are built as separate, dedicated, higher-performance D/A converter boards and higher-performance, application-specific amplifier modules, and these have been hard-wired via extremely short, balanced audio connections to minimise any signal interference.
Next generation chassis
The new Meridian DSP8000 XE Digital Active Loudspeaker features completely redesigned next-generation drivers, the manufacturer is on record as saying. This is to ensure that performance is taken to a whole new level.
Six subsonic bass drivers, designed as 200 mm long-throw woofers with a displacement of up to 24 mm, are used in a so-called Force Balanced configuration for maximum bass extension with absolute clarity and control.
Evo mid-range drivers in the form of 160 mm long-throw chassis with a newly developed non-conductive voice coil former and a powerful motor system ensure detail and clarity combined with power and dynamics.
Ultrasonic tweeters are used for the highest frequency range. These are ultimately a 25 mm beryllium dome, fitted with a silver voice coil with a new custom waveguide that provides pinpoint imaging and wide dispersion for full spatial imaging.
Connectivity and control
The Meridian DSP8000 XE Digital Active Loudspeaker offers important new connectivity and control features, according to Meridian Audio. These include easy setup and control via the new Meridian B-Link Bluetooth device, Infrator, USB, the classic RS232 interface, or with a Meridian Controller product. Each loudspeaker also includes the optional Meridian IA21 analogue input module, which allows users to connect and control the Meridian DSP8000 XE Digital Active Loudspeaker via their preferred third-party analogue preamplifier or processor, if desired.
New design and optimised cabinet construction
Of course, the enclosure construction has also been improved within the framework of the new audio architecture. The enclosure of the new Meridian DSP8000 XE Digital Active Loudspeaker is said to be even more massive and robust in order to provide optimal conditions for the best possible performance of the drivers. The new loudspeaker system also features details such as an updated driver clamping ring system, flush-fitting, acoustically transparent metal grilles and a solid aluminium base plate.
The design has also been refined, with a focus on optimising the design language to meet the most modern aesthetic demands.
The key data at a glance
To conclude with a compact overview, the new Meridian DSP8000 XE Digital Active Loudspeaker features a 25 mm Ultrasonic Tweeter with 25 mm Beryllium cone and optimised waveguide, an Evo mid-range driver with 160 mm cone and six subsonic bass drivers each with 200 mm long-throw polypropylene cone.
These are driven by several amplifier modules, with a Class AB module rated at 150 watts into 4 ohms for the tweeter and midrange driver, and six pairs of bridged Dlass D modules rated at 240 watts into 4 ohms per pair for the six bass drivers. The speaker system is said to be capable of reproducing a frequency range between 18 Hz and 40 kHz.
Connections include a coaxial and optical S/PDIF interface, a USB Type C connection, Bluetooth via Meridian B-Link, and an unbalanced and balanced analogue input via the aforementioned Meridian IA21 Analogue Module. Of course, the Meridian SpeakerLink Connector in the form of RJ45 sockets as input and output must not be missing.
The speaker system measures 1,350 mm in height, 400 mm in width, and no less than 52 8mm in depth.
"The DSP8000 XE is truly a next generation Meridian loudspeaker and takes the company into an exciting new era for our talented team, our business partners and our customers."

John Buchanan, CEO Meridian Audio
The new Meridian DSP8000 XE Digital Active Loudspeaker is scheduled to be available from March 2022, with the standard finish being Piano Black. However, other colour options are also to be offered. White, red, orange and blue are available on the manufacturer's website, with a choice of matt or high-gloss finishes. The price of the new Meridian DSP8000 XE Digital Active Loudspeaker is listed at £ 75,000.
Getting to the point
Meridian Audio Ltd is celebrating the unveiling of the new Meridian DSP8000 XE Digital Active Loudspeaker as a true breakthrough in the development of active loudspeaker systems. Years of development paired with decades of expertise have led to a completely new design concept that raises the performance of the active loudspeaker system to a completely new level, making it the company's new flagship.
| PRODUCT | MERIDIAN DSP8000 XE DIGITAL ACTIVE LOUDSPEAKER |
| --- | --- |
| Price | £ 75,000,- |
You are currently viewing a placeholder content from Facebook. To access the actual content, click the button below. Please note that doing so will share data with third-party providers.
More Information