With the new iFi Audio ZEN air DAC, desktop audio systems specialist iFi Audio establishes the new iFi Audio ZEN air Series, introducing a versatile, compact D/A converter with integrated headphone amplifier.
The new iFi Audio ZEN air DAC is a simple D/A converter that focuses on the essentials and, along with the iFi Audio ZEN air Blue, forms the basis of the new iFi Audio ZEN air Series. The specialist iFi Audio thus addresses users who are looking for an impeccable DAC in the entry-level class, with the focus here first and foremost on the integration of computers, smartphones and tablets.
So even if the selection of interfaces is rather small here, the new iFi Audio ZEN air DAC is still supposed to distinguish itself with impeccable signal processing that has characteristics of its big brothers.
iFi Audio ZEN air DAC – Focused on the essentials
To put it bluntly, the new iFi Audio ZEN air DAC is a D/A converter that features a single digital input, and that is a USB interface.
This is designed as a USB-B port and is suitable, as already indicated, for the direct connection of the new iFi Audio ZEN air DAC with a computer, whether it is a system with Apple macOS, Microsoft Windows or Linux.
Likewise, however, mobile devices such as smartphones and tablets can also be connected here with the appropriate cables, so that you can also use these solutions directly as a source with the help of the new iFi Audio ZEN air DAC and benefit from the high-quality signal processing.
The USB interface of the new iFi Audio ZEN air DAC corresponds to USB 3.0 and is of course backwards compatible with USB 2.0, this is mentioned for the sake of completeness.
The signal processing is based on an XMOS 16-core chip, which is a very powerful processor with 2,000 MIPS, as the manufacturer states.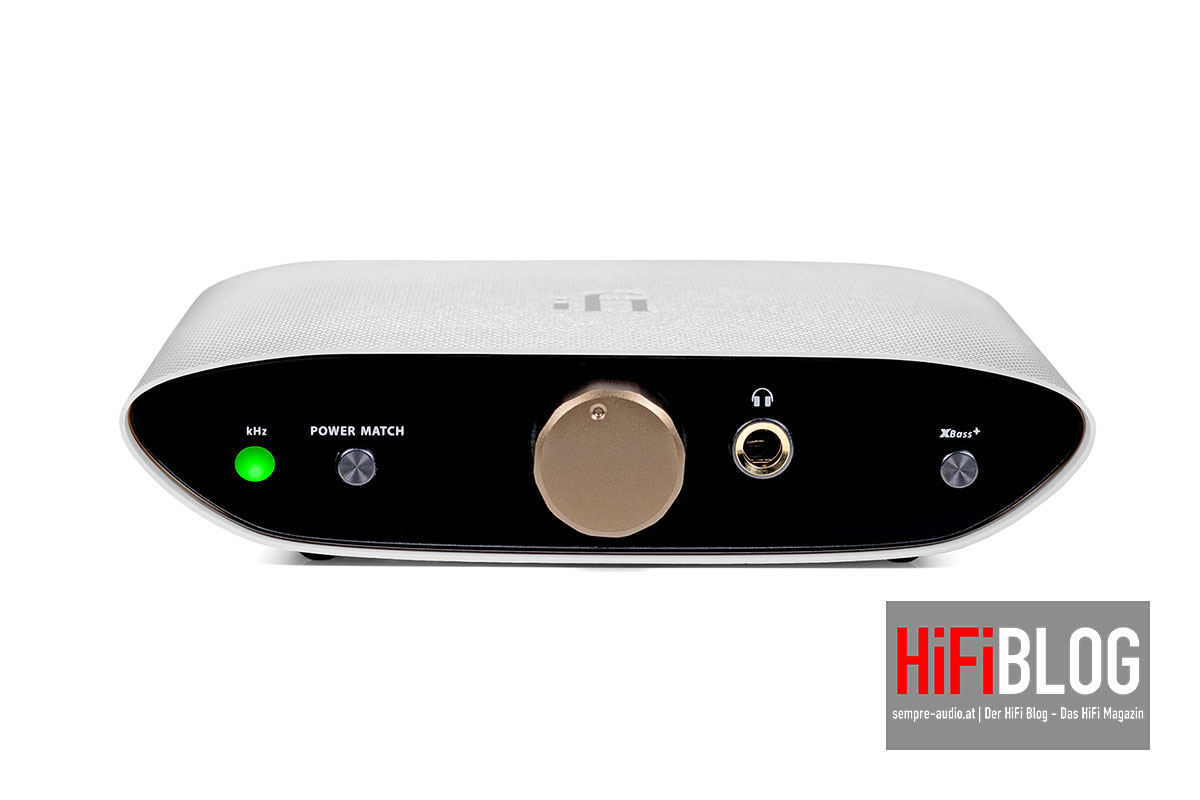 Dieser ist als USB-B-Port ausgeführt und eignet sich, wie bereits angedeutet, für die direkte Verbindung des neuen iFi Audio ZEN air DAC mit einem Computer, egal ob es sich um ein System mit Apple macOS, Microsoft Windows oder Linux handelt.
Ebenso können hier aber auch mobile Geräte wie Smartphones und Tablets mit den entsprechenden Kabeln angeschlossen werden, so dass man auch diese Lösungen mit Hilfe des neuen iFi Audio ZEN air DAC direkt als Quelle nutzen und von der hochwertigen Signalverarbeitung profitieren kann.
Die USB-Schnittstelle des neuen iFi Audio ZEN air DAC entspricht USB 3.0 und ist natürlich abwärtskompatibel zu USB 2.0, dies sei nur der Vollständigkeit halber erwähnt.
Die Signalverarbeitung basiert auf einem XMOS 16-Core-Chip, der mit 2.000 MIPS ein sehr leistungsfähiger Prozessor ist, wie der Hersteller angibt.
Integrated headphone amplifier
The new iFi Audio ZEN air DAC is not only a D/A converter, it also has an integrated headphone amplifier, which is directly accessible on the front via 6.3 mm stereo jack.
According to the company's own information, it also relies solely on high-quality components, with PowerMatch a function for automatic level adjustment for headphones with different impedances and XBass+ for a richer performance in the lower frequency range.
Volume control is via a rotary encoder found centrally on the front panel, and the new iFi Audio ZEN air DAC is powered via an external power supply, which is of course part of the package.
Pricing and Availability
The new iFi Audio ZEN air DAC will soon be available in this country, as announced by the manufacturer. The recommended retail price is aimed exceedingly attractively, as the customer only has to budget €99 for this solution.
Getting to the point
The specialist for desktop audio solutions iFi Audio already has a very broad product range, especially in the field of D/A converters. But now, with the new iFi Audio ZEN air Series, another range and within this another D/A converter is added, namely the new iFi Audio ZEN air DAC. This is concentrated on the essentials, ultimately only a USB port is available for connection to a computer, smartphone or tablet. However, the signal processing is probably on the high level that one can expect from iFi Audio and an integrated headphone amplifier is also not missing here.
| PRODUCT | IFI AUDIO ZEN AIR DAC |
| --- | --- |
| Price | € 99,- |