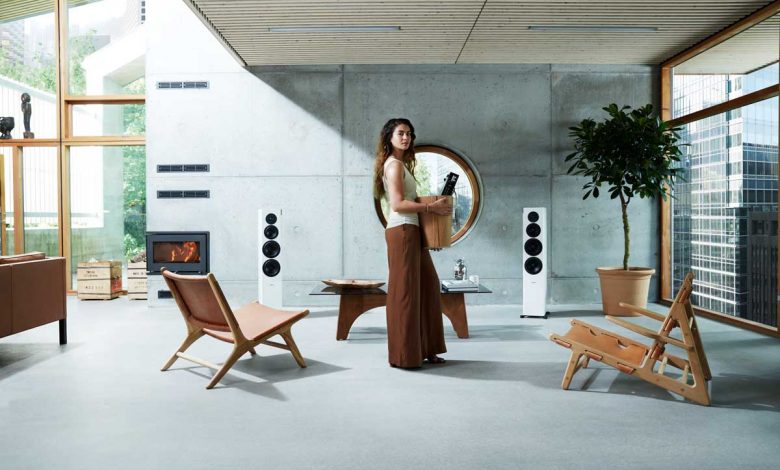 Report
It is the diversity that inspires… and that divides
Consumer electronics are extremely versatile and diverse, for beginners and demanding music lovers alike. Even for those who place the highest value on quality, there is an immensely wide range of products available. What would you like? Classic media such as CD, surround in high-resolution object-based audio formats or analogue with vinyl? Streaming your own content or directly from the cloud? Wherever, whenever and however you want, music can be enjoyed in a variety of ways.
Let's get straight to the point: never before has the world of consumer electronics in general presented itself as versatile and broadly positioned as is currently the case. Music enthusiasts have ways and means at their disposal to pursue their passion almost always and everywhere, and at a level of quality that is remarkable.
If not so long ago it would have been simply unthinkable to enjoy music in so-called studio master quality on the go, for example on the way to work or while travelling, now nothing stands in the way.
Studio Master quality in your pocket
Portable hi-res audio players, so-called DAPs, even smartphones and first-class headphones, whether on-ear, over-ear or in-ear models, make this possible. The content for this is provided by download portals and, more recently, streaming services that offer a gigantic variety of different genres. In fact, you don't even have to own the albums, you "buy" access to millions and millions of music titles by paying a monthly subscription fee. As already mentioned, depending on one's own requirements, offers are available in lossy quality, in "CD quality" or in the aforementioned Studio Master quality.
Music in the best quality throughout the house
The really ingenious thing about it is that the same content is, of course, also available in the home environment, not only via the very finest hi-fi system of classic design in the listening room with exclusive hi-fi components, but also on the small audio system in the study, on the all-in-one audio system in the bathroom and on the radio alarm clock in the bedroom. If desired, music can be played synchronously throughout the entire house via Multiroom Audio Streaming, centrally controlled via an app on a smartphone or tablet.
HiFi becomes lifestyle again
The latest trends in the industry even have the potential to address completely new customer groups based on such scenarios, namely those who certainly value quality but have no idea what to do with classic hi-fi systems. Lifestyle solutions that can be integrated into the living environment in the best possible way are in demand here. But, and this is crucial, at a quality level that does not require any compromises. So what do you do? Well, you reduce a hi-fi chain to the absolute minimum, to those components that are simply indispensable, and that is only the loudspeakers. These are made active, i.e. amplifiers are integrated, as is a streaming system, and – apart from the power supply, of course – cables are completely dispensed with.
Sound from all directions
Those who are not afraid of higher expenditure will also find completely new possibilities for unimagined music enjoyment, namely in the surround area. Of course, in the so-called home cinema, the focus is primarily on films, content in 4K and thus in razor-sharp picture quality and a powerful sound backdrop. But this is exactly where the audiophile music lover can start, who can use the latest surround formats up to high-resolution object-based audio formats to bring the impression of a concert hall, stadium or recording room into his living room and put himself in the middle of the sound event. Here, too, it is no longer necessary to own the Blu-ray data carrier; instead, the corresponding content can be downloaded from streaming providers at a monthly subscription price….
Direct connection to the Smart Home
If you like, you don't even need a smartphone or tablet to control the system; a simple call is enough and music starts to play. Voice control systems have long since found their way into consumer electronics and represent a seamless connection to Smart Home solutions.
Vinyl, cassette, tape…
Anyone who thinks that the future of music reproduction is reduced purely to bits and bytes is mistaken, because, as we know, the long-dead record has experienced an astonishing renaissance, and is nowadays even the entry point for many young people into the world of high-quality music enjoyment, simply because it is chic and trendy, because in the world of increasingly available digital content, physical media with the very special character of a record once again represent "true" and above all "lasting" values. This even allows for the resurgence of other sound carriers long thought to be "extinct", such as music cassettes and tapes, albeit to a much lesser extent than records. But, they are back…
Analogue and digital are not mutually exclusive
What is particularly exciting is that the "analogue" and "digital" worlds are not mutually exclusive, but can complement each other splendidly. This goes so far that record players with integrated streaming solutions are available, which even deliver records directly to a multi-room streaming system, including voice control… There is hardly a better image of all that modern entertainment electronics is capable of, how the most diverse areas combine to form a new whole, and thus almost nothing is impossible.
Religious wars
But what is actually happening in relevant circles? There is no sign of rejoicing in the face of the diversity on offer, of picking out the one that suits one's own needs best and taking note of the fact that there is not only one's own view of things, but a multitude of sometimes completely different needs. Rather, religious wars are fought, because apparently there can only be one way, of course one's own way, and anyone who claims otherwise, who sees things differently, has no idea. People argue come hell or high water about technology, products, brands….
The analogue advocates are confronted with the digital disciples as seemingly irreconcilable worlds, it is postulated that you can only really enjoy music with this or that solution, and that nothing sensible is available for less than X amount, or that every cent more than Y amount is a waste anyway. They paint in black and white alone, without even considering shades of grey or even wanting to recognise the really colourful spectrum of possibilities.
Is it just allowed to be fun?
Actually, it is shocking that those who pursue such a passionate hobby as hi-fi, in which the enjoyment of music should be the focus, of all things, act so doggedly and narrow-mindedly. Sure, it's about emotions, but more positive than negative, isn't it? Shouldn't the goal be to share one's enthusiasm with others, to enjoy things together that are fun? And yes, this also includes exchanging views with others, even having controversial discussions with others, but certainly not putting one's personal assessment above that of others.
When did so many of us forget to have fun?
Getting to the point
Actually, it is shocking that those who pursue such a passionate hobby as hi-fi, in which the enjoyment of music should be the focus, act so doggedly and narrow-mindedly. Sure, it's about emotions, but more positive than negative, isn't it? Why is the diversity that the world of consumer electronics in general offers today often not understood as an opportunity to inspire as many people as possible, but instead used to fight true "religious wars"?
You are currently viewing a placeholder content from Facebook. To access the actual content, click the button below. Please note that doing so will share data with third-party providers.
More Information