Together with the Bluetooth headphones Ultrasose iSAR and Ultrasone LAPIS, the Bavarian headphone specialist Ultrasone AG now presents for the first time a headset designed solely for gaming, the Ultrasone METEOR ONE.
With the Ultrasone METEOR ONE, Ultrasone AG presents for the first time a headset optimized primarily for gaming, a solution that comes up with special features that are particularly relevant in connection with games, such as a signal transmission with low latency, because of course one relies here on the freedom of cables, so Bluetooth.
The Ultrasone METEOR ONE Bluetooth gaming headset is just one of a total of three solutions that the Bavarian company is presenting these days around Bluetooth, because with the Ultrasone LAPIS true wireless in-ear headphones and the Ultrasone iSAR Bluetooth over-ear headphones, the company wants to push the wireless personal audio segment.
Innovation meets reputation
The fact that the Bavarian company Ultrasone AG has proven itself as a proven specialist for headphones as a technology pioneer since year and day, is proven by countless patents, whereby of course the so-called Ultrasone S-Logic Technology stands out here first and foremost.
This Ultrasone S-Logic Technology is supposed to ensure a particularly natural, wide spatial imaging and is of course also found in the latest models such as the Ultrasone METEOR ONE Wireless Gaming Headset. In addition, however, there are also features that have not yet been sufficiently considered, such as the possibility to do without cables and instead rely on a signal transmission via Bluetooth.
"We are extremely happy to implement the first milestone of our transformation strategy with our new wireless products. After years of development, we have succeeded in combining our high sound demands paired with maximum wearing comfort and our familiar Ultrasone sound in wireless devices through state-of-the-art Bluetooth technologies."

Michael Willberg, CEO of Ultrasone AG
Together with the new Ultrasone METERO ONE and the Ultrasone LAPIS solutions as true wireless in-ear headphones and the new Ultrasone iSAR, Ultrasone AG now has a new trio in this field in its portfolio, as mentioned in the introduction.
"The strong demand from our customers around the world for Bluetooth® products requires much more collaborative thinking, which has driven the strategic product direction. We want our customers to become fans of our products, and we work on that every day. We are proud to offer a complete portfolio of Bluetooth products, thanks to the outstanding support of our customers and partners."

Robert Winterhoff, COO of Ultrasone A
Ultrasone METEOR ONE – Gaming Headset with Low Latency
For the new Ultrasone METEOR ONE, the manufacturer emphasizes one feature in particular, as described, and that is the low-latency Tactical Mode, which allows gamers to always react accurately and quickly.
In fact, the Ultrasone METEOR ONE uses Bluetooth 5.0 and supports the Bluetooth profiles A2DP 1.3, AVCTP 1.4, AVDTP 1.3, AVRCP 1.6, GAVDP 1.3, DID 1.3, HFP 1.7, SPP 1.2 and PBAP 1.2. The Bluetooth codecs SBC or AAC are used for signal transmission.
In addition, a microphone is provided here to be able to communicate with fellow users in online games. However, this is not integrated into the ear cup like in other headphones, but is designed as a boom microphone, although it can also be removed. By the way, a dual-beam microphone with background noise suppression is used to guarantee particularly good speech quality.
Thanks to state-of-the-art drivers with a diameter of 40 mm and Ultrasone S-Logic Technology of the latest generation, the Ultrasone METEOR ONE delivers impressive soundtracks for gripping gaming experiences with spatially more natural reproduction at the same time, according to the manufacturer. An Active Noise Cancelling function blocks out ambient noise if desired.
In addition, it should be mentioned that the new Ultrasone METEOR ONE has RGB LED lighting, which is obviously part of the good tone in this product class…
Furthermore, it should be noted that the Ultrasone METEOR ONE is IP54 certified and thus resistant to splashing water, so you can also use the headphones outdoors away from the game console or the PC.
Sufficiently long battery life and passive operation.
Gamers no longer need to take breaks, says Ultrasone AG, as the Ultrasone METEOR ONE delivers 15 hours of gaming fun at a stretch with its 550 mAh lithium-ion battery. After that, you can continue playing without restrictions with the included cable connection (3.5 mm stereo mini-jack). For charging, the Ultrasone METEOR ONE offers a USB-C port, and a USB-A to USB-C cable is part of the scope of delivery. Charging takes about two hours.
Simple operation
Of course, there are controls directly on the headphones to ensure comfortable use. In addition to the main switch, which is also used for pairing, you'll find buttons for volume and playback control, and the RGB LED lighting can also be adjusted.
High wearing comfort
Since headphones like the new Ultrasone METEOR ONE wireless gaming headset are usually used for many hours, a high level of wearing comfort is naturally crucial. Thus, the manufacturer first and foremost cites the low weight of just 230 g as a major factor in this area, as well as the extremely soft memory foam ear pads.
Of course, the Ultrasone METEOR ONE Wireless Gaming Headset can be folded so that it can always be taken along.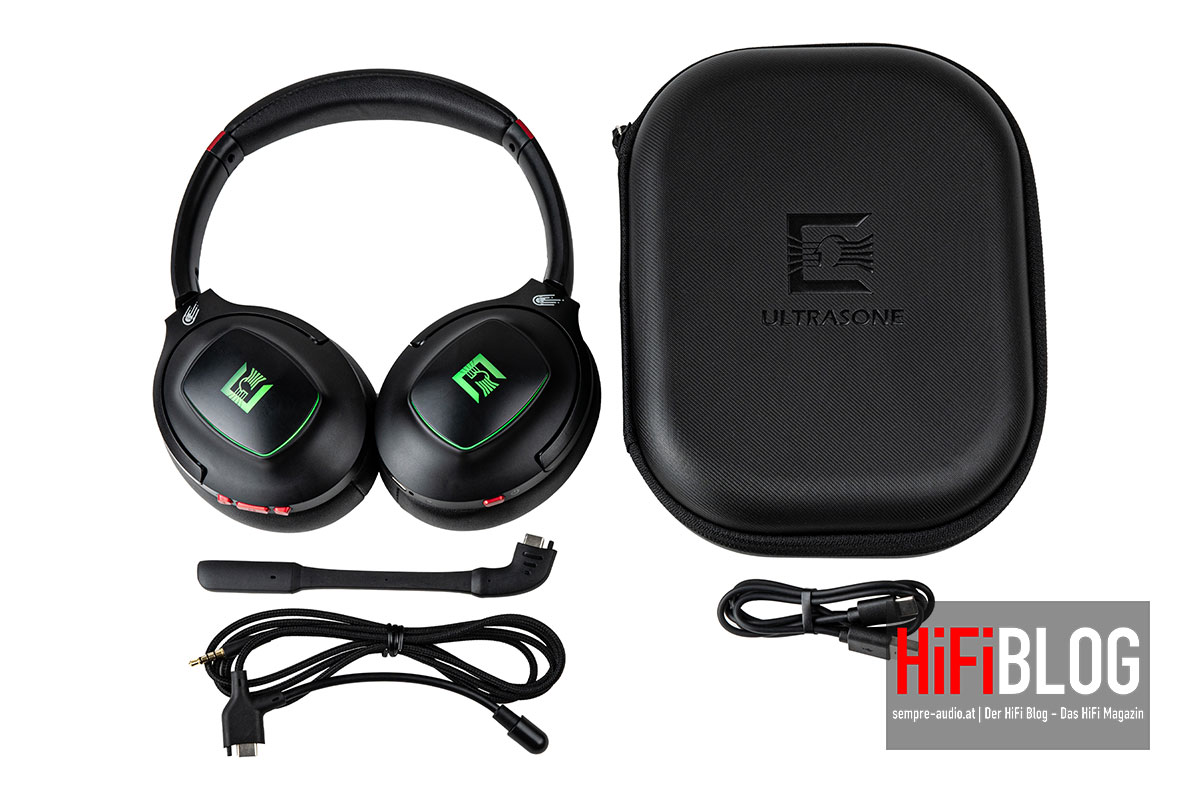 Prices and availability
The new Ultrasone METEOR ONE wireless gaming headset is said to be available immediately from retailers. The manufacturer is quoting a suggested retail price of € 199,- for this solution.
Getting to the point
The gaming market is becoming increasingly interesting for manufacturers in the headphone sector, as evidenced by the new Ultrasone METEOR ONE wireless gaming headset from Bavarian specialist Ultrasone AG. As part of an offensive around Bluetooth headphones, such a gaming headset is obviously not to be missed, whereby it is emphasized that the company has relied on classic virtues such as excellent sound as well as features that are particularly relevant for gamers.
| PRODUCT | ULTRASONE METEOR ONE WIRELESS GAMING HEADSET |
| --- | --- |
| Price | € 199,- |