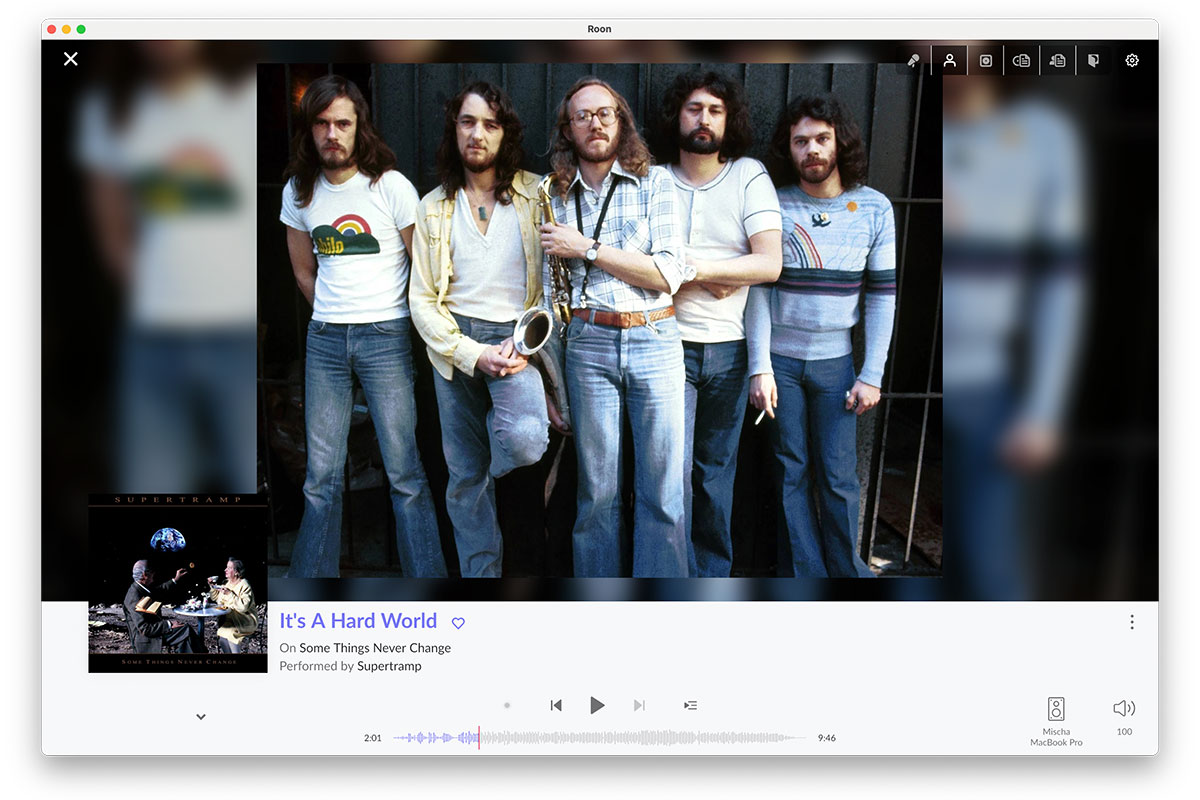 Above all, improvements in the graphic display are the focus of the new update, which the software company Roon Labs LLC. has now made available with Roon 1.8 Build 923.
Roon 1.8 Build 923 is now available, and with it another update of the media management and multi-room audio streaming software Roon from Roon Labs LLC. Once again, the software forge delivers a series of detail improvements, bug fixes and performance optimisations for this solution, which is increasingly establishing itself as a standard on the market.
The latest version is dedicated to a number of functions, but the main focus is on optimising the graphical user interface, especially the area dedicated to the display of the currently playing music title.
Roon 1.8 Build 923 – Now Playing Screen in a new design
This is the so-called Now Playing Screen, which got a makeover with the latest update to Roon 1.8 Build 923. The declared aim of the developers was to make the music titles even more appealing, and of course the main focus is on the possibilities offered by the so-called Art Director.
The Art Director was introduced only recently and is intended to allow users to actively participate in building up the database from which Roon ultimately draws its information about the administration and presentation of artists and their albums, specifically photos of the artists.
Web Display and Google Chromecast functionality improved
Another major area of improvement in Roon 1.8 Build 923 concerns Web Display as well as Google Chromecast, which are said to have been completely redesigned to be much more consistent with the rest of the Roon 1.8 software platform.
Optimisation for mobile devices
With the new update to Roon 1.8 Build 923, an improvement for mobile devices, i.e. smartphones and tablets, has been made in order to make scrolling through the media library smoother.
Optimised search function
The search function has also been optimised once again so that users receive the results they expect. This applies above all to the results that are delivered when the user enters only parts of an artist's name.
Prices and availability
Roon 1.8 Build 923 is available immediately as a free update for all subscribers. This applies to the versions for Apple macOS, Microsoft Windows and Microsoft Windows 64 Bit as well as for Linux and Roon OS. The so-called Roon Bridge does not currently require an update, but of course the corresponding apps for Apple iOS and Google Android do, which are now also available in the Apple App Store and Google PLAY Store respectively.
Getting to the point
Some updates bring more, some less innovation, but the latest version of the media management and multi-room audio streaming solution Roon 1.8 Build 923 from Roon Labs LLC. does not bring any really big changes, but once again various improvements in detail, so that an update is really worthwhile.
PRODUCT
ROON 1.8 BUILD 911
Price
US$ 9,99 per month with annual billing
US$ 12,99 per month with monthly billing
US$ 699,99 Lifetime Licence