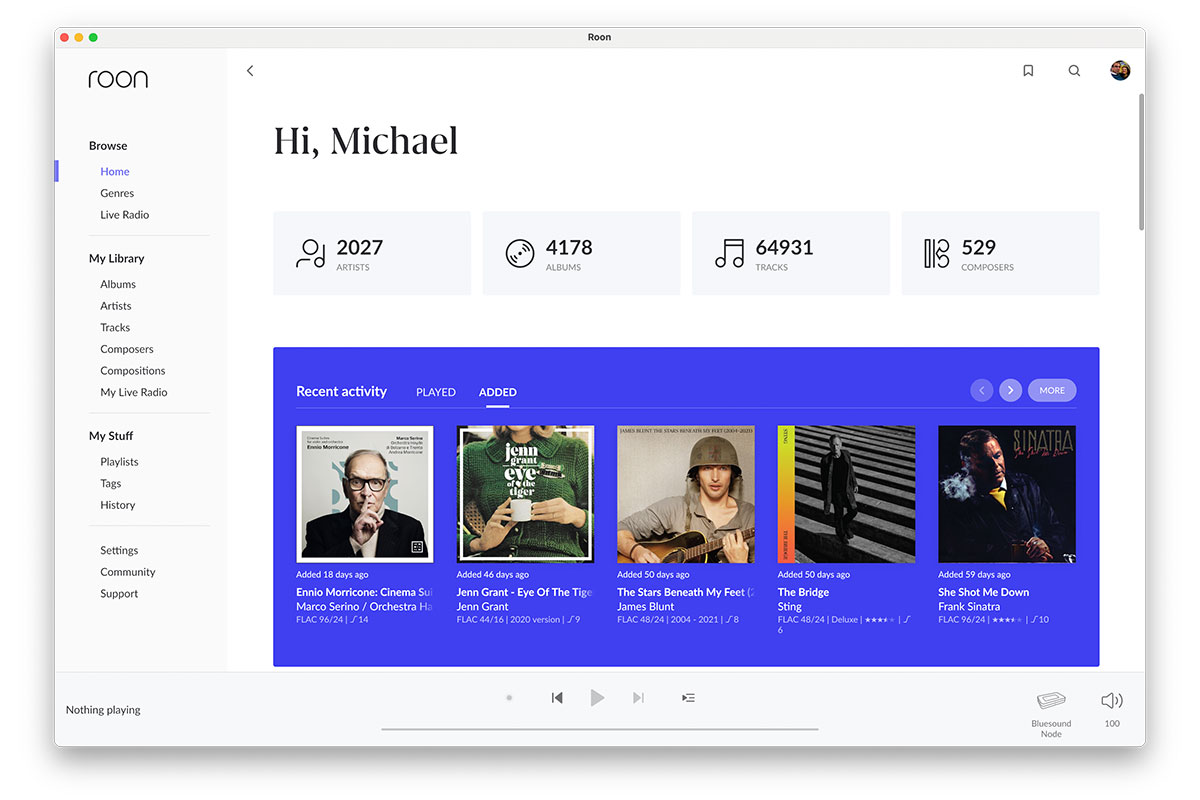 Roon Labs LLC promises that 2022 will be the best year for Roon, as they are already working on numerous innovations. For the time being, Roon 1.8 Build 898 is another small update, which is especially dedicated to performance optimisation.
Roon 1.8 Build 898, the latest version of the media management and multi-room audio streaming solution from Roon Labs LLC, is now available. Once again, this is a so-called maintenance update, which eliminates many bugs that have crept into the previous versions.
This time, the developers are focusing on the performance of the software in general, but especially on the display of cover artwork during navigation. In addition, Roon Labs LLC. Roon Labs LLC. also lists improvements around backups and a number of optimisations with regard to localisation.
Roon 1.8 Build 898 – Numerous optimisations
A new version has gone live with Roon 1.8 Build 898, which contains improvements for search, backup, localisation and much more, along with a number of stability and performance improvements, according to Roon Labs LLC.
Much of this is in line with a new feature that Roon Labs LLC. introduced with its last major update, namely the so-called Art Director, which was first introduced with the Roon 1.8 Fall 2021 release, i.e. Roon 1.8 Build 880.
The said Art Director is supposed to offer users the opportunity to participate in improving editorial content themselves, in the form of photos for artists.
It could be seen that users have put a lot of effort into this new Art Director, and as the pool of available artist images gets better and better, they continue to work on making sure that they actually look their best in Roon. Therefore, the new update features a number of performance improvements and changes and more are already in the pipeline, according to Roon Labs LLC.
Optimisations around TIDAL
With this update, some problems with the playback of TIDAL content were also addressed. According to Roon Labs LLC, the problem is probably related to content delivery networks (CDNs) outside the Roon infrastructure. They believe they have found a strategy to mitigate this problem, making playback much more stable for affected customers.
Optimised localisation
A significant improvement also concerns the localisation, because this time the focus was on the implementation for the German language, among other things.
"Better handling of German umlauts" is what the description of the update by Roon Labs LLC literally says, which does not need to be explained in detail.
More to come
Roon Labs LLC. says that 2022 will be a very important year for Roon, because they have a number of very exciting projects in the pipeline that are waiting for their concrete realisation and implementation. However, the company does not want to show its cards too closely yet.
Prices and availability
Roon 1.8 Build 898 is available immediately for Microsoft Windows, Microsoft Windows 64 Bit, Apple macOS, Linux and Roon OS. The corresponding apps for Apple iOS and Google Android should also be available for download as updates by now.
In the proven manner, the update is carried out almost automatically, although this time once again an update of the database is carried out, so that the Roon Core is only fully available again after the restart.
Roon Labs LLC. offers the software exclusively in the form of a subscription, which costs either US$ 9.99 per month for annual billing or US$ 12.99 per month for monthly billing. In addition, a so-called lifetime licence is available at a price of US$ 699.99.
Getting to the point
In principle, Roon 1.8 Build 898 is another service release, which is to be seen in connection with the last big update of the software from Roon Labs LLC, i.e. Roon 1.8 Build 880 and thus the so-called Roon 1.8 Fall 2021 Release.
PRODUCT
ROON
Price
US$ 9,99 per month for annual billing
US$ 12,99 per month with monthly billing
US$ 699,99 Lifetime Licence