Speaker
Bookshelf Speaker
HiFi
News
Raidho X1.6 – New High Performance Compact Speaker of the Raidho X-Series
Danish company Dantax Radio A/S is expanding the Raidho X-Series of the Raidho Acoustics brand with what they describe as a high-performance compact speaker system at an attractive price, the new Raidho X1.6.
Raidho X1.6 is the name of the latest solution of the Raidho Acoustics brand, which the Danish company Dantax Radio A/S presented at the High End 2022 as the latest addition to the Raidho X-Series. This product, presented for the first time in Munich, is a compact loudspeaker, although the manufacturer refers to it as a high-performance compact loudspeaker system. But that's not all: with this solution, a system designed in this way is to be presented in a particularly hard-fought price class that is still attractive for comparatively many users.
Raidho X1.6 High-performance Compact Speaker
The new Raidho X1.6 is an attempt to position a high-performance compact speaker in a highly competitive price range, according to the company from Pandrup, Denmark. Dantax Radio A/S, the company behind the Raidho Acoustics brand, is convinced that the Raidho X1.6 delivers unprecedented performance in its price class. It is the first time that such a project has been undertaken, and the new Raidho X1.6 is ideally suited for the task.
The main reason for this is that the new Raidho X1.6 naturally relies on features and technologies that have already proven themselves in the higher classes and larger form factors.
Raidho ribbon tweeter
One of these features is the Raidho ribbon tweeter, which the manufacturer describes as legendary for the Raidho Acoustics brand. In fact, this is a so-called Planar Magnetic Tweeter and thus a very special construction principle.
The tweeter relies on a foil that is only 11 µm thick and weighs only 20 mg with a very large surface area, and in which the conductor paths are incorporated. The manufacturer compares this to a conventional dome tweeter, whose diaphragm would have a mass 50 times higher. This makes it possible to realise an image that has practically no resonance or distortion, offers the highest level of detail and can cover an enormous frequency range.
Bass driver with ceramic coating
The bass drivers also rely on components with very special features in order to keep pace with the tweeter just described and to achieve the desired characteristics of the new Raidho X1.6 as a high-performance loudspeaker system.
For example, the manufacturer calls the drive of the bass chassis a true work of art, because it is based on a so-called aero-dynamic construction to achieve optimal ventilation for the highest dynamics free of distortion.
Powerful neodymium magnets form the basis of the drive unit, guaranteeing ultimate control.
The 6.5 inch cone of the bass driver is based on an aluminium cone, which is particularly rigid and stiff, while being extremely lightweight. However, such a construction has the disadvantage that it has its own sound, so this sound colouration has to be counteracted with appropriate measures.
Raidho Acoustics counters this problem with a ceramic coating, specifically aluminium oxide, which is applied in a controlled manner in a plasma process. Among other things, this ensures that the imaging of the membrane treated in this way theoretically reaches up to 12.5 kHz.
Of course, this is in no way exhausted, but rather a crossover that starts at 3.5 kHz, whereby the frequency range of the new Raidho X1.6 is shown as 45 Hz up to 50 kHz. And to complete the technical data, it should be mentioned that the impedance of the Raidho X1.6 is given as 6 ohms and the sensitivity as 87 dB. The recommended power of the electronics is given as 50 watts and higher, but it is stated that very good results can also be achieved with comparatively "weak" tube amplifier systems.
By the way, the new Raidho X1.6 is designed as a bass reflex system, whereby the corresponding opening can be found at the rear.
The loudspeaker system measures 360 mm in height, 200 mm in width and 300 mm in depth and thus weighs in at an impressive 12 kg. This is clear evidence of the solid and robust construction of the cabinet, which is available in either black or white piano lacquer.
Made in Denmark
Dantax Radio A/S is particularly keen to emphasise that it relies on manufacturing in Denmark. The company stands firm in this regard: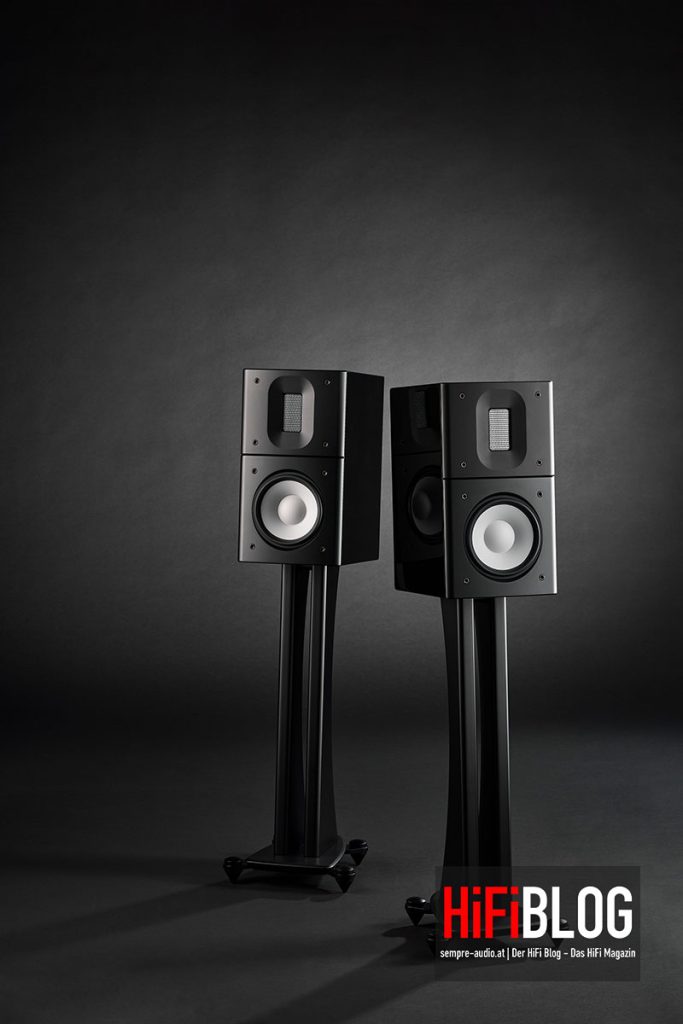 "In Pandrup, Denmark, we have our own unique production of drive units, crossovers and assembly lines. We are proud to have our own dedicated team with exceptional skills that bring Raidho quality to life. True craftsmanship and passion for every single detail are close to our hearts."

Dantax Radio A/S
Prices and availability
As described, it is supposed to be a compact high-performance loudspeaker that is offered at a particularly attractive price and that has features that have not been found in this price range so far. In the end, however, it is clearly a high-end loudspeaker system with a recommended retail price of € 7,300, that must be clearly stated.
Getting to the point
Dantax Radio A/S promises nothing less for the new Raidho X1.6 and thus the latest model of the Raidho X-Series of the brand Raidho Acoustics than a reproduction free of sound colouration, a detail reproduction and dynamics that allow an authentic performance as close as possible to the original, and despite its compact dimensions, a very wide sound stage and an energetic character as well as guaranteeing fatigue-free, relaxed listening for hours. In return, the speaker comes with impressive features, so that one speaks of a high-performance speaker in a compact format at an attractive price.
| PRODUCT | RAIDHO X1.6 HIGH PERFORMANCE COMPACT SPEAKER |
| --- | --- |
| Price | € 7.300,- |