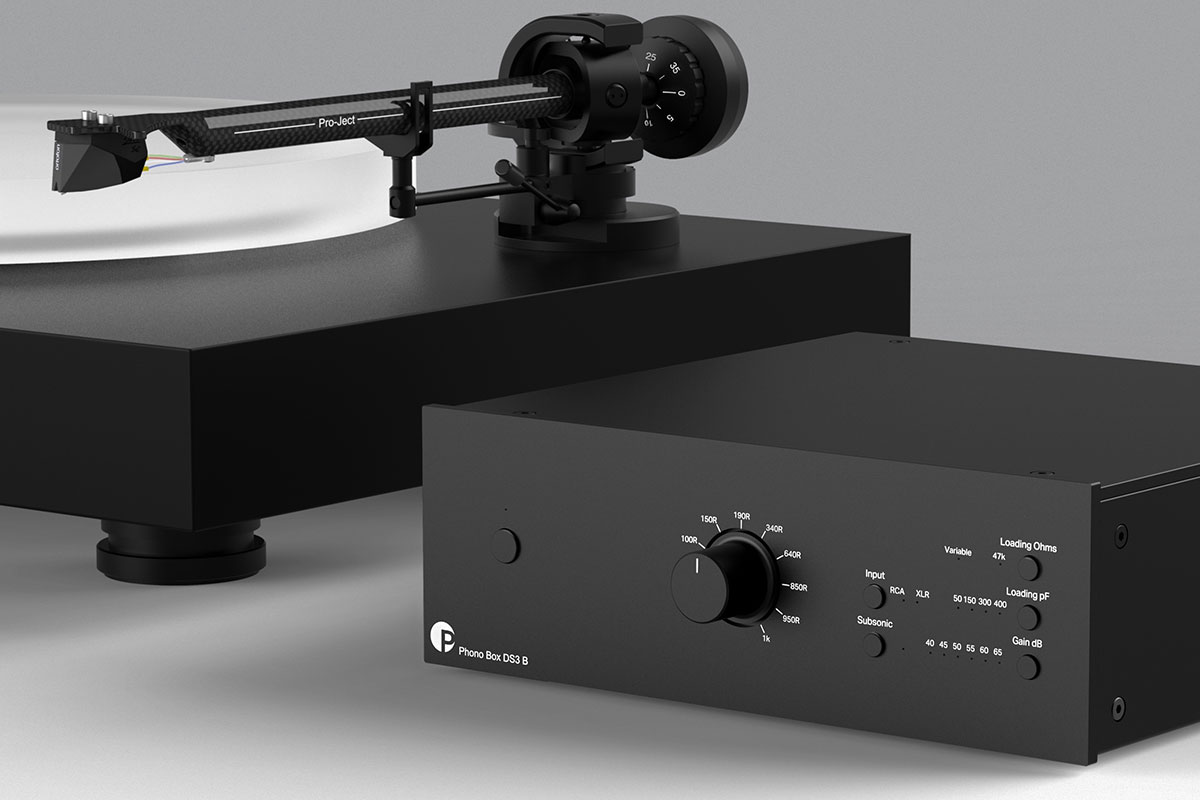 The new Pro-Ject Phono Box DS3 B offers features that are not found even in much more expensive solutions, Pro-Ject Audio Systems is convinced of this on the occasion of the presentation of the latest phono preamplifier of the Pro-Ject Box Design Series, specifically the Pro-Ject Box Design DS3 Series. This solution has features that guarantee record playback at the highest level, optimally matched to the respective cartridge system, connected symmetrically, and designed discretely in the dual mono concept. The Pro-Ject Phono Box DS3 B is an absolute high-end solution at an attractive price.
Pro-Ject Phono Box DS3 B – High-end in compact form
The Pro-Ject Box Design DS3 Series is already the third generation of a product line that Pro-Ject Audio Systems classifies as solutions in the premium segment. The new Pro-Ject Phono Box DS3 B, however, stands out from the crowd, as the company has done everything in its power to create a high-end solution in terms of workmanship, features and functionality.
Discrete circuit design
Probably the most important thing is that the developers of the new Pro-Ject Phono Box DS3 B rely completely on a discrete circuit design, which means that no integrated circuits are used. According to Pro-Ject Audio Systems, countless hours of listening tests have shown that even the very best operational amplifiers do not sound as neutral, natural and dynamic or lively as is possible with a completely discrete design and thus an optimised circuit made up of countless coordinated individual components.
The effort involved is of course much higher, because, as the company points out, conventional phono preamplifiers with integrated circuits comprise a few dozen or a few hundred components, whereas discrete solutions such as the new Pro-Ject Phono Box DS3 B comprise hundreds or even thousands.
Fully balanced design
Another important point is the design as a fully balanced solution in dual mono construction, starting with the balanced inputs, which are not only available as XLR but also in the form of a balanced 5-pin mini-XLR as an alternative to the unbalanced pair of RCA sockets. The gain section is also fully balanced, as is the amplifier stage.
The RIAA equalisation is done by a discrete passive equaliser, whereby the manufacturer refers to a split-passive equalisation, which guarantees a better impedance matching and a smaller deviation from the ideal RIAA curve.
The Pro-Ject Phono Box DS3 B also provides XLR outputs to benefit from the balanced output stage. However, unbalanced RCA connections are not omitted; these rely on their own, also completely discrete output stage.
Optimum adaptation to a wide variety of pick-up systems
As befits a Pro-Ject Box Design DS3 Series solution, the new Pro-Ject Phono Box DS3 B naturally offers all options for optimal adaptation to a wide variety of cartridge systems, be it an MM cartridge or an MC cartridge.
The input impedance, for example, can be continuously and steplessly adjusted between 10 Ohm and 1 kOhm by means of a rotary encoder directly on the front panel. For MM cartridge systems, it is also possible to set it to a fixed value of 47 kOhm. The input capacitance can be selected between 50, 150, 300 and 400 pF and the gain can be set at 40, 45, 50, 55, 60 or even 65 dB. For the balanced XLR outputs, +6 dB is available here.
All this is done directly via the controls on the front, and if desired, a subsonic filter at 20 Hz with 18 dB/octave can be activated here to suppress low-frequency interference signals.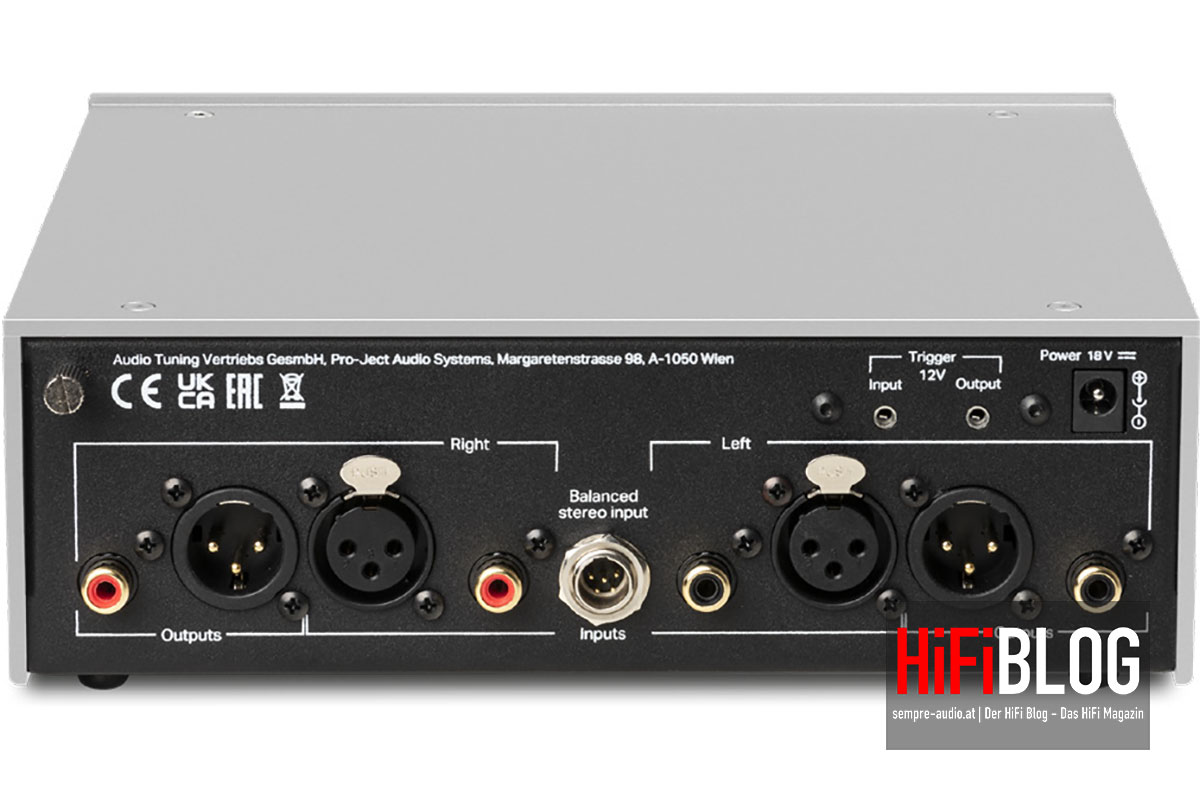 External power supply
Of course, Pro-Ject Audio Systems uses an external power supply in the form of an 18 V 500 mA DC power supply for the new Pro-Ject Phono Box DS3 B in the proven manner.
This is crucial because a phono preamplifier works with extremely sensitive, very weak signals and is therefore particularly susceptible to interference.
To raise the performance of the Pro-Ject Phono Box DS3 B to an even higher level, Pro-Ject Audio Systems recommends that ambitious hi-fi enthusiasts upgrade to a linear power supply, such as the Pro-Ject Power Box DS2 Sources.
Optimum shielding thanks to a newly designed enclosure
As usual, the new Pro-Ject Phono Box DS3 B comes with an elegant brushed aluminium housing, available in silver or black.
What is new here is that the "aluminium dress" is actually only for looks, the actual housing is inside and is made of stainless steel. This is to protect the sensitive circuitry particularly effectively from interference.
What else there is to say…
It should be mentioned that the new Pro-Ject Phono Box DS3 B has 12 V trigger connections and can thus be controlled centrally with other components without any problems.
Furthermore, we should not forget to mention the optional side panels for the Pro-Ject Phono Box DS3 B, as these can be used to further refine the appearance of this solution. These side panels are held in place by magnets and are available in a variety of real wood finishes.
Prices and availability
The new Pro-Ject Phono Box DS3 B should be available in specialist shops as of now, in black and silver. The recommended retail price is stated by the manufacturer at € 599.
Getting to the point
The phono preamplifiers of the Pro-Ject Box Design DS Series were already worthy of a clear recommendation when it came to fabulous solutions for the perfect playback of records with a particularly outstanding price-performance ratio. With the latest generation in the form of the new Pro-Ject Phono Box DS3 B, the phono preamplifier from Pro-Ject Audio Systems has clearly moved into the high-end league, as it offers a flexible, discrete and symmetrically designed phono preamplifier that will leave hardly anything to be desired, even for the most demanding vinyl lovers.
| PRODUCT | PRO-JECT PHONO BOX DS3 B |
| --- | --- |
| Price | € 599,- |