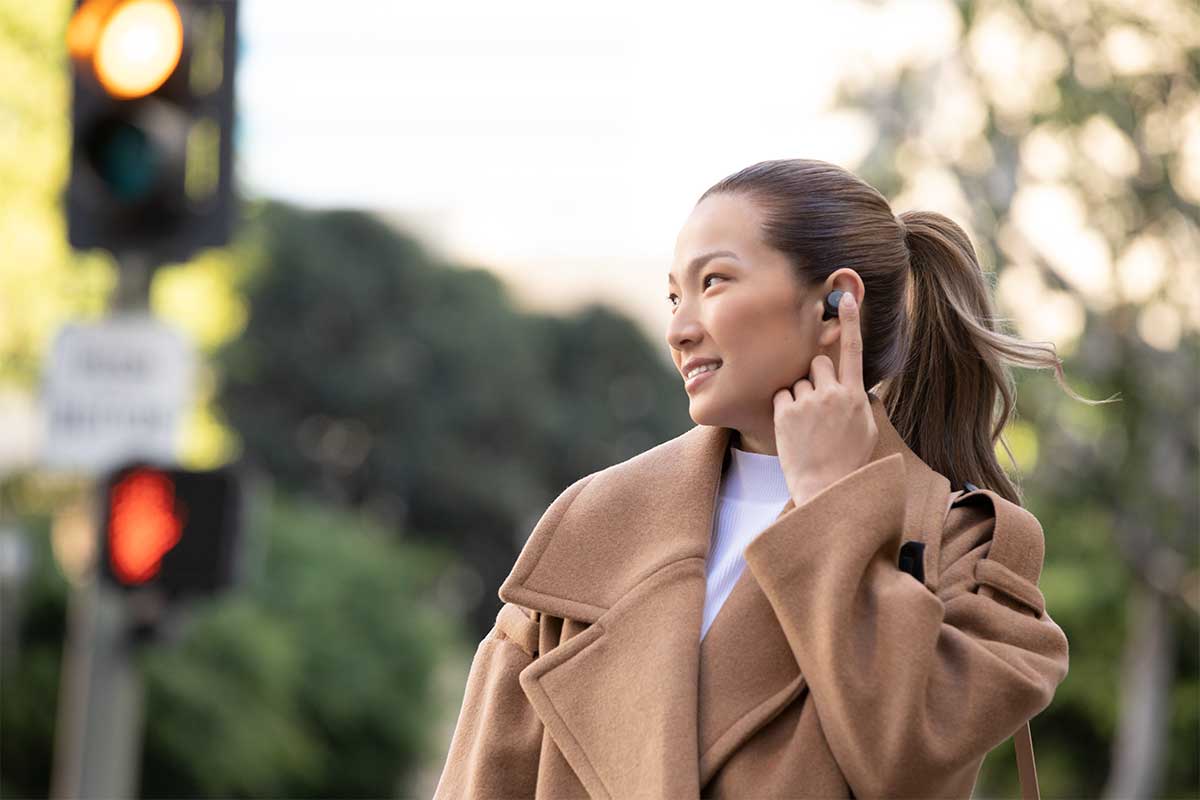 The new JBL Tour Series solutions are aimed specifically at professional users who can rely on the JBL Tour ONE over-ear headphones or the JBL Tour PRO+ TWS true wireless in-ear headphones in their everyday business life.
Harman International Industries has chosen a very special target group for the latest headphones of the JBL brand. According to the manufacturer, the new JBL Tour Series should appeal primarily to business users, i.e. people who make a lot of phone calls in a professional environment, but who also want to enjoy music while relaxing on business trips.
The solutions of the JBL Tour Series are said to be particularly well suited for these requirements, with the choice between the models JBL Tour ONE as over-ear, and JBL Tour PRO+ TWS as in-ear headphones.
The new JBL Tour Series – JBL Tour ONE and JBL Tour PRO+ TWS
The JBL Tour Series models are designed to work intelligently and elegantly, according to the manufacturer's description. The JBL Tour ONE and JBL Tour PRO+ TWS models, which establish the new product line, are intended to be the perfect companions for commuters, business travellers or users in the business environment in general.
The JBL Tour ONE and JBL Tour PRO+ TWS solutions are designed for maximum performance and are equipped with the latest technologies. This includes adaptive noise-cancelling as well as JBL Pro Sound, a stylish look and intelligent features are also cited as features of the two new headphones.
Active noise cancelling
Both models of the JBL Tour Series have, as just mentioned, an active noise-cancelling function as a very important feature. The manufacturer even speaks of an adaptive noise-cancelling function, which always adapts optimally to the respective conditions and thus filters ambient noise particularly effectively.
This function also includes the JBL Ambient Aware and JBL TalkThru technologies. The former ensures that the user can hear a little of the surroundings if desired, while the latter allows conversations without having to remove the headphones or take them out of the ear.
With JBL SilentNow, adaptive noise-cancelling can be activated at any time, without the need for an app and without music. A touch of the button on the headphones is all it takes to actually enjoy silence on long flights, for example.
JBL Tour ONE
The JBL Tour ONE over-ear headphones feature a 40mm diameter driver designed to deliver dynamic sound with the finest detail. The Hi-res Audio certified JBL Tour ONE is said to feature the JBL Pro Sound with a reproduction between 10 Hz and 40 kHz, although this only applies to passive operation, where the ompedance of 32 ohms and the sensitivity of 95 dB also come into play. Via Bluetooth, the frequency response is 10 Hz to 22 kHz.
Bluetooth 5.0 and the Bluetooth profiles HFP v1.7, A2DP v1.3 and AVRCP v1.6 are used.
For particularly high voice quality during telephone calls, video conferences and, last but not least, for controlling via voice assistants such as Google Assistant, Amazon Alexa and Apple Siri, the JBL Tour ONE have four microphones.
So that you can use the headphones when travelling without constantly having to think about charging, the JBL Tour ONE offers a playing time of up to 50 hours without ANC, and up to 25 hours with ANC. The lithium-ion battery with 920 mAh and 3.7 V is charged via USB-C, which is done after only two hours.
The JBL Tour ONE weighs 268 g and is said to be comfortable to wear with a robust, high-quality finish.
JBL Tour PRO+ TWS
The JBL Tour PRO+ TWS are designed as true wireless in-ear headphones and rely on a dynamic driver with 6.8 mm. The manufacturer states that the driver has an impedance of 32 ohms and a sensitivity of 100 dB, but in the end this is of no interest, as the limitation is Bluetooth 5.0. Thus, the frequency range of the JBL Tour PRO+ TWS is also specified with the typical 20 Hz to 20 kHz.
The manufacturer promises rich, powerful bass and clear treble and once again uses the JBL Pro Sound to describe the sound characteristics.
Speaking of Bluetooth, the Bluetooth profiles A2DP v1.3, AVRCP v1.6 and HFP v1.7 are supported.
For voice calls with high intelligibility, the JBL Tour PRO+ TWS is equipped with three microphones, and of course you can also use voice assistants like Google Assistant, Amazon Alexa and Apple Siri.
As soon as you take the JBL Tour PRO+ TWS out of the transport box, Bluetooth synchronisation takes place via JBL Dual Connect and guarantees an absolutely stable signal connection to the source as well as between the two earbuds. The earphones connect independently of each other, so that you can also use only one of the two, for example for phone calls.
The battery life is stated to be up to eight hours; if the noise-cancelling function is activated, it is still up to six hours. The lithium-ion battery with 55 mAh at 3.7 V is fully charged after two hours, provided that USB-C is used. If you rely on the also supported wireless charging via Qi, four hours are needed.
The transport box functions here as a charging station, of course, but it is also a power bank and thus has a 510 mAh 3.7 V lithium-ion battery. Three charges are available for the headphones, which means that they can be used for up to 32 hours in total.
Of course, the earphones are delivered with ear tips in different sizes and shapes, five of them are included in the scope of delivery, as well as so-called stabilisers in two sizes, which guarantee a particularly secure hold.
The JBL Tour PRO+ TWS weighs only 7.5 g per earphone, the charging box weighs 56.8 g.
My JBL Headphones App
Of course, a suitable app is available for both headphones, the My JBL Headphones app for Google Android or Apple iOS.
This is primarily used to personalise the headphones, for example with individual EQ settings, or the mode of operation of the adaptive noise-cancelling. If desired, an Auto Off function can also be activated here, so that the headphones automatically switch off after a certain period of inactivity.
Another interesting feature is the alarm function, which JBL calls My Alarm, which can also be activated via the app.
The JBL Tour ONE and JBL Tour PRO+ TWS are available now for a recommended retail price of €299 and €199 in Germany and Austria, respectively, and CHF399 and CHF229 in Switzerland. Both headphones are offered in black.
Getting to the point
It is interesting that Harman International Industries wants to explicitly address business users with the new JBL Tour Series and thus the new models JBL Tour ONE and JBL Tour PRO+ TWS. For this purpose, these models, one an over-ear Bluetooth headphone, the other a true wireless in-ear headphone, are equipped with a variety of functions that are intended to make everyday business life, but also business trips, easier and more relaxed.