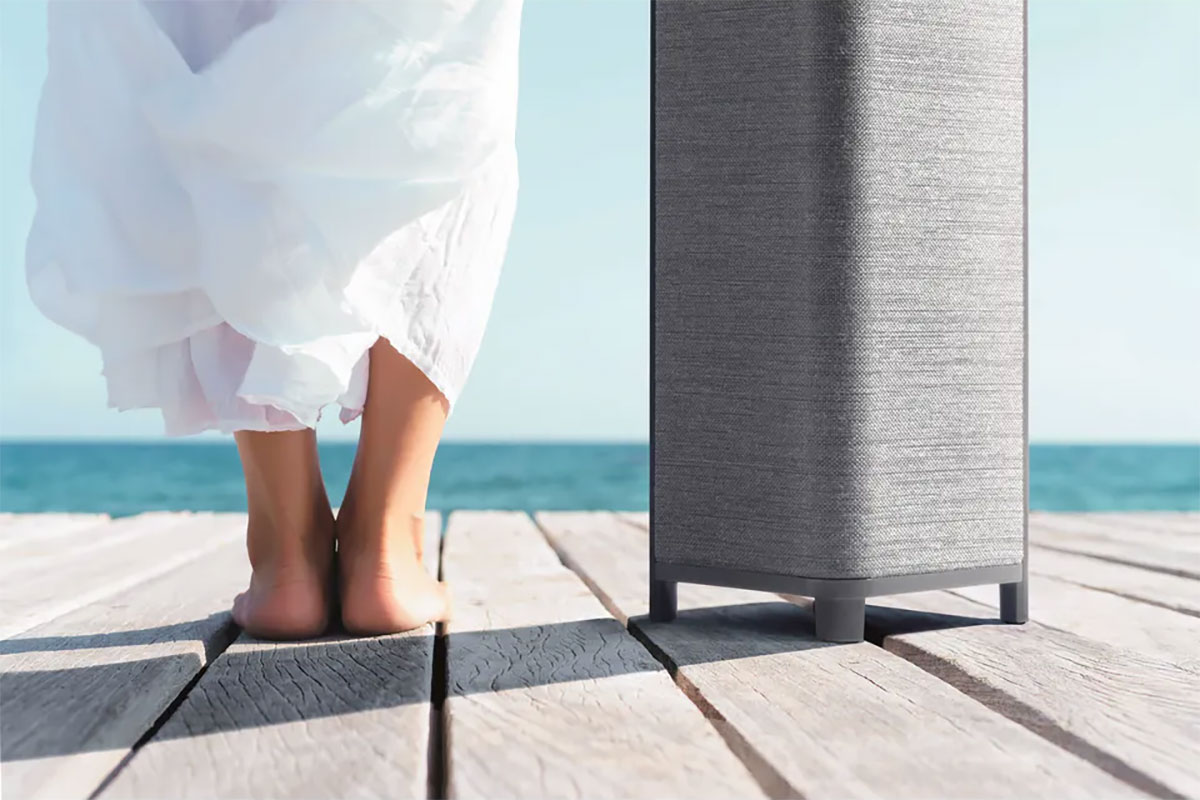 Escape BV's solutions come from Belgium, although strictly speaking the company has only one product on offer so far, and it is a very special one, the Escape P9 High Quality Portable Loudspeaker System.
Escape P9 High Quality Portable Loudspeaker System is basically the only product of the young Belgian company Escape BV so far. However, the Belgians have chosen a particularly exciting market that has hardly been served by any other manufacturer so far, namely the market segment of high-performance, "wireless" loudspeaker systems for outdoor use.
Not to be compared with conventional Bluetooth speakers
Of course, the market for Bluetooth speakers of conventional design that can also be used outdoors and thus on the move is quite well positioned. Numerous manufacturers offer a wide variety of solutions. The company Escape BV, however, treads a different path so that its products are not comparable with the Bluetooth speakers mentioned.
Escape P9 High Quality Portable Loudspeaker System
Normal Bluetooth speakers for outdoor use are designed to be as compact as possible, as light as possible, so that you can take them with you wherever you go. The Escape P9 High Quality Portable Loudspeaker System is quite different, because it is a very powerful system.
This solution is not at all modest, measuring 73.1 cm in height and 22 cm in both depth and width. It is therefore a slim but nevertheless high column that weighs 12.3 kg.
Portable, but not really mobile
Clearly, this is a solution that can easily be placed anywhere in and around the house, but is not necessarily designed as a classic mobile solution that you carry around with you every day and put in your backpack.
The aim of this solution is to provide really rich sound, not only indoors but also around the house, and of course it is designed to withstand any external influences. This means that it can be used outdoors in all weather conditions, in a spa or even by the pool. The Escape P9 High Quality Portable Loudspeaker System is IPX4 certified.
Bluetooth as the primary source
Of course, Bluetooth is the primary source, namely Bluetooth 4.2 from Qualcomm, in order to be able to use smartphones and tablets as the primary source. The signal is transmitted with the audio codecs AAC or aptX to achieve a quality comparable to that of an audio CD. If necessary, the lossy SBC is also supported.
Two Escape P9 High Quality Portable Loudspeaker Systems can also be combined into a pair via Bluetooth to realise a stereo configuration in the so-called Twin Mode.
The app that the Belgian company Escape BV offers in the form of the Escape P9 App for Apple iOS as well as for Google Android is responsible for this. With this app, essential parameters of the loudspeaker system can be individualised, for example, to adjust the playback according to one's own preferences.
USB and analogue input
Various analogue solutions can be used as additional sources, which can be connected via an AUX input in the form of a 3.5 mm stereo mini-jack. A USB port is also available for connecting appropriate storage media.
Full sound even outdoors
Of course, outdoor use requires particularly powerful reproduction. The Escape P9 High Quality Portable Loudspeaker System relies on DSP-based signal processing based on two powerful 24-bit DSPs that provide room correction and bass management. As just mentioned, this is done with the help of the app.
The amplifier is designed as a Class D amplifier and delivers an output of 100 watts.
Four 3-inch full-range drivers with a polypropylene diaphragm, aluminium dust caps, ventilated voice coils optimised for linear reproduction and particularly powerful magnets are driven by this.
An additional 8″ woofer is responsible for the low frequency range, using a glass-fibre reinforced basket, an oversized magnet as drive, a linear, flat spider and a ventilated voice coil as well as a membrane made of polypropylene.
By the way, the woofer, it is supported by a bass reflex system, which can be found at the bottom. The manufacturer promises 360° dispersion here.
Full sound for hours
The Escape P9 is equipped with a so-called lithium iron phosphate battery, also known as LiFePo4. This is supposed to offer a playing time of up to eight hours. The crucial thing here is that this battery is actually designed so that it can be played at normal level for these eight hours, i.e. in such a way that rich sound is provided.
Three versions available
The system presents itself, as already described, as a slim column, with a carrying handle on the top that merges seamlessly into the housing. The cabinet is made of plastic and the drivers are concealed behind a textile cover. The system is offered in three versions: Black, Tan and White.
Optional accessories
Escape BV offers several accessory solutions for the Escape P9 High Quality Portable Loudspeaker System, whereby the Escape Travel Case stands out. This is designed as a kind of trolley, which not only has a carrying handle on the long side, but also a pull-out handle on the top, so that the case can be comfortably pulled behind you on wheels. The case is made of ABS or polycarbonate and is therefore extremely robust.
It's nice that they offer their own USB flash drive, but with a storage capacity of 32 GBytes… Well, there will probably be alternatives.
The Escape Aux 2 Kit, however, is another practical accessory, because it is ultimately an adapter for a streaming solution such as Google ChromeCast Audio, even though this is no longer offered by Google itself, but can still be found on the market.
The Escape P9 High Quality Portable Loudspeaker System is available in specialist shops at a recommended retail price of € 999. The matching transport case costs € 99.
Getting to the point
Solutions like the Escape P9 High Quality Portable Loudspeaker System are hard to find on the market. Yes, in principle it is a Bluetooth speaker, but it is not a Bluetooth speaker that you can just put in your backpack and take anywhere. Rather, it is a portable audio system that is designed to be extremely powerful and resistant to all kinds of weather, making it ideal for use throughout the house, but especially around the house, such as on the terrace or in the garden. Here, it is supposed to provide appealing sound in the simplest way, and if need be, it can actually be taken along, for example for a relaxing day at the beach or for a barbecue party at a friend's house.