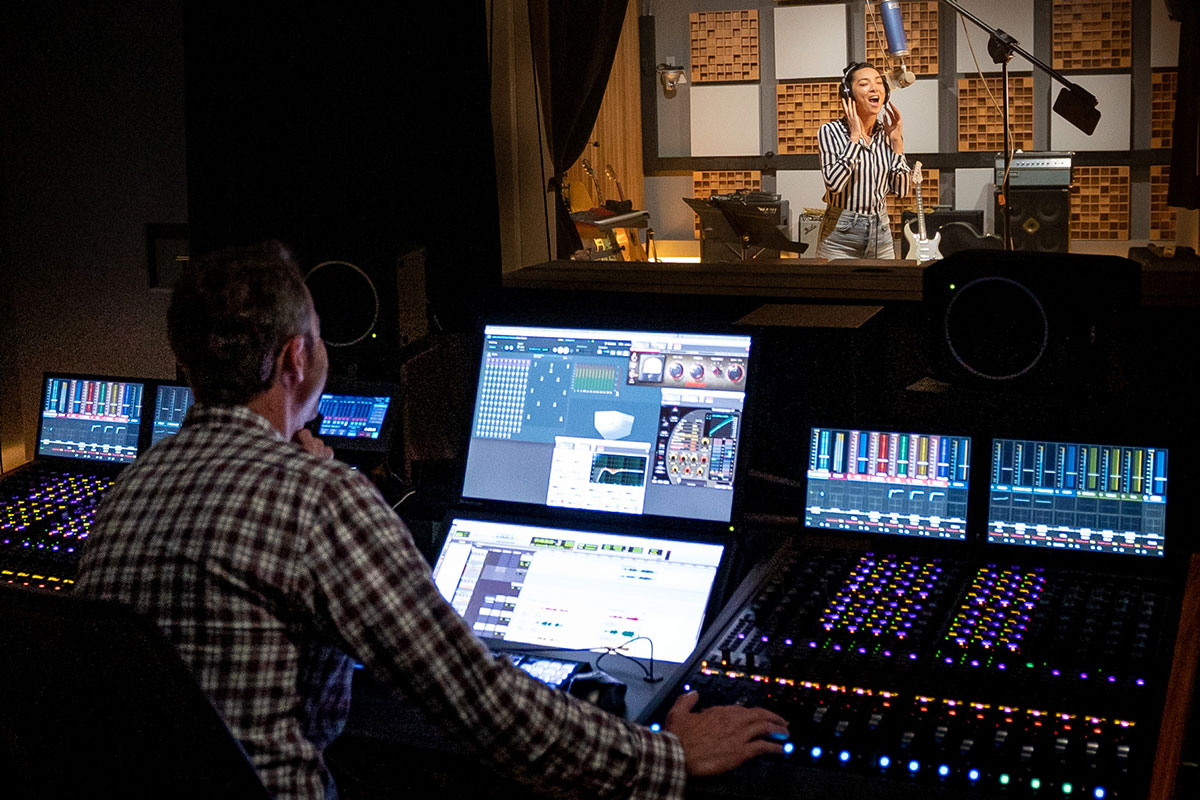 Die großen Musik-Streaming-Dienste bieten es mittlerweile an und sogar die Grammys, die weltweit bedeutendsten Auszeichnungen der Musikbranche, haben ihm eine eigene Kategorie gewidmet: 3D-Audio! Was steckt hinter der neuen, räumlichen Tonausgabe, die sich im Musikgeschäft derzeit rasend schnell verbreitet?
The transition from mono to stereo in the 1960s and 1970s ushered in a new era in the music scene. The way of listening to and producing music had changed completely. Not a few see Dolby Atmos Music, in spatial audio reproduction, as the next logical step in the evolution.
At the centre of this development are the audio and video professionals at Dolby Laboratories, who have made so-called immersive listening possible for everyone with Dolby Atmos Music. They have removed the technical hurdles for consumers and producers and created the basis for the high acceptance. This is because 3D sound can not only be used on many conventional end devices that are already available. It also offers fast but effective access in music production. But above all, it offers new possibilities for presenting music.
Artists and producers on board
Renowned producers such as Trevor Horn (Seal) and Giles Martin (INXS) also see it that way. They have already jumped on the Dolby Atmos Music bandwagon. Horn recently produced the 1991 debut album of soul superstar Seal ("Seal") and Martin the Beatles' "1", classics of music history specially prepared for spatial reproduction.
Speaking on Apple's radio station, the son of original Beatles producer Sir George Martin talks about how Dolby Atmos Music makes you close your eyes and create a world far beyond what you can see on a screen.
"That's where it gets exciting, and where immersive audio becomes really cool. It's like a book: you can create layers upon layers upon layers, create something that people no longer take for granted."

Giles Martin
What does "immersive audio" mean?
Immersive means to penetrate, to immerse. Dolby Atmos (or Sony 360 Reality Audio) is an object-based audio format that departs from typical 5.1 and 7.1 surround configurations, allowing it to reproduce a fully three-dimensional sound field by including treble information. This setup makes it acoustically "look" as if different instruments and effects are sounding from different angles.
The effect is designed to be far more immersive than normal stereo or common surround sound setups when produced well, as it adds a sense of height as well as width to the soundstage. Important: this is not meant to randomly distribute sound effects around the room. Rather, the music is brought much closer to the listener, involves him more, surrounds him. In short: the listener is immersed in the music.
What do I need for 3D sound with Dolby Atmos Music?
The highlight: unlike earlier surround formats, Dolby Atmos does not rely on a specific number or configuration of speakers to ensure precise reproduction. Therefore, a wide range of playback devices, from home theatres and soundbars to game consoles, smartphones and even in-car audio systems, can already support the format.
To listen to music in Dolby Atmos, you need access to a streaming service that supports the object-based format, as well as a Dolby Atmos-enabled playback device, be it a wireless speaker, a soundbar, a pair of headphones or even just a compatible smartphone or tablet. Very many already bring compatibility with them.
Where can I get Dolby Atmos Music?
Dolby Atmos, unlike previous surround formats, has been very well received by the music industry, including many major music streaming services. Many current acts from Billie Eilish, The Weeknd and Mark Forster to retread classics from past decades (Marvin Gaye, Elton John, Aretha Franklin) are already available in 3D sound.
TIDAL and Amazon Music have added Dolby Atmos support to their streaming services in 2019. Apple is also a big proponent of Dolby Atmos and added spatial audio with support for Dolby Atmos and lossless audio to its Apple Music streaming service in June 2021. Thousands of albums and songs are thus already available in Dolby Atmos.
How do I use Dolby Atmos with Apple Music?
If you have a TV with Apple TV or a soundbar with Apple Music integration that supports Dolby Atmos, you're all set. Alternatively, you can listen to the session in Dolby Atmos on all Apple laptops, tablets and phones released after 2018.
In your device's "Settings"….
– Click on "Music"
– Set "Dolby Atmos" to ALWAYS ON.
– Set "Audio Quality" to LOSSLESS AUDIO (optional, but recommended).
– Set "Sound Check" to ON
Dolby Atmos is output wirelessly on all Apple headphones and Beats models with the H1 chip. The signal is also output on Apple Homepods. With headphones and speakers from other manufacturers, you must find out in advance how Spatial Audio is reproduced.
How do I set up Dolby Atmos on Amazon?
If you have a TV with Dolby Atmos, a soundbar with Dolby Atmos or an Amazon Echo, you're all set. Alternatively, you can listen to the session in Dolby Atmos on current Google Android or Apple iOS tablets and phones.
This is based on the latest versions of Apple iOS on the Apple iPhone or Apple iPad as well as the latest version for smartphones and tablets with Google Android. You need access to Amazon Music Unlimited.
On the "Home" page of the app
– Click on "Gear" (top right)
– Click on "Settings
– Set "Dolby Atmos" to ON
– Set "Streaming Quality" to HD (optional, but recommended).
– Set "Loudness normalisation" to ON
Amazon Music does not currently have Apple AirPlay or other casting support for Dolby Atmos. If you decide to stream a Dolby Atmos song via the Amazon app, the Dolby Atmos icon will still be displayed in the app, but the playback will be in the original stereo sound and not Dolby Atmos.
How can I use Dolby Atmos on TIDAL?
If you have a TV or soundbar that supports Dolby Atmos, you will need a compatible device connected to the TV. This includes Apple TV 4K (with Apple tvOS 13 or later), Fire TV (Fire TV Stick 4K, Fire TV Gen 3 2017, Fire TV Cube 1st Gen or Fire TV Cube 2nd Gen), Nvidia Shield TV and Nvidia Shield TV Pro (2019 and newer models).
Alternatively, you can listen to the session in Dolby Atmos on recent Google Android tablets and phones. You will need a TIDAL Hifi Plus subscription. There is currently no casting support for Dolby Atmos in the TIDAL app.
We asked Stefan Bock, Managing Director of msm studios GmbH & Co. KG in Munich and, as a sound and mix engineer, has been significantly involved in many German and international Dolby Atmos productions. Here are his exciting comments.
What are the biggest challenges in a Dolby Atmos production?
"For me, Dolby Atmos is a logical further development of music production and reproduction. After all, we don't have to squeeze the music between two speakers, but can play the entire room. This is much more natural and comes much closer to a real experience.

Of course, this presupposes that we can work in an optimal acoustic environment in our studios. Seen in this light, Dolby Atmos is not a "challenge" but a wonderful opportunity to literally add a new dimension to the musical experience. Music is emotion – and this must be brought to the listener as well as possible. In the end, however, it is always about the artist and the music. A production must never become an end in itself for the format."
Does it make a difference to remix an old production as opposed to an album that is co-produced in atmos right away?
"It depends on how the old productions were archived. Often they were archived in such a way that we no longer have full access to the individual music signals. With acoustic music it's easier and we have also developed ways to recreate the original room acoustics three-dimensionally.
With a new production it's different and you have all the possibilities to produce and mix three-dimensionally right from the start.

We also experience time and again that musicians compose and arrange differently once they have been 'confronted' with Dolby Atmos."
Are the artists involved in a Dolby Atmos mix?
"I'm a big fan of involving the artists in the mixing process. Ideally, they come to our studio. Some of them do that. Dolby Atmos is not just an output and playback format. A Dolby Atmos mix is a creative process and I think it's very important to involve the artists here."
Finally, we would like to present three albums that showcase music in a new, three-dimensional form and rely on Dolby Atmos. In fact, the selection on the market is already very diverse, so that you can find various titles from the most varied genres.
John Williams & Berlin Philharmonic Orchestra "The Berlin Concert".
When legends meet. Film composer John Williams and the Berliner Philharmoniker performed some of the most famous film scores from the American's pen in front of a sold-out audience. Melodies from Hollywood classics such as "Star Wars", "Indiana Jones" or "Harry Potter" resound in state-of-the-art Dolby Atmos Music and throw the listener directly into the concert hall of the Berlin Philharmonie. The album was released on 4 February 2022, on the occasion of John Williams' 90th birthday by Deutsche Grammophon.
Playing tips: "Superman March", "Imperial March from Star Wars".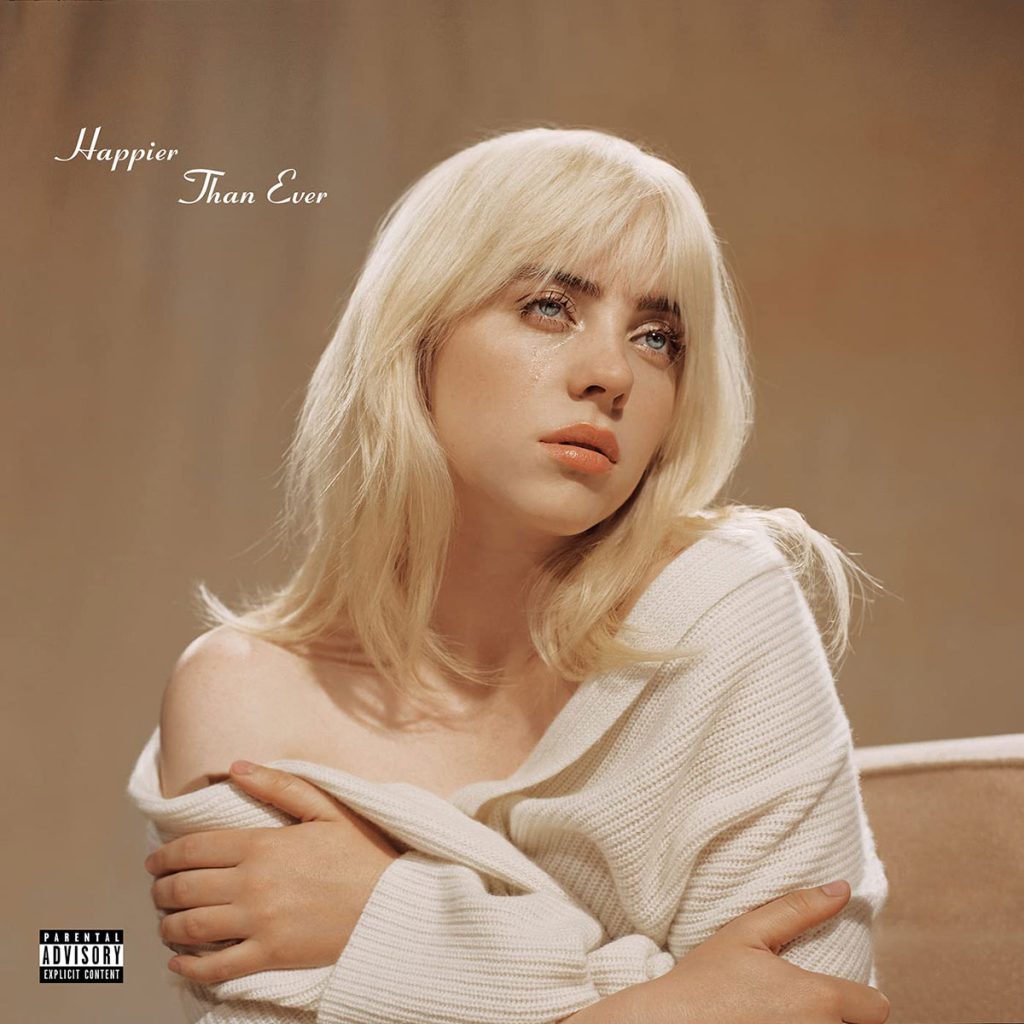 Billie Eilish "Happier than ever"
With her unique voice and unmistakable vocal style, Billie Eilish is already an event in her own right. Together with her brother Finneas O'Connell, her producer and musical counterpart, the young American is becoming a phenomenon that has rightly conquered the music world in no time. The Dolby Atmos Music production of "Happier Than Ever" once again takes her unique sound to a new level and literally immerses fans in the worlds of sound.
Playing tips: "Happier than ever", "Therefore I am".
Scorpions "Rock believer
Scorpions have been among the world stars of the rock scene for decades. With the album "Rock Believer", the Hanoverians prove that even after 50 years in the business, they still have real rock'n'roll in their blood. The eleven tracks also prove that Dolby Atmos Music offers a new approach to music, even when the going gets tough. The joy of playing of the metal legends is especially expressed here, the listener seems to be literally standing in the studio with Klaus Meine & Co.
Recommended songs: "Peacemaker", "Shining of your Soul".
Getting to the point
At this rate of distribution, it's likely that most major label releases will be mixed for Dolby Atmos in the future. And considering that all music consumers need to listen to Dolby Atmos-mixed content is their smartphone and a pair of earbuds, the stage may already be set for a replacement of stereo.
You are currently viewing a placeholder content from Facebook. To access the actual content, click the button below. Please note that doing so will share data with third-party providers.
More Information