The new Advance Paris X-D500 CD transport is a CD drive that meets even the highest audiophile demands. As befits a designated CD transport, the French hi-fi manufacturer Advance Paris focuses solely on the essentials, i.e. the most exact possible sampling of the optical data carriers, and does without an integrated D/A converter. This task should be left to external specialists or to amplifiers with integrated converters.
A CD drive for the highest demands
The new Advance Paris X-D500 CD-Transport is designed as a pure turntable, does without an integrated converter, but relies on purely digital outputs in the form of a coaxial as well as optical S/PDIF interface.
According to the manufacturer's promise, this is consistently designed with the shortest possible signal paths, without the possibility of interfering with the signal. This drive is thus perfectly suited for the sound purist, as Advance Paris attests.
The interior design perfectly fulfils the wishes of even the most experienced music lovers, because the turntable is located in the centre of the device and thus has a low centre of gravity for maximum smoothness.
Encapsulated drive
This is an encapsulated drive that works quietly but, above all, precisely and thus ensures that data media are read accurately.
The drive operates completely in its own chamber and is thus completely separated from the power supply section, so that any disturbing influences are prevented from the outset.
Power supply based on two toroidal transformers
Two toroidal transformers, arranged to the left and right of the centrally located turntable, ensure an absolutely clean power supply, according to the manufacturer. At 9.6 kg, the CD drive, which has a noble, high-quality appearance, is really heavy – which immediately shows what first-class technology is being used here.
The large feet minimise potential vibrations. The few silver controls are elegantly integrated into the otherwise minimalist front panel. A high-gloss black remote control is also included in the delivery.
For the sake of completeness, the drive measures 43.1 x 10.9 x 37.2 cm.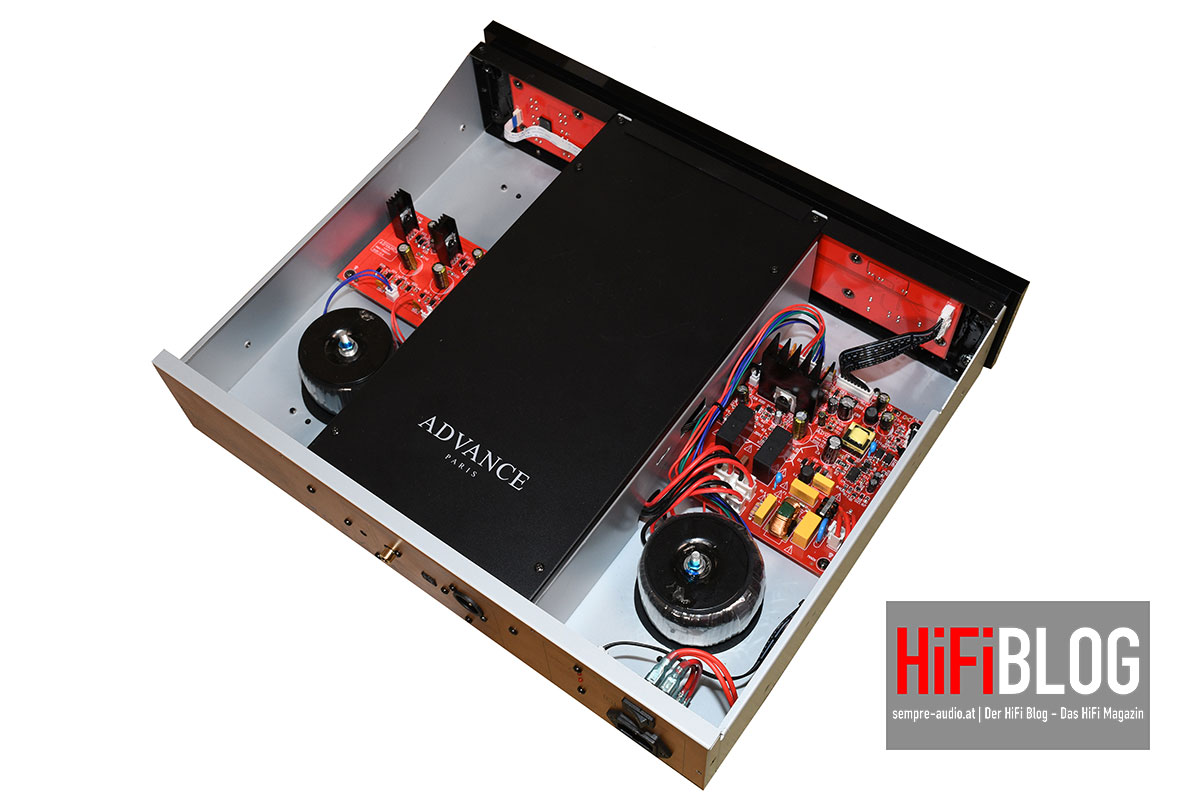 Prices and availability
According to the manufacturer, the new Advance Paris X-D500 CD Transport will be presented for the first time at the High End 2022 in Munich, and will then be available in specialist shops as early as June 2022. The recommended retail price is stated at € 990.
Getting to the point
The new Advance Paris X-D500 CD-Transport concentrates on the essentials. As the name suggests, it concentrates solely on reading audio CDs as accurately as possible, leaving the signal processing to external specialists or amplifier systems with integrated D/A converters. Advance Paris wants to offer an attractively priced system to demanding hi-fi enthusiasts.
| PRODUCT | ADVANCE PARIS X-D500 CD-TRANSPORT |
| --- | --- |
| Price | € 990,- |
You are currently viewing a placeholder content from Facebook. To access the actual content, click the button below. Please note that doing so will share data with third-party providers.
More Information