Advance Paris X-CD1000 EVO, this is the latest audio CD player from the French hi-fi forge Advance Paris, and it is said to be a very special solution of its kind. The French are talking about a high-tech CD player with an audiophile tube output stage. This is supposed to offer a solution with a familiar, elegant look that appeals to even demanding hi-fi enthusiasts and provides them with a tool for playing their CDs at a high level of quality.
Advance Paris X-CD1000 EVO – The high-tech CD player
Compared to its predecessor, the Advance Paris X-CD1000 EVO has been carefully developed in all respects, according to the manufacturer's promise. However, it retains elementary design features, such as the tube output stage and the highly solid, long-term stable housing, which is divided into different sections on the inside by special bracing.
The reason for this elaborate construction is, of course, the manufacturer's goal of ensuring optimal signal purity, and this works best in practice when the components cannot influence each other.
To ensure optimal current delivery at all times, a generously dimensioned toroidal transformer was used, which, in the manufacturer's opinion, is a rarity in CD players, even in the upper price segment.
For the demanding task of signal conversion, Advance Paris relies on the AD1955 DAC from Analog Devices Inc. This processes signals with 24 bit and 192 kHz and implements the complex signal conversion with high precision and enormous dynamics.
The comprehensive connectivity is another plus point of the Advance Paris X-CD1000 EVO. Asymmetrical Cinch outputs are available as well as symmetrical XLR outputs. Three digital interfaces are also available, namely an AES/EBU, a coaxial and an optical S/PDIF interface.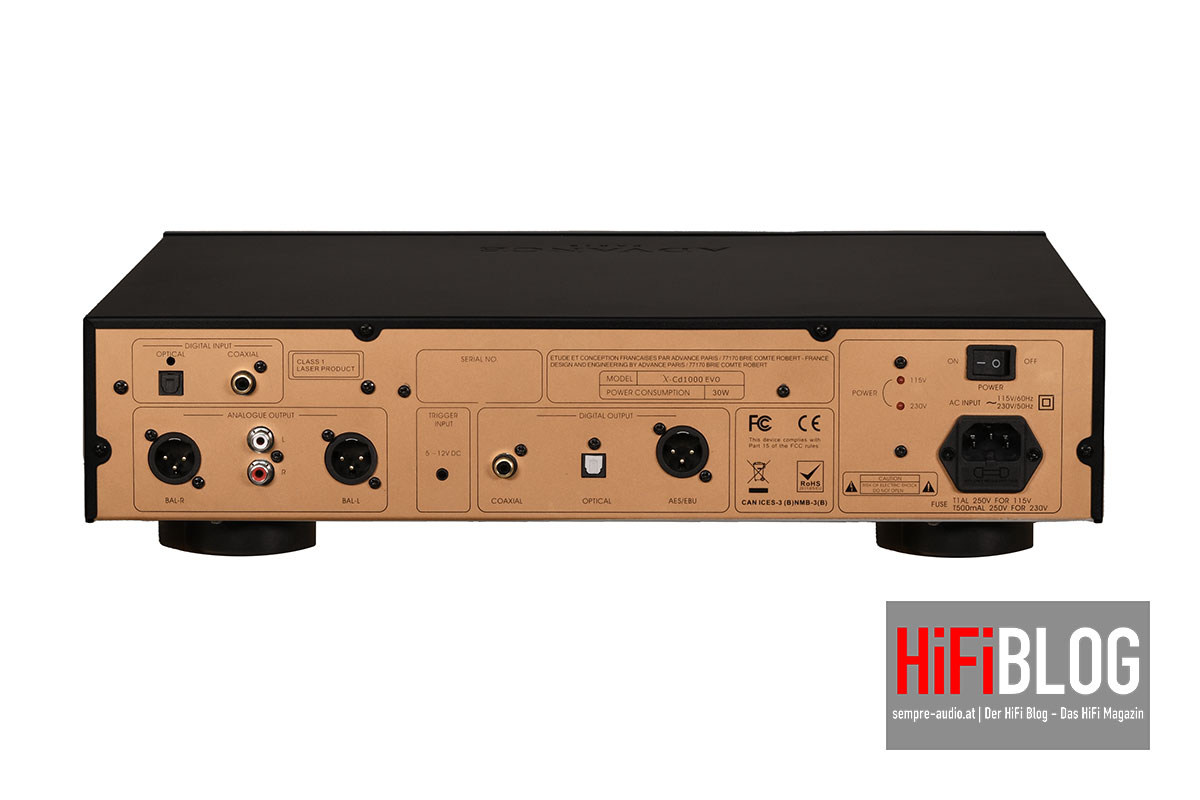 Converter can also be used for external sources
The fact that there are also two digital inputs, also designed as optical and one coaxial S/PDIF interface, reveals that the new Advance Paris X-CD1000 EVO can also be used as a pure D/A converter.
Solid construction
The immense weight of 9.2 kg with dimensions of 43.1 x 10.9 x 37.2 cm should prove that the Advance Paris X-CD1000 EVO is a valuable piece of technology. The Advance Paris X-CD1000 EVO is thus the ideal CD player for demanding disc lovers who want to listen to their valuable collection in the best possible quality – the quiet, fast drive with impeccable error correction also contributes to this "mission", according to the manufacturer's promise.
Prices and availability
The new Advance Paris X-CD1000 EVO should be available in specialist shops from June 2022, following its premiere at the High End 2022 in Munich. According to the manufacturer, you can expect a recommended retail price of € 1,290 for this solution.
Getting to the point
CDs are by no means obsolete. This is also the opinion of the French hi-fi manufacturer Advance Paris, which is now launching the new Advance Paris X-CD1000 EVO at the High End 2022 as a particularly high-quality solution for demanding hi-fi enthusiasts. It is a high-tech CD player at an attractive price, which even has a tube output stage and whose converter is also available for external sources.
| PRODUcT | ADVANCE PARIS X-CD1000 EVO |
| --- | --- |
| Price | € 1.290,- |