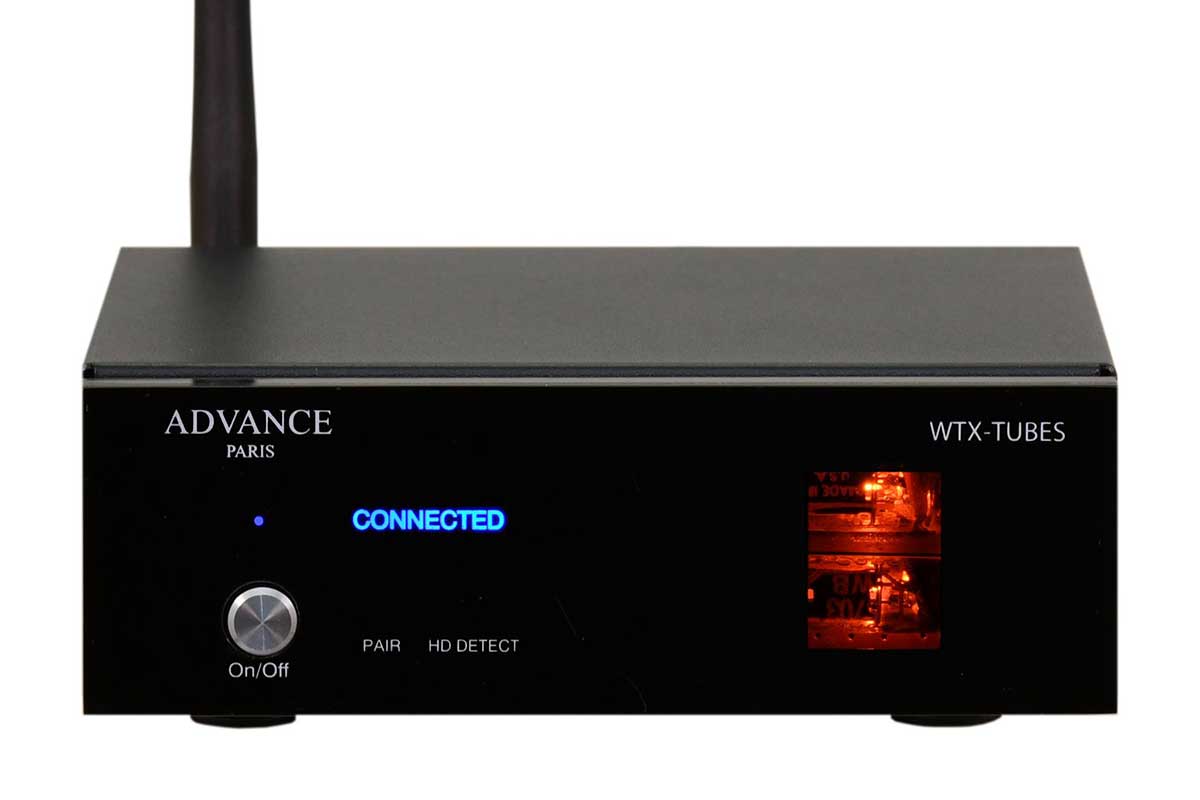 Nothing should sound "digital" here, rather Advance Paris Sarl promises a warm, "analogue" sound with the new Bluetooth receiver Advance Paris WTX-TUBES, which has much more the charm of vinyl.
Advance Paris WTX-TUBES, the French company Advance Paris Sarl is launching a new solution in the field of multimedia and wireless, once again a so-called Bluetooth receiver, i.e. a solution that enables music to be played directly from a smartphone or tablet on any audio system.
Advance Paris WTX-TUBES with the charm of vinyl
The French hi-fi manufacturer has a long history in the field of Bluetooth receivers, offering numerous such solutions over the years, be it as Advance Acoustic or as Advance Paris Sarl. The new Advance Paris WTX-TUBES, however, is supposed to be a very special solution, because it promises an "analogue" sound and even claims to achieve a kind of "spirit of vinyl".
Bluetooth with "analogue sound
You should forget everything that you perceive as "digital sound". The new Advance Paris WTX-TUBES is based on features that deliver a much more appealing "analogue sound", the French promise.
The new Advance Paris WTX-TUBES is equipped with a tri-core processor, which is actually a combination of a 32-bit dual-core processor and a 120 MHz single-core processor that is centrally responsible for data processing. A Wolfson WM8740 24-bit, 192 kHz DAC is used for signal conversion.
Class A design with tubes as output stage
But that's not all, the actual special feature of the new Advance Paris WTX-TUBES is, as the name suggests, that it uses tubes. These are two Raytheon 5730 Subminiature Tubes, according to the manufacturer's description, which are at the centre of the Class A output stage.
The combination of hi-res audio signal processing on the "digital" level and tubes on the "analogue" level should enable the promised warm, detailed sound of the new Advance Paris WTX-TUBES.
Bluetooth 5.0 is used for signal transmission from smartphones, tablets or other mobile devices. This supports not only the lossy codecs SBC and AAC, but also aptX for "CD quality" and aptX HD for signal transmission in hi-res audio with at least 24 bit and 48 kHz.
Analogue and digital outputs
The new Advance Paris WTX-TUBES offers both analogue and digital outputs. On the rear panel, for example, you will find a pair of RCA sockets as well as an optical and coaxial S/PDIF interface.
The power supply is provided by an external power supply unit that delivers 5 V DC with 1 A.
Compact, discreet solution
Of course, the developers have focused on the most compact form possible, so the new Advance Paris WTX-TUBES measures no more than 130 mm in width, 110 mm in depth and 42 mm in height. The metal housing is black, and the small window at the front, which allows a view of the glass pistons inside, is particularly striking.
Getting to the point
The new Advance Paris WTX-TUBES is "just" another Bluetooth receiver, a solution that the French hi-fi manufacturer has already offered in various versions, but it still occupies a special position. For the first time, the developers combined a Bluetooth receiver with a Class A output stage based on tubes in order to achieve a particularly "analogue sound", according to the company.