From CD playback and a tuner to streaming and the ability to directly connect a TV as a source via HDMI, the new Advance Paris MyCast 7 is supposed to be able to do all this in the most compact form as an all-in-one system.
It is an exclusive compact system of the premium class, which is available with the new Advance Paris MyCast 7, so the renowned French HiFi forge Advance Paris. One speaks here even of an all-in-one for Audiophile, in order to underline the high quality requirement, which one wants to fulfill with this new solution.
In any case, the fact is that the new Advance Paris MyCast 7 is an extremely versatile solution that you get here in the most compact form.
Compact all-in-one system
The new Advance Paris MyCast 7 can fit anywhere, measuring no more than 26.5 cm in width, 38.5 cm in depth, and 13.6 cm in height. The all-metal system in discreet black weighs 6.7 kg for the sake of completeness.
Since it is a solution that naturally has an amplifier in addition to a CD player, a tuner and streaming client, only a pair of matching speaker systems is required to reproduce all the functions of a modern hi-fi chain in a compact form.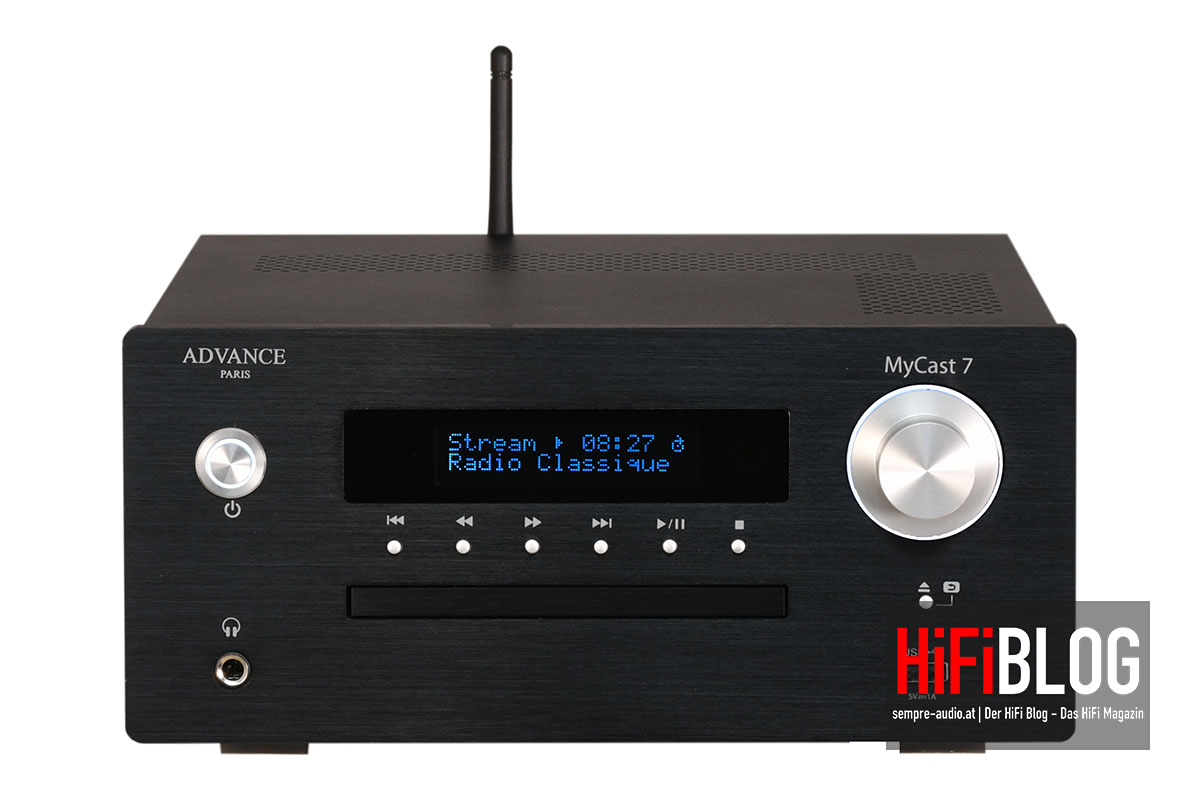 CD player, tuner and streaming
The fact that France has decided to still rely on an integrated CD drive in such a solution is to be welcomed, after all, music lovers sometimes still have hundreds of CDs on their shelves that still want to be used.
Nevertheless, the CD player of the new Advance Paris MyCast 7 will not be the primary source for many, just like the integrated tuner, which supports DAB+ in addition to FM, but is also a welcome feature.
The streaming client, which is integrated into the new Advance Paris MyCast 7 and is extremely versatile, will probably be the main focus.
First and foremost, you can access your own content via UPnP, but also services like Spotify, Deezer, Amazon Music, Napster, Qobuz and TIDAL. Internet radio is also available, and iHeartradio is supported in addition to TuneIn. The Advance Playstream app, which is available free of charge for Apple iOS and Google Android, takes over the control.
In addition, the new Advance Paris MyCast 7 also supports Apple AirPlay 2 directly, which is also explicitly mentioned here.
The new Advance Paris MyCast 7 can be integrated into the network either via network cable and its RJ45 Ethernet interface, or via the integrated WiFi module.
Bluetooth must not be missing
But even those who want to use smartphones, tablets or computers directly as a source without first integrating them into the network can do so easily with the new Advance Paris MyCast 7, for which it is equipped with Bluetooth.
Sufficient interfaces including HDMI
If you want to connect various other sources to the new Advance Paris MyCast 7, the corresponding analog and digital interfaces are available. Three pairs of RCA jacks are available for analog sources, including a phono preamplifier designed for drives equipped with MM cartridge system. For digital sources, there are both a coaxial and two optical S/PDIF interfaces.
To be able to use the new Advance Paris MyCast 7 as an audio system for a TV set, this offers an HDMI input, which of course also supports ARC, i.e. an audio return channel, in addition to HDMI CEC for central control with the TV's remote control alone.
To conclude the interface listing, it should be mentioned that the new Advance Paris MyCast 7 has a line out with fixed or variable level as well as a sub out for an active subwoofer, offers a headphone jack and accepts appropriate storage media as a source via USB.
Class A/B amplifier
With an amplifier operating in Class A/B, the new Advance Paris MyCast 7 delivers a power of two times 45 watts to speaker systems with an impedance of 6 ohms. According to the manufacturer, a conscious decision was made here against a solution in Class D, because they wanted to achieve a maximum of neutrality, detail, clarity and dynamics and could achieve this better with a conventional Class A/B circuit.
Prices and availability
The new Advance Paris MyCast 7 should already be available at retailers. The manufacturer quotes a recommended retail price of € 699,- for this solution.
Getting to the point
The French hi-fi manufacturer Advance Paris describes the new Advance Paris MyCast 7 as a particularly compact, yet very versatile all-in-one with audio-friendly virtues. In addition to the CD player, FM and DAB tuner, the integrated streaming client stands out above all, and among the analog and digital interfaces, we must explicitly emphasize a phono preamplifier and an HDMI port.
| PRODUCT | ADVANCE PARIS MYCAST 7 |
| --- | --- |
| Price | € 699,- |
You are currently viewing a placeholder content from Facebook. To access the actual content, click the button below. Please note that doing so will share data with third-party providers.
More Information