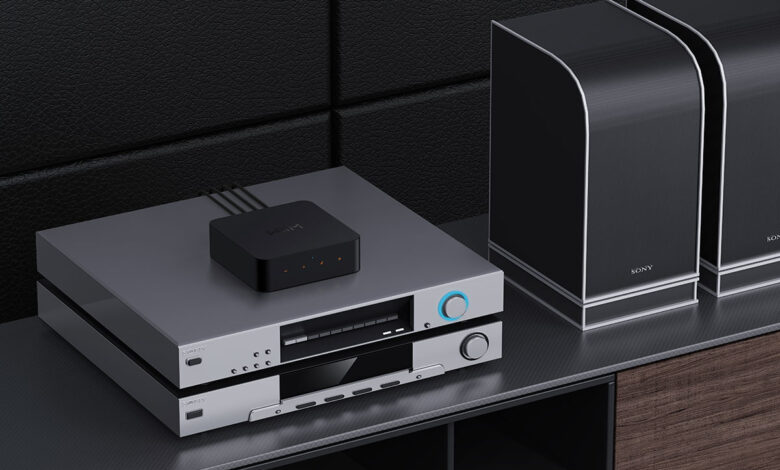 Streaming
HiFi
HiFi Electronics
Network
News
WiiM Pro - Roon Ready certified streaming client
It is not only one of the most affordable streaming clients on the market that is described as an audiophile solution, it is also one of the most flexible and thus most versatile solutions of its kind, the WiiM Pro from Linkplay Technology Inc. The possibilities here range from dlna to Apple AirPlay 2, Google Chromecast, Spotify Connect, TIDAL Connect and Roon Ready.
It is probably one of the most flexible streaming clients on the market, the WiiM Pro from Linkplay Technology Inc. which is even designated as Roon Ready.
Linkplay Technology Inc. calls the WiiM Pro probably the most versatile audiophile music streamer and thus a solution that is not only particularly compact, another point that speaks for flexible use. It is a solution that is no larger than 140 mm by 140 mm, and thus presents itself as a small black box that is almost inconspicuous, but that plays up quite "big" in terms of features.
With the WiiM Pro, streaming can be realised anywhere in the house in an extremely versatile way, because it can be connected to almost any audio system.
WiiM Pro – The inconspicuous streaming client
As already mentioned, the WiiM Pro is an almost inconspicuous system that measures no more than 140 mm in width, 140 mm in depth and only 42 mm in height. It thus weighs just 330 g.
This solution is presented in discreet black, thus blending discreetly into any living environment, and will probably hardly be noticed in a hi-fi rack, for example, although the front is adorned with a status LED and a few illuminated sensor buttons that make it possible to operate the unit directly, at least in a rudimentary way.
Analogue or digital – inputs and outputs
The WiiM Pro offers a line out in the form of a pair of cinch sockets as well as an optical and coaxial S/PDIF interface.
Interestingly, there is also a line in, also in the form of a pair of cinch sockets, and a digital input in the form of another optical S/PDIF interface. This means that external devices can also be connected, if necessary.
The integration into the network can be done either via an RJ45 Ethernet interface or the integrated WiFI module, which complies with the IEEE 802.11ac standard.
It should also be mentioned that Bluetooth 5.0 is also available, whereby this module is designed as a transceiver and can therefore transmit and receive. The SBC and AAC codecs are supported, but unfortunately not others.
Power is supplied via a USB-C interface and thus a corresponding external power supply unit with 5 V and 1.5 A.
Mini-PC with Linux as operating system
The WiiM Pro is designed as a Linux system, based on an ARM Cortex A53 quad-core 64-bit processor with 512 MB DRAM and 512 MB FLASH ROM. Of course, the user is not aware of the operating system; control is completely intuitive with the help of the buttons already mentioned and the corresponding app, the WiiM Home App.
The WiiM Pro is capable of reproducing audio signals in all relevant formats up to hi-res audio, whereby the signal processing is carried out by an unspecified D/A converter from the specialist Texas Instruments. In order to be able to adjust the playback to one's own preferences, the WiiM Pro has a 10-band graphic equaliser, which should be mentioned for the sake of completeness.
WiiM Home App – Intuitive Control
Even though there are buttons directly on the device and the WiiM Remote is offered as an option, the so-called WiiM Home App is the first choice for comfortable, even intuitive control of the WiiM Pro, whereby even the setup is supposed to be particularly easy and quick.
Via the app, you have access to your own content in the network, first and foremost via Linkplay Technology's self-developed Linkplay Music Streaming Platform, as well as to various streaming services. Spotify, Qobuz, TuneIn, Pandora, Deezer, vTuner, Amazon Music, SoundCloud, TIDAL, iHeartRadio, Radio Paradise, Napster, the manufacturer lists all these offers.
From dlna to Apple AirPlay 2, Google Chromecast and Roon Ready
And then there are the streaming standards that the WiiM Pro directly supports, namely UPnP as a dlna-certified streaming client, Apple AirPlay 2, Google Chromecast, Spotify Connect and TIDAL Connect as well as Amazon Alexa Multiroom. In addition, it is designated as Works with Alexa and thus understands voice control via Amazon Alexa, but also via Google Assistant and Apple Siri.
The fact that Linkplay Technology takes its claim to be able to offer an audiophile streaming client with the WiiM Pro seriously is clearly demonstrated by the fact that it has now also been certified as Roon Ready by Roon Labs LLC.
Prices and availability
The WiiM Pro is already available in specialised shops. The special feature is that the recommended retail price is actually no more than € 199,-.
Getting to the point
A streaming client that plays all the pieces in good German is available with the WiiM Pro, and at an extremely attractive price. In view of the performance range, one can even speak of a very, very reasonable price, especially since the manufacturer Linkplay Technology Inc. even speaks of a particularly versatile audiophile streaming client. That this is taken literally is proven by the fact that the WiiM Pro not only supports dlna, Apple AirPlay 2, Google Chromecast, TIDAL Connect and Spotify Connect, but is now even designated as Roon Ready.
| PRODUCT | WIIM PRO |
| --- | --- |
| Price | € 199,- |