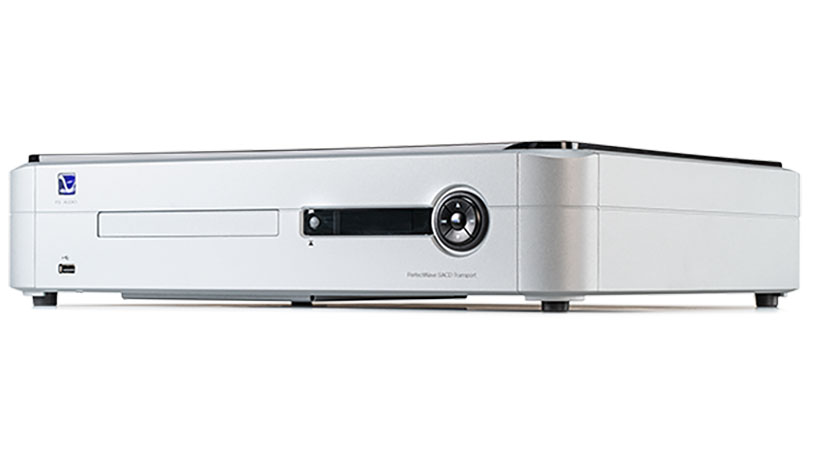 CDs and SACDs are by no means obsolete, nor are drives capable of reproducing these media in perfect quality. PS Audio is convinced of this and therefore presents the new PS Audio PerfectWave SACD Transport as a solution that is designed to reproduce every detail that has been immortalized on optical media.
---
The US-American company PS Audio has been known for years as a proven specialist for solutions that deal with the particularly meticulous signal processing of digital content, be it D/A converters, streaming systems or even CD or SACD players. The fact that the company often goes its own way is a hallmark of the innovative high-end smithy, so it is not surprising that the company has now made an announcement that once again addresses a solution for optical data media, namely the new PS Audio PerfectWave SACD Transport.
One might think that optical data carriers such as CDs or Super Audio CDs have long since ceased to be of high importance, especially in view of how the market is developing in the streaming sector. But this entry is clouding over, after all, especially ambitious hi-fi enthusiasts still rely on CDs and also SACDs, if only because they have built up impressive collections over decades.
PS Audio is also wrong in saying that everything has already been said about the technology for playing back optical data carriers and that it cannot be refined and improved. The proof that quality can be improved even further with innovative approaches is to be found in the new PS Audio PerfectWave SACD Transport.
According to PS Audio, a CD or SACD contains so much information that many music lovers have not yet heard the full range of details. This is due to the fact that CD and SACD players are extremely difficult solutions, where only the highest degree of precision in conjunction with the right circuitry concepts can actually bring out the full potential. PS Audio is convinced that the new PS Audio PerfectWave SACD Transport should offer exactly this perfection in all respects. For the developers, it was love from the first listening impression…
PS Audio has a few years of experience in the development of such solutions, and for the new PS Audio PerfectWave SACD Transport, many features have been taken over from the predecessors. This includes the actual drive, for example. The heart of the new PS Audio PerfectWave SACD Transport is once again the so-called Advanced Digital Lens Technology, which has its origins back in 1993 and was developed by Paul McGowan and Bob Stadtherr of PS Audio. The aim of this technology is to ensure particularly accurate data readout by electrically isolating the mechanical transport and laser mechanism. This is to create the basis for a bit-perfect and timing-perfect data stream to be available to a corresponding D/A converter, guaranteeing such a high level of detail even on an audio CD that it comes close to Hi-Res Audio. This is also true for Super Audio CDs, but at a higher quality level.
The new PS Audio PerfectWave SACD Transport goes one step further and uses a galvanically isolated output stage. The result of this complete separation is nothing other than magical, says PS Audio, because it leads to a previously unknown level of resolution, openness and a seemingly effortless playback. Never before have you experienced such a low noise level, a seemingly velvety blackness, as the manufacturer himself describes it.
But the new PS Audio PerfectWave SACD Transport is not limited to audio CDs and SACDs only. Of course, you can also access corresponding data carriers via USB to play back data in MP3, WMA, AAC, WAV, FLAC, AIFF, ALAC and DSD formats. This was already offered by the predecessors and this is also the reason why the manufacturer ultimately speaks of a Memory Player Transport.
As is usual with a transport, the new PS Audio PerfectWave SACD Transport naturally does not offer a D/A converter, but instead offers all the possibilities of passing on audio data in the best possible form to a high-quality D/A converter on the digital level. Thus, not only an I2S output designed as HDMI for Linear PCM is available, but also native DSD, whereby the latter, for legal reasons, only works in combination with appropriately equipped D/A converters from PS Audio. The PS Audio PerfectWave SACD Transport also offers two XLR outputs for Linear PCM and DoP (DSD over PCM), two S/PDIFs as BNC and one coaxial S/PDIF for Linear PCM and DoP.
Although the rear of the PS Audio PerfectWave SACD Transport has an Ethernet interface and a WiFi module is also on board to allow integration into the network, this solution is not suitable for streaming. This is only intended to allow future over-the-air code updates. This is made possible by the fact that the PS Audio PerfectWave SACD transport is based on an FPGA signal processor.
Although the work is done on the digital level alone, the highest standards have been set for the power supply and a powerful power supply unit is relied upon.
The new PS Audio PerfectWave SACD Transport naturally presents itself entirely in the design language that has been cultivated at PS Audio for years, which conveys an extremely elegant but deliberately simple image. The very solid brushed aluminum housing allows a black as well as silver finish and measures 43 cm in width, 36 cm in depth and 10 cm in height. This brings the new PS Audio PerfectWave SACD Transport to 9.97 kg.
The scope of delivery naturally includes a matching infrared remote control.
PS Audio states that you will have to be a little patient for the new PS Audio PerfectWave SACD Transport after all. However, one did not want to wait any longer to announce this outstanding product. Currently, the company is already in the final stages of preparation before mass production can begin. The first solutions should actually be available from October 2020.
Getting to the point
A CD or SACD contains so much information, whereby probably many music lovers did not hear the full detail variety yet, so PS Audio. This is due to the fact that CD and SACD players are extremely difficult solutions, where only the highest degree of precision in conjunction with the right circuitry concepts can actually bring out the full potential. PS Audio is convinced that the new PS Audio PerfectWave SACD Transport should offer exactly this perfection in all respects, and for the first time, the company has opted for galvanic isolation between the transport and output stage. For the developers, it was love from the first listening impression…