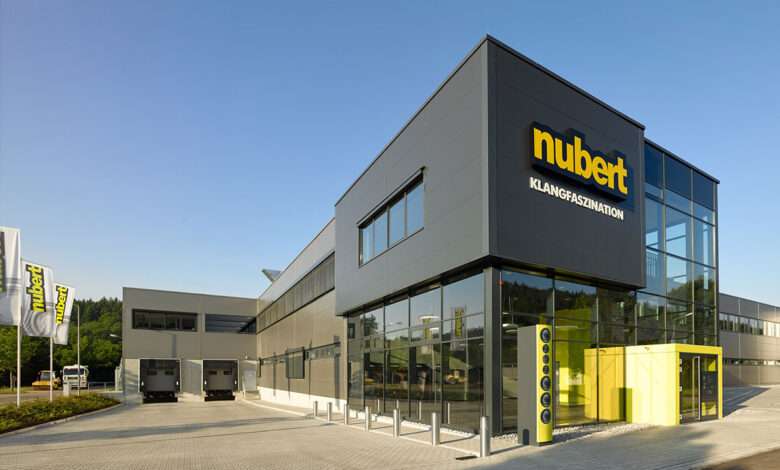 Report
Desktop Audio
HiFi
Home Cinema
Nubert electronic GmbH goes International - Welcome to the UK
Nubert electronic GmbH is expanding, one apparently wants to set up internationally more widely, this suggests various statements the company these days. A first step in this direction is already being taken, because from now on the products of the Nubert brand will be distributed in Great Britain by Blue Aura from St. Neots in Cambridgeshire.
The solutions from Nubert electronic GmbH are to be increasingly offered internationally in the future, starting with Great Britain, where a new distribution partner has been found in Blue Aura.
The company Nubert electronic GmbH has been considered a constant player in the German-speaking consumer electronics market for years. Founded by Günther Nubert more than four decades ago, the company in Schwäbisch Gmünd develops and manufactures electronic components, soundbar systems, loudspeakers for hi-fi and home cinema, and subwoofers.
Nubert electronic GmbH has a very special standing in the market because it operates as a so-called direct sales company, which means that it does not rely on the classic chain – manufacturer, sales, specialist dealers and end customer – but instead seeks direct contact with the end customer.
Statement on Social Media – Nubert goes international
These days, Nubert electronic GmbH surprised with a short, almost unremarkable, as if incidentally written statement on one of their social media channels, which is, however, on closer consideration of great importance.
"Nubert goes international", this is what it said, the company Nubert electronic GmbH thus apparently wants to expand into new markets, and on a thoroughly grand scale, it seems.
"Nubert goes international – Since the High End 2023 in Munich and the IFA 2023 in Berlin, we are getting more and more inquiries from all over the world – Asia, South America and other parts of the world! Become a successful part of the international Nubert world – we are looking forward to you!"

Nubert electronic GmbH in a statement on LinkedIn
The company from Schwäbisch Gmünd is thus proactively addressing potential partners, clearly stating that it is open to expanding into new markets, but does not want to do so under its own aegis, but is looking for appropriate local distributors.
Blue Aura is the new distributor for Great Britain
How this should specifically be done is currently being demonstrated in Great Britain, where a local distributor has already been found in the form of Blue Aura from St. Neots in Cambridgeshire.
The company can already refer to a quite broadly set up product assortment, nevertheless the offer of the Brits becomes with the new selling partner Nubert electronic GmbH with one blow downright enormous, because it seems that Blue Aura actually takes over the complete product range at electronics solutions, Soundbars, loudspeaker systems and Subwoofern.
It goes without saying that the British company has adopted the classic marketing virtues that Nubert electronics GmbH has been claiming for itself for years, and that they also want to score points with "Made in Germany".
"Blue Aura is excited to announce that we are now the exclusive UK reseller for the prestigious German audio brand Nubert.

For over four decades, Nubert have been developing HiFi components that reproduce sound recordings as faithfully as possible: Nubert loudspeakers and amplifiers for high-quality stereo systems; subwoofers, sound-bars and surround speakers for home theatre, active loudspeakers for multimedia applications or professional audio production."

Blue Aura
Getting to the point
It is very exciting that Nubert electronic GmbH has now apparently decided to expand significantly, not only to further markets in Europe beyond the German-speaking area, but actually internationally. For this, they are now proactively looking for distributors with whom they can realize this in cooperation. The first step was taken in Great Britain, where a local distribution partner has already been found in Blue Aura, which will be responsible for Nubert electronic GmbH's products on the English market in the future.
You are currently viewing a placeholder content from Facebook. To access the actual content, click the button below. Please note that doing so will share data with third-party providers.
More Information