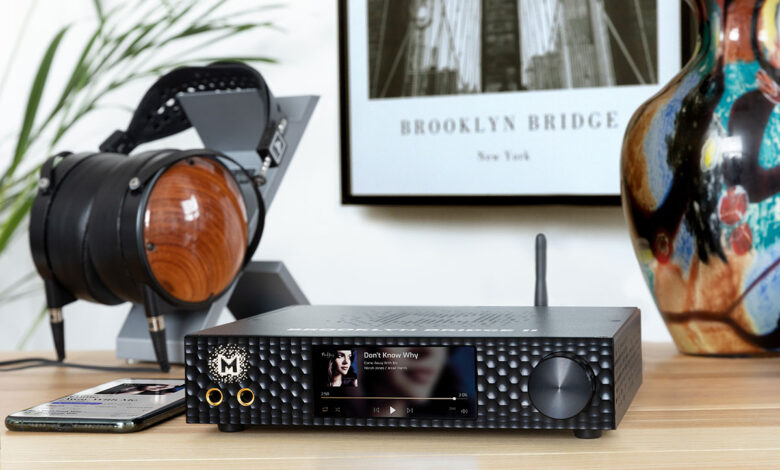 The new Mytek Brooklyn Bridge II Roon Core presents itself as a streamer, D/A converter, preamplifier, headphone amplifier and even Roon Server.
The new Mytek Brooklyn Bridge II Roon Core is a solution that, according to Mytek Audio, is aimed at users who want streaming at the highest level of quality, attach importance to the greatest possible flexibility, but do not want to deal in any way with all the issues that are actually indispensable around this task, such as the question of the "right" server, the best streaming client and the optimal configuration.
With the Mytek Brooklyn Bridge II Roon Core, Mytek Audio wants to deliver an out-of-the-box solution that is a streamer, D/A converter, preamplifier, headphone amplifier and also a server – an all-in-one system that leaves nothing to be desired.
Roon Server indispensable as central component
As is well known, Roon from Roon Labs LLC. has established itself as a kind of standard in the field of multi-room audio streaming within a very short time; dozens of streaming clients are designated as Roon-Ready, and dozens of D/A converters are certified as Roon-Tested. Users can thus access an immensely large product range of solutions to design a solution entirely according to their requirements and ideas.
However, Roon requires a central server, a Roon server, whereby the solutions from Roon Labs LLC. itself are the most suitable, the NUCLEUS by Roon as well as NUCLEUS plus at Roon, and of course you can also configure a corresponding server yourself in various ways.
A streaming system for Roon thus consists of a server, streaming clients that are designated as Roon-Ready or a Roon Bridge with a D/A converter certified as Roon-Tested, and a device that functions as a remote control for central control.
Mytek Brooklyn Bridge II Roon Core – Multifunctional High-end Solution
The approach of the Mytek Brooklyn Bridge II Roon Core is that it combines almost all of these in one unit. It functions first and foremost as a Roon server, which includes the appropriate D/A converter for direct playback and can also be used as a preamplifier, and thus ultimately requires no more than a pair of active speaker systems or a power amplifier in the case of passive speaker systems.
The sometimes tedious selection of the right device pairings is eliminated here, as is the sometimes tedious configuration, since everything should be coordinated with each other.
What is needed, of course, is a licence from Roon Labs LLC, which must be purchased separately. Internet access is also indispensable and for control, you should either rely on a smartphone or tablet on which the corresponding Roon app is installed, even though the Mytek Brooklyn Bridge II Roon Core basically has a touchscreen display that can also be used for control.
According to the manufacturer, the built-in Roon Server is deliberately designed as a closed system, based on Mytek's own operating system, which is simply called Mytek OS. It is obvious that this is a special version of Linux.
Mytek OS enables convenient control via touch display on the device or via smartphone using Roon Remote or Mytek OS App. The built-in Intel i5 processor is said to be optimally equipped for the operation of the Roon Core and also allows the management of larger media libraries even in parallel operation of several streams in a multi-room environment.
Two versions available – with or without SSD
The Mytek Brooklyn Bridge II Roon Core is available in two versions with different sizes of built-in memory, whereby the first version focuses on the operation of Roon primarily with streaming services such as TIDAL or Qobuz. The 64 GB of internal memory offered here is sufficient for this. On the other hand, if you also or primarily want your own content, you should go for the second version, which offers 4 TByte for your music collection.
D/A converter with Mytek HAT
The basis for the signal processing of digital data is an ESS ES9028PRO Sabre DAC from ESS Technology Inc., which can process signals in Linear PCM with up to 32 bits and 384 kHz and DSD up to DSD256 as well as content encoded in lossy MQA.
A special feature is Mytek HAT, an abbreviation for Harmonic Audio Tuning, which allows the characteristics of the converter to be adjusted between maximum precision and warmer sound.
A coaxial and optical S/PDIF interface is available for digital sources, and there is also a USB port for connection to a PC or Mac.
Phono preamplifier, phono amplifier and particularly precise volume control
For analogue sources, the Mytek Brooklyn Bridge II Roon Core has a pair of RCAs, but also an integrated phono preamplifier, which is equipped for drives with MM as well as MC cartridge systems.
The headphone amplifier should also be mentioned, as it offers the possibility to connect headphones symmetrically in addition to unbalanced models. The amplifier uses a so-called Reference High-current, High-transient Circuit, a circuit developed in-house.
Another special feature of the Mytek Brooklyn Bridge II Roon Core is its volume control, which is designed in a purely analogue form and is supposed to offer a particularly precise control of the level in 1 dB steps.
Analogue signals can be output either via a pair of unbalanced RCA sockets or via a pair of balanced XLRs.
Finally, it is important to mention that an oversized power supply unit with separate power supply for the server and the digital and analogue components is used. Sound-damaging influences should thus be prevented from the outset.
By the way, the manufacturer states that the products for the European market are actually handmade in Europe.
Prices and Availability
The new Mytek Brooklyn Bridge II Roon Core is available in silver or black and can be found in specialised shops these days. The manufacturer's recommended retail price is € 3.995,- for the 64 GByte version and € 4.795,- for the 4 TByte version.
Getting to the point
The new Mytek Brooklyn Bridge II Roon Core is supposed to be a true high-end all-in-one, which, as the name suggests, is supposed to be the ideal solution for Roon according to Mytek Audio. The Roon Server is already integrated here, represents the basis for the All-in-One, and can also be used as a streaming client, D/A converter and preamplifier, and is even equipped with a phono preamplifier and a high-quality headphone amplifier, so in the simplest case it requires no more than a pair of active speakers or a suitable power amplifier with passive speakers.
PRODUCT
MYTEK BROOKLYN BRIDGE II ROON CORE
Price
Mytek Brooklyn Bridge II Roon Core 64 Byte € 3.995,-
Mytek Brooklyn Bridge II Roon Core 4 TByte € 4.795,-