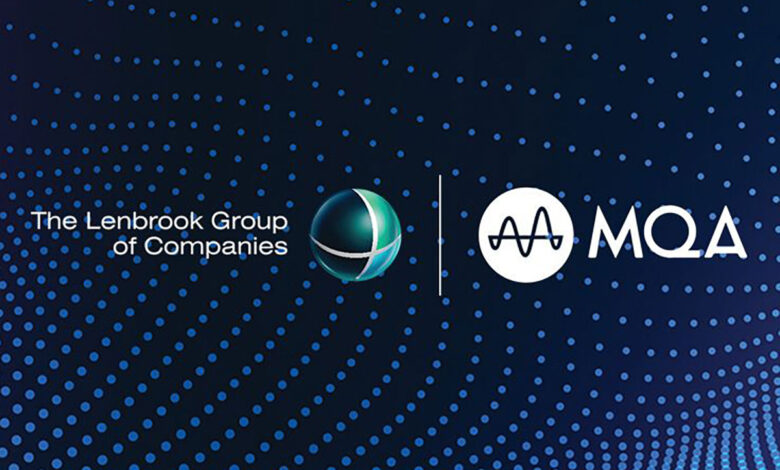 Report
HiFi
Lenbrook Corp. acquires MQA Ltd.
It is a bang for the buck, there is no other way to describe it, because hardly anyone expected the Lenbrook Corp. to take over the ailing company MQA Ltd. The takeover includes all patents, especially codecs such as MQA and SCL6, and part of the staff will be taken over, and the location in England will also be retained.
Lenbrook Corp. is looking to expand its leadership position in high-res audio with the acquisition of MQA Ltd, according to the Canadian group.
Lenbrook Corp. is taking over the faltering company MQA Ltd, the Canadian group announced in a press release. The company is taking over the British company MQA Ltd., which is known for brands such as NAD Electronics, Bluesound, Bluesound Professional and BluOS, but also psb Speakers, making it one of the leading companies on the international market.
According to Lenbrook Corp., the takeover of MQA Ltd. will enrich the group's portfolio with a number of important patents, first and foremost of course the audio codecs MQA and SCL6. The latter is even more exciting than MQA, at least in the long term.
Securing important technologies for the future
After it became known that MQA Ltd. was in deep trouble, it was open whether the company could be continued at all, and if not, what would happen to the technologies developed by MQA Ltd.
Exactly this question should now be clarified, the takeover by Lenbrook Corp. includes all patents and codecs of MQA Ltd, the group now announces in the corresponding press release.
"Lenbrook's vision is a thriving hi-fi industry where technologies that promote both consumer choice and the pursuit of the highest quality sound deserve investment and nurturing. We see this acquisition as an opportunity to ensure that the technologies developed by the scientists and engineers at MQA continue to serve the interests of the industry and are not limited to a single brand or company."

Gordon Simmonds, chief executive officer of Lenbrook Corp.
MQA Ltd. was founded on the insights and support of music industry executives, artists and sound engineers, Lenbrook Corp. believes. Technologies such as MQA, in particular, should help music creators to efficiently bring out all the details and nuances of their works in high-resolution audio formats, according to the Canadians, who see precisely this as the most important reason for the acquisition, so that the technology is still ready.
"MQA is the only technology that takes into account the entire audio signal chain, from the studio to the listening room, to ensure consistent playback quality. The patents and research that underpin MQA represent a significant contribution to digital audio quality, focusing on time domain issues that until recently were not well understood. We are committed to developing our market and furthering the opportunities these technologies offer."

Greg Stidsen, chief technology officer of Lenbrook Corp.
In a similar vein, music industry representatives who Lenbrook Corp. is seeking to comment on this now publicised acquisition include Morten Lindberg of Norwegian label 2L, one of the most committed advocates of the MQA Ltd. codec since its inception.
"I am pleased that MQA continues to be in good hands at Lenbrook. For 2L, using MQA has allowed us to enhance the experience of our recordings beyond the raw recording by giving us better access to sonic detail, transparency and reduced listening fatigue."

Morten Lindberg, Grammy-nominated Master Engineer at 2L
Parts of MQA Ltd. workforce to be acquired by Lenbrook Corp.
Lenbrook Corp. sees itself as a company that thinks long-term when it comes to investments and market development. MQA had more than 120 licensees and several content partnerships, so the Canadians' main goal in this acquisition was to create security for business and technical developments. As a result, Lenbrook Corp. had acquired a core group of engineers and developers, as well as sales and marketing staff, including Andy Dowell, the previous head of licensing at MQA Ltd, who will continue to lead business development activities.
"As one of MQA's key licensees and owner of the award-winning BluOS high-definition content platform, Lenbrook is well positioned to build on its achievements. The work on the BluOS platform has proven that the Lenbrook team understands that it takes a degree of neutrality to be a licensor, but that it can also take a customer view when it comes to wants and needs from a product development perspective."

Andy Dowell, Head of Licensing at MQA Ltd.
Getting to the point
It is probably a development that hardly anyone expected: the Canadian company Lenbrook Corp. takes over the stumbling British company MQA Ltd. and with it its complete technologies in the field of hi-res audio, above all the codec MQA, but also SCL6, which at least parts of the industry believe to be of great importance in the field of future streaming solutions. However, this also applied to MQA, which in the end did not really prove to be as essential and indispensable as MQA Ltd. liked to propagate. In fact, in large parts of the industry there was even great hope that with MQA Ltd. their format would also be finished and this chapter could be closed more or less silently. Even TIDAL, one of the most important partners, switched to FLAC, so that it actually seemed that MQA would no longer be an issue. How this will now look under the aegis of Lenbrook Corp. remains to be seen.
| THEME | LENBROOK CORP. TAKES OVER MQA LTD. |
| --- | --- |
| | MQA Ltd. |
You are currently viewing a placeholder content from Facebook. To access the actual content, click the button below. Please note that doing so will share data with third-party providers.
More Information