The new soundbar in the premium segment of the Denon brand, the Denon Home Sound Bar 550, is supposed to deliver breathtaking 3D sound. It is equipped for this with support for Dolby Atmos and DTS:X, and it also comes with HEOS built-in and Amazon Alexa is also implemented.
---
Sound United LLC. already has a considerable number of fine soundbar systems under its Denon brand, many of which are in the high-end segment and all of which come with quite remarkable features.
Now the product range in the area of soundbar solutions is being expanded once again, namely with the new Denon Home Sound Bar 550, which is clearly seen as a solution in the premium segment. The manufacturer speaks of an expansion in the area of hi-res multi-room speakers and thus clearly refers to the high demands that the new soundbar is supposed to be able to fulfil.
Despite its compact dimensions, the new Denon Home Sound Bar 550 is a solution with convincing 3D sound that uses Dolby Atmos as well as DTS:X for 3D sound. With HEOS Built-in, it can not only be part of a multi-room audio streaming system, it can also be upgraded to a fully-fledged 5.1 channel system. Added to this is the direct integration of Amazon Alexa and thus voice control in the Smart Home.
Denon promises that the new Denon Home Sound Bar 550 will give films, series and music great sound. This is achieved by six drivers that are installed here. They also point to advanced acoustic hardware, expertly tuned digital signal processing, and drivers that live up to the premium claim. Specifically, two 19 mm tweeters and four 55 full-range drivers are used. For more sovereignty in the low frequency range, three passive drivers of 50 x 90 mm each are available. The drivers are driven by a 4-channel Class D amplifier module.
The signal processing by means of DSP is of course primarily focused on the support of immersive surround formats, which is primarily available for content consumed via streaming providers such as Netflix, Apple TV, Disney+ and Amazon Prime Video. As already mentioned, the new Denon Home Sound Bar 550 supports both Dolby Atmos and DTS:X in this respect. Furthermore, this DSP-based signal processing naturally also allows other options, such as various sound modes for different content and – to a discreet extent – individual adaptation to one's own sound preferences.
The integration into the existing equipment is supposed to be particularly flexible, first and foremost, of course, HDMI is used to be able to transmit audio as well as video signals with only one cable.
The new Denon Home Sound Bar 550 has an HDMI output that not only supports ARC (Audio Return Channel), but also eARC, i.e. an enhanced Audio Return Channel, as a prerequisite for Dolby Atmos and DTS:X. The HDMI output is connected to the HDMI input of the Denon Home Sound Bar 550.
A source device can be connected directly via an HDMI input that supports content in 4K and HDR10.
In addition, the new Denon Home Sound Bar 550 also has analogue and digital audio inputs, namely an optical S/PDIF interface and an AUX input in the form of a 3.5 mm stereo mini jack. In addition, a USB port can be used directly as a source for corresponding storage media. Mobile devices such as smartphones and tablets can also be connected via Bluetooth.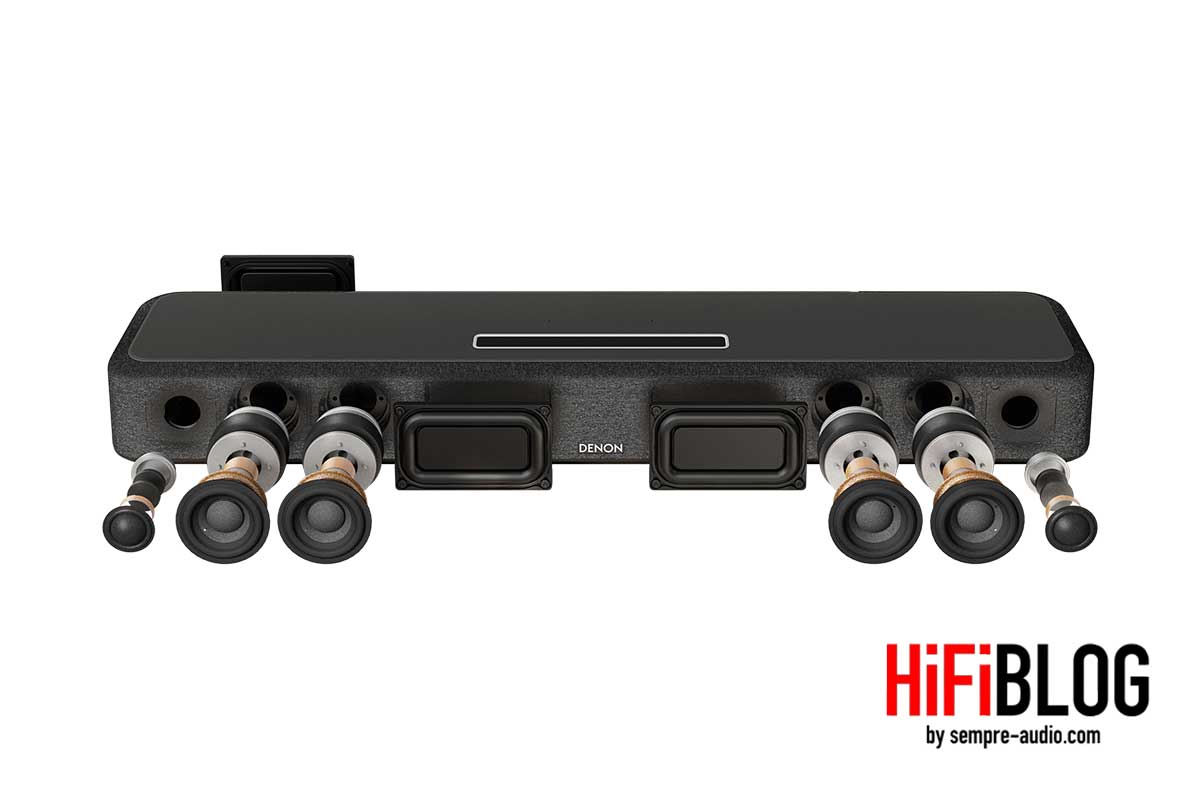 Apart from the better TV sound, the new Denon Home Sound Bar 550, as already indicated, should also be able to be used as a fully-fledged audio system, whereby the technology platform of Sound United LLC. HEOS Built-in is at the centre of attention.
Via HEOS Built-in, the new Denon Home Sound Bar 550 can function as part of a hi-res audio multi-room streaming system, whereby one can access a wide variety of content in one's own network as well as various online content. Internet radio via TuneIn is offered as well as access to TIDAL, Deezer, Spotify, Napster, SoundCloud and Amazon Music HD. All relevant data formats are supported, up to hi-res audio with up to 24 bit and 192 kHz and DSD with DSD128.
HEOS Built-in also stands for Apple AirPlay 2 support and the soundbar is thus also designated as Roon tested.
HEOS Built-in also allows you to add real surround channels using the Denon Home 150, Denon Home 250 or Denon Home 350 wireless speakers. A subwoofer can also be integrated, wirelessly of course, namely the Denon DSW-1H.
HEOS Built-in also establishes the connection to the Smart Home, namely by means of voice control. The developers have even integrated the voice control system from Amazon directly, so the Denon Home Sound Bar 550 is marked as Alexa Built-in, but also as Works with the Google Assistant, so that this voice control platform is also supported, even if not directly, but nevertheless.
In order to be able to use all of this, the Denon Home Sound Bar 550 must of course be integrated into the network, and this is done very simply via WiFi. However, a classic network interface is also available as an alternative.
Of course, the new Denon Home Sound Bar 550 is primarily controlled directly with the remote control of the TV set, and the HEOS app for Apple iOS and Google Android is also available. In addition, the manufacturer naturally supplies this sound bar with a matching infrared remote control and all relevant buttons for quick operation are provided directly on the device via an illuminated control panel with proximity sensor. In addition, as described, the new Denon Home Sound Bar 550 also responds to voice control.
The Denon Home Sound Bar 550 measures an extremely compact 650 x 75 x 120 mm and weighs only 3.3 kg. This means that it can not only be placed directly under the TV set, but can also be wall-mounted at any time, whereby the corresponding fixtures can be found directly on the back and a drilling template is part of the scope of delivery.
The new Denon Home Sound Bar 550 should be available in specialist shops in February 2021. The manufacturer lists the recommended retail price at € 649.
Getting to the point…
The new sound bar from Denon, the Denon Home Sound Bar 550, is said to be in the premium segment. Despite its compact dimensions, it delivers impressive sound including Dolby Atmos and DTS:X, whereby it can be expanded at any time with "real" surround speakers and a wireless subwoofer. This is ensured by HEOS Built-in, whereby this streaming platform can of course also be used for integration into a multi-room audio streaming system and also provides the option of voice control.
You are currently viewing a placeholder content from Facebook. To access the actual content, click the button below. Please note that doing so will share data with third-party providers.
More Information