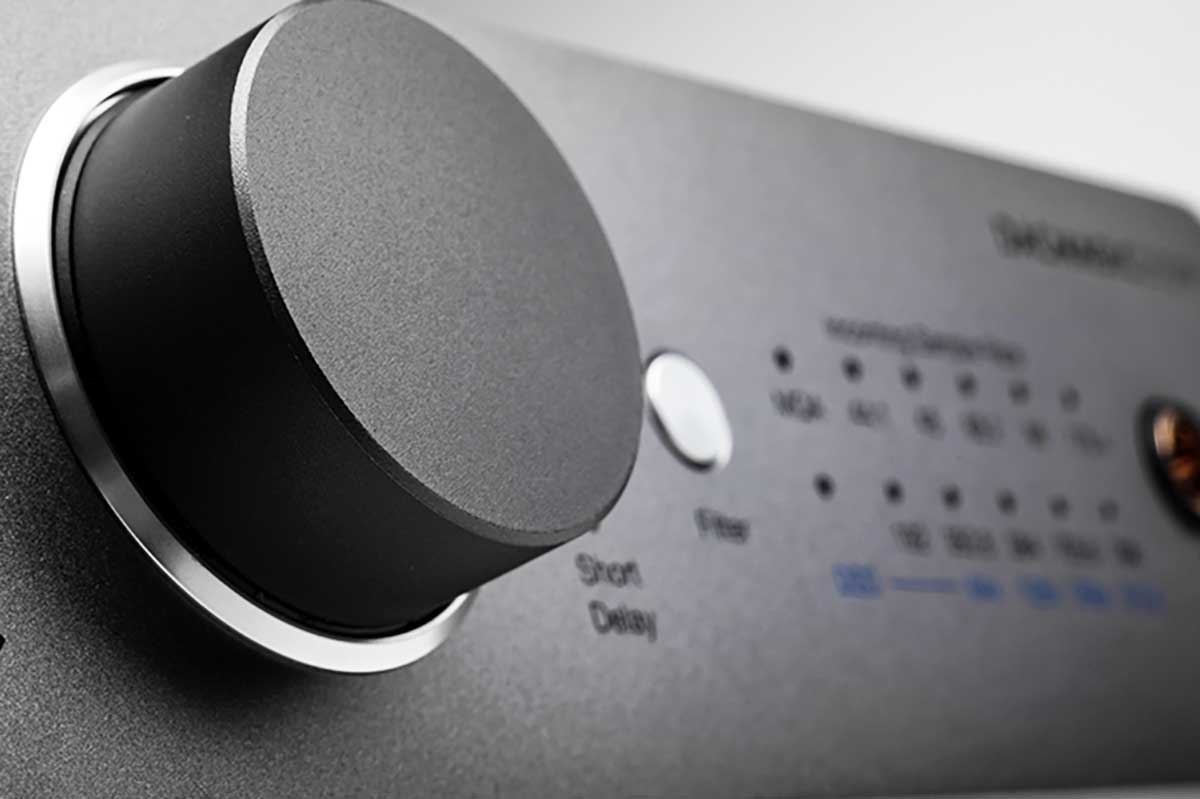 Cambridge Audio DacMagic 200M is the latest D/A converter from Cambridge Audio, which once again presents itself as a particularly versatile solution. Numerous connections, Bluetooth, an integrated headphone amplifier and, for the first time, support for MQA are some of the features that distinguish it.
---
Granted, it's been a few years, but many will remember that D/A converters didn't play too big a role, weren't really perceived by even dedicated HiFi enthusiasts as such an essential component as they are nowadays. In general, the range of D/A converters on the market was manageable, only a few selected specialists dedicated themselves to this product category.
One of the first companies to be extremely committed to this topic and to offer the solution to a broad market was the English hi-fi manufacturer Cambridge Audio, and this has not changed to this day, even though the presentation of the last new D/A converter by the English company was a long time ago.
But now Cambridge Audio presents a new D/A converter, and once again it is supposed to be a solution that leaves nothing to be desired, with numerous connection options, state-of-the-art signal processing and, last but not least, flexible use. Et voilà, here it is, the new Cambridge Audio DacMagic 200M.
The new Cambridge Audio DacMagic 200M is a continuation of Cambridge Audio's long-standing successful product line of D/A converters, once again promising to provide a solution that always handles signal processing perfectly, regardless of which digital source is connected. The new Cambridge Audio DacMagic 200M is the successor to the highly successful Cambridge Audio DacMagic Plus.
In the proven manner, the new Cambridge Audio DacMagic 200M presents itself as a comparatively compact solution, shows itself in the current design language of the English, and thus fits perfectly into any HiFi chain from the house of Cambridge Audio, but can of course be inserted into any other system without any problems due to its elegant appearance.
The new Cambridge Audio DacMagic 200M measures a modest 215 mm in width, 191 mm in depth and 52 mm in height, and thus weighs in at 1.2 kg with its sturdy metal case and chic aluminium front.
At first glance, the front panel is full of controls, and the developers have made it easier for the user to operate the new Cambridge Audio DacMagic 200M in their tried-and-tested way.
Besides a standby button and a button for input selection, the massive rotary encoder for controlling the volume stands out, followed by another button for selecting the filter characteristic and numerous status LEDs. A headphone connection is also available in the form of a 6.3 mm stereo jack directly on the front.
The rear of the new Cambridge Audio DacMagic 200M is littered with interfaces, starting with two optical and two coaxial S/PDIF interfaces. In addition, there is a USB Audio In with Ground Lift selector switch, and an antenna connector for the integrated Bluetooth module.
The Bluetooth module in question complies with Bluetooth 5.0 with A2DP and is able to support aptX in addition to SBC. This guarantees signal transmission in "CD quality".
For the outputs, you can choose between a pair of unbalanced RCA jacks and a pair of XLR connectors for a balanced connection to amplifiers or active speaker systems. Power is supplied by an external 12 V 2A DC power supply, which is of course included in the delivery.
Compared to its predecessor, the new Cambridge Audio DacMagic 200M focuses on new, even finer converters. Once again, Cambridge Audio wants to live up to its self-imposed goal of offering nothing less than Great British Sound.
In this specific case, two ESS ES9028Q2M DACs are at the heart of the signal processing, handling audio data in Linear PCM at up to 32 bits and 768 kHz, and are also equipped for DSD including DSD512.
For the first time, the new Cambridge Audio DacMagic 200M is also a D/A converter from Cambridge Audio that can process content encoded in MQA, whereby the manufacturer states on record that full decoding takes place here. Among the already mentioned numerous status LEDs on the front, which always provide information about the signal, there is also an LED that indicates the processing of MQA content.
The D/A converter of the new Cambridge Audio DacMagic 200M offers the user the possibility to influence the sound character of the signal processing, at least in nuances. As already mentioned, there is a button on the front panel that allows you to choose between three filter characteristics for the DAC.
Cambridge Audio also emphasises the quality of the analogue output stage. According to the company, only selected, high-quality components from renowned manufacturers were used.
This also applies to the integrated headphone amplifier, for which the manufacturer specifies an output power of 300 mW for headphones with an impedance of 32 ohms or 65 mW for an impedance of 150 ohms. Recommended headphone impedances range from 32 to 600 ohms, so you are well equipped for a wide variety of models.
The new Cambridge Audio DacMagic 200M will be available in Lunar Grey from February 2021, with a recommended retail price of €499.
Getting to the point…
It is fair to say that Cambridge Audio has a long tradition in the field of high-quality, attractively priced D/A converters. This tradition is now continued with the new Cambridge Audio DacMagic 200M. The new model is said to be characterised by the finest converter technology as well as by an output stage designed according to audiophile standards. The fact that Bluetooth is also offered here in addition to numerous interfaces is not so relevant in view of the fact that only aptX is supported here. Much more important is the fact that the new Cambridge Audio DacMagic 200M can now process all relevant digital formats in Linear PCM up to 32 bit and 768 kHz, as well as DSD up to DSD512 and, above all, content encoded in MQA. The integrated headphone amplifier rounds off the picture once more, so that one is dealing with an extremely flexible D/A converter.