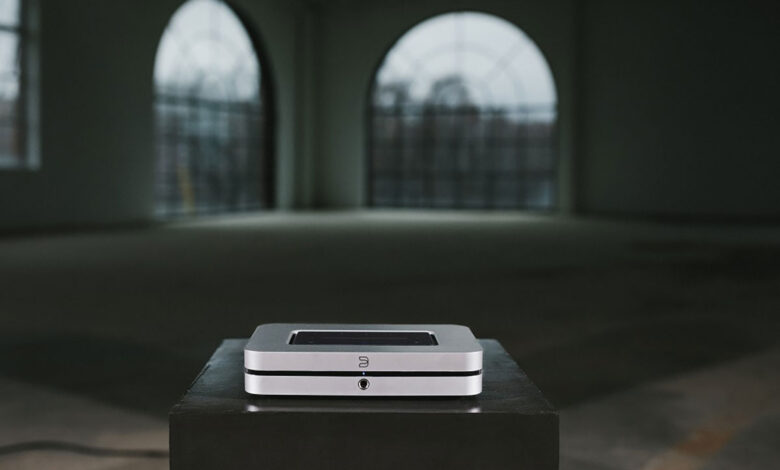 Streaming
HiFi
HiFi Electronics
Network
News
Bluesound NODE X Anniversary Edition - Limited special edition for the 10th anniversary
The solutions from Bluesound International, which enable flexible hi-res audio streaming throughout the house based on BluOS, have been around for ten years. To celebrate this anniversary, Bluesound now presents the Bluesound NODE X, designed as a limited Anniversary Edition.
According to Bluesound International, the new Bluesound NODE X is to be presented as a limited anniversary edition for the 10th birthday.
With the new Bluesound NODE X, the company Bluesound International wants to celebrate a very special anniversary, namely the 10th birthday of the Canadian company. For ten years now, the products from Bluesound International have been one of the leading hi-res audio streaming systems that impresses with its versatility, flexibility, quality and, last but not least, ease of use.
The new Bluesound NODE X represents another of the countless solutions based on BluOS, and a particularly exquisite one in terms of both technology and design.
The BluOS Wireless Hi-res Multiroom System
As we have already mentioned, the BluOS system is clearly one of the leading streaming platforms on the market, because it is not only supported by Bluesound International itself, but also by solutions from NAD Electronics and thus another brand of the Lenbrook Group, to which, incidentally, Bluesound International itself belongs.
The Lenbrook Group also owns BluOS, the software company responsible for the development of the streaming platform.
The decision of the Lenbrook Group to outsource the development of BluOS has contributed significantly to the fact that they were able to win further partners for this platform, such as the Danish speaker specialist Dali Speaker A/S and other providers. In the end, Bluesound International itself benefits from this.
Up to 64 components based on BluOS can be combined via cable, up to 16 alone via WiFi to form a multi-room audio streaming system.
The solutions from Bluesound International allow access to their own content in the network via simple data sharing (SAMBA) and support all relevant data formats for audio data, in Linear PCM up to 24 bit and 192 kHz, and are also equipped for data encoded in MQA. DSD, however, is not supported, for the sake of completeness.
In addition to its own content, countless streaming offers are available, whereby the spectrum here with TIDAL, Deezer, Spotify, Qobuz, Napster, Amazon Music, Apple Music and many, many more is probably the most extensive on the market. Of course, podcasts can also be played, as well as Internet radio, and solutions based on BluOS are also equipped for Apple AirPlay 2 and are considered Roon-ready.
Everything is conveniently controlled via the BluOS Controller Apps, which are available for Apple iOS, Google Android, Microsoft Windows and Apple macOS.
The new Bluesound NODE X
Of course, the new Bluesound NODE X is largely based on the well-known Bluesound NODE in the latest generation, but the exclusive, limited streaming client differs in a few details from its well-known brother.
A quad-core 1.8 GHz ARM CORTEX A53 processor is used here, which ensures sufficient performance. The signal processing is based on a special D/A converter, namely an ESS ES9028Q2M Sabre DAC from the specialist ESS Technology Inc. The manufacturer promises particularly accurate signal processing without jitter and thus with particularly low sound-damaging distortion and extremely low noise.
Audio signals can be output in the proven manner via a cinch pair on the analogue way, a subwoofer can also be integrated via a cinch connection. However, an optical and a coaxial S/PDIF interface are also available as outputs, if you want to rely on an external converter.
An HDMI input with support for an eARC is particularly interesting, as it allows a TV set to be connected directly. The Bluesound NODE X also has an analogue and digital input, which can also be used to connect other sources.
Storage media can be used directly as a source via USB, and Bluetooth is not missing either, so that smartphones and tablets can be used as a source. Just like the regular series model, the Bluesound NODE X proves to be an extremely flexible audio solution that can function as a central interface.
This also includes an integrated headphone amplifier, whereby this again represents something very special in the Bluesound NODE X. This is because the developers are using an integrated headphone amplifier. The developers rely on a solution based on a THX AAA Powered Headphone Amplifier from THX Ltd. This guarantees playback with very low noise, minimal distortion and high performance, so that even very demanding headphones can not only be driven without problems, but can also exploit their full potential. These can be connected directly to the front of the Bluesound NODE X via a 6.3 mm stereo jack connection.
And so that you can see at first glance that this is the strictly limited Anniversary model, the new THX AAA Headphone Amplifier is finished in elegant silver.
It should also be mentioned that the new Bluesound NODE X is delivered with the Bluesound RC1. However, a comfortable control directly on the device is also possible, for which sensor buttons on the top are available.
Prices and availability
The new Bluesound NODE X will celebrate its premiere at the High End 2023 in Munich, but will already be available in specialist shops. The recommended retail price is € 799,-.
Getting to the point
It's time to celebrate the 10th anniversary of Bluesound International, and the Canadian company is of course doing so with an extraordinary product in limited quantities, the new Bluesound NODE X. It not only presents itself in an elegant design, but is also available in the form of a new, stylish, and stylishly designed speaker. Not only is it presented in elegant silver, but also the equipment differs in essential details from the conventional series model.
| PRODUCT | BLUESOUND NODE X |
| --- | --- |
| Price | € 799,- |